Find out the admission fee and overall cost of spending a full day at the Yokohama Ramen Museum?
When visiting places on holiday, it's only natural to take a look at what museums are available. It's usually art or history museums.
But in Japan, there are a few ramen museums where you can see some "remade" old ramen stands…and, more importantly, experience a variety of "mini" ramen dishes!
We'll just explain one thing; this museum is actually in a section of Yokohama called Shin-Yokohama (which translates to "New Yokohama"). So make sure to find out how to get to Shin-Yokohama specifically, rather than just the city of Yokohama as a whole.
We'll expand on how to get to this museum further down. But we'll start by giving you the information you came here for – what the Yokohama Ramen Museum price is for admission and cost of each ramen bowl to try.
---
Related Posts:
---
Yokohama Ramen Museum Admission Fee
Let's not waste your time. You clicked on this article to learn the price of getting into the ramen museum in Shin-Yokohama.
1 Day Admission Fee
If you're just visiting, then you'll just want a day ticket. The costs of these tickets are split into the following age groups and prices:
Elementary School or Younger: FREE (¥0)
Those with Disability Certificates and their Carers: Free (¥0)
Middle and High School Students*: 100 Yen
Adults: 380 Yen
Senior (Over 60 Years Old): 100 Yen
*You will have to present your student ID if you are purchasing admission as a middle or high school student.
Long-term Admission Fee
If you live in Japan, then there's a chance that you might want to return to the ramen museum in Shin-Yokohama. The good news is that you won't have to pay ¥380 (if you're an adult) each time you return; there are 6 month and annual passes on offer to help save you some money:
6 Month Pass: 500 Yen
Annual Pass: 800 Yen
*Unlimited admission with these 2 long-term passes within the period from the date of purchase.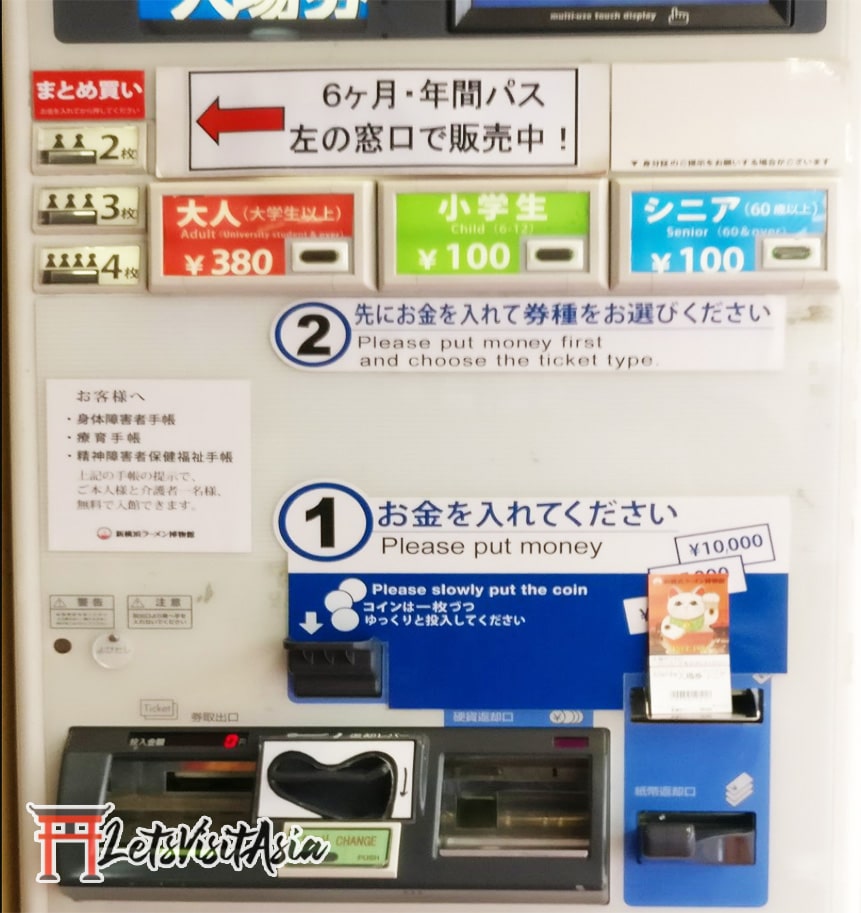 The Price of Eating Ramen at the Yokohama Museum
When searching for the price of visiting the Yokohama Raumen Museum, you'll most likely want to find out the price of ramen available to taste. You're going to want to try many different mini-ramen dishes, so make sure to fit it all into your budget!
In case you're wondering, when we say "mini", the ramen bowls aren't tiny. They're still decent portions, but it's made so that visitors can enjoy several different ramen dishes instead of being full after eating just one.
Anyway, trust us when we say that there's a wide variety of ramen to try. So we'll give general figures instead of for each specific bowl or we'll both be here at day:
Mini Ramen Bowls: The prices of mini ramen bowls range from 500 Yen to 800 Yen.
Full-Size Ramen Dishes: You can still purchase full-sized ramen bowls, with the fee of these averages at around 1000 Yen.
Types of Ramen Available at the Yokohama Ramen Museum & Their Prices
There are 4 main types of ramen across Japan and at this restaurant. Of course, there are many that are unique and don't fit within these 4 groupings, but it's much simpler showing you these:
Soy Sauce based Ramen
Salt-based ramen
Fermented bean paste ramen
Pork bone broth ramen
Out of these, our personal favorite is the "pork bone broth" dishes (often referred to as "Tonkotsu) so be sure to look for this while you visit this museum in Shin-Yokohama.
For those that can't eat pork for any reason, then our non-pork based favorite is the soy-sauce based ramen.
Shin-Yokohama Ramen Museum: Price of Spending a
Full Day There 
As we've mentioned, when visiting somewhere it's great to know how much a full day will cost.
Well, we believe the average adult will try 2-3 bowls of "mini ramen" bowls while inside the Yokohama Ramen Museum – or 1 full bowl of ramen.
Taking into account that 1 "full size" ramen dish or 2 mini ramen bowls cost around 1000 Yen. Along with the admission fee of 380 Yen per adult. We believe the total budget for a full day at the museum is around 1380 Yen (roughly around $13 USD).
Cost of Traveling to the Yokohama Ramen Museum from Tokyo
If you're visiting Japan, there's an extremely high chance that you mainly went to visit Tokyo. Some good news is that you can catch the shinkansen direct from Tokyo to get to Shin-Yokohama (where the Yokohama Ramen Museum is located). Simply look for the JR Yokohama Line.
But how much is the shinkansen from Tokyo to Shin-Yokohama? Well, the bullet train departs every 10 minutes with tickets costing you between ¥2100 – ¥3400 (depending on the class and seat location).
The overall journey of takes approximately 17 minutes.