So, you're a fellow lover of cup noodles and are planning on visiting the museum in Osaka. We like you already!
And you'll be glad to hear that there are tons of things to do near the cup noodle museum in this city.
But, of course, if you've never visited the city before then you won't quite know what to be looking out for. Well, it's great that you're doing some research to make the most of your time in Osaka.
You probably know by now that the Cup Noodle Museum is located in Ikeda.
To help you out, we've written up a travel guide on the Top 10 of our favorite things to do near the cup noodle museum in Ikeda, Osaka.
Enjoy!
1. Ikeda Castle Site Park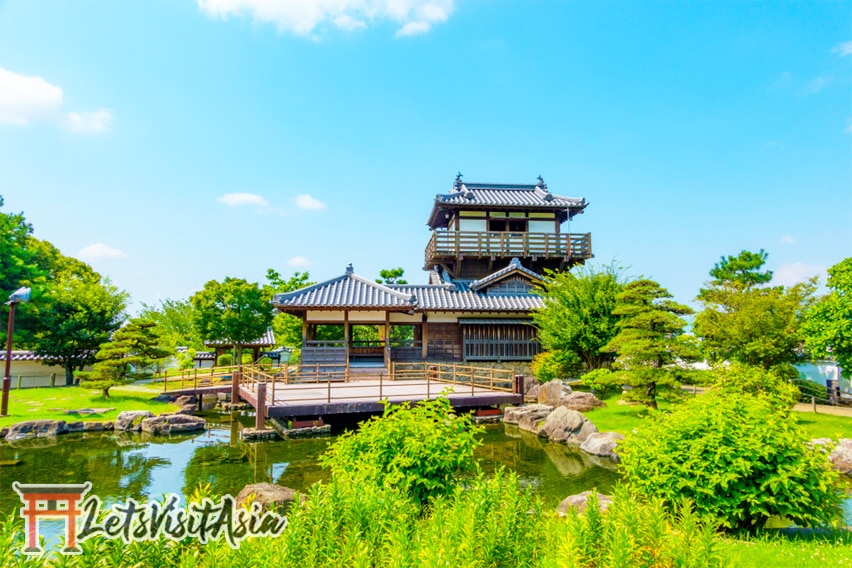 If you've researched things to do in Osaka in general, then you'll no doubt have come across the "main" castle in the city. It's extremely popular and we do recommend visiting there if you have time.
However, one castle that isn't as well known is the Ikeda Castle. We 100% recommend visiting this place, especially to see the beautiful gardens (known as the "site park").
The castle itself is known as a "ruin", but when visiting you'll see it doesn't fit this description at all; while it's not as big as other castles you can visit in Japan but Ikeda Castle is fully standing in all its glory.
You can even see go up the "look out tower" to catch amazing sights of the whole Ikeda area in Osaka.
Considering the admission is free to see the castle and site park. And that it may not be top of all tourists' lists when visiting Osaka, we're happy to place the Ikeda Castle and its site park as the #1 on our list of things to do near cup noodle museum Osaka.
Details
Address: 7 Chome-1-1 Morimoto, Itami, Hyogo 664-0842, Japan
Phone: +81 72-772-3447
---
Read More: 
---
2. Ikeda Gofukuza Theater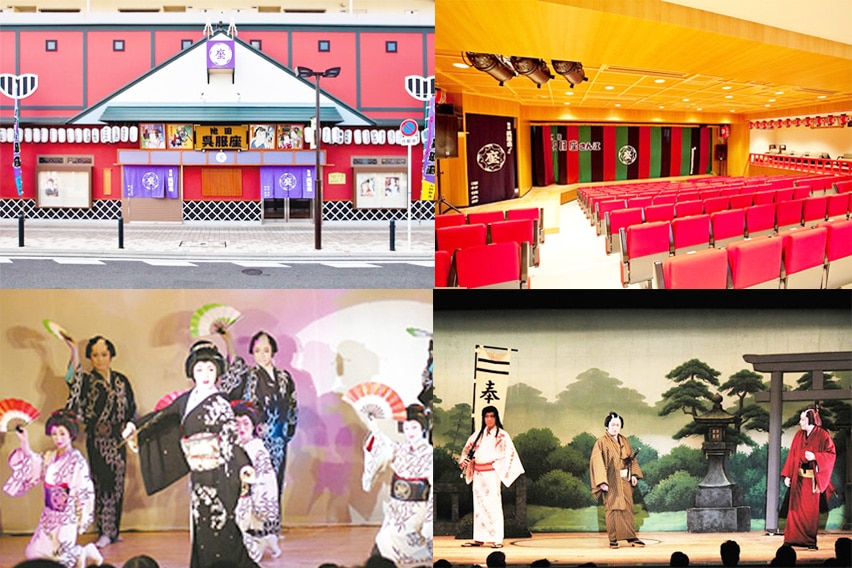 This could easily be the best attraction on our list. It's basically a playhouse (theater) that's in a building that's been reconstructed to look like places during the Edo period in Japan.
But don't expect any "West End" or "Broadway" style musical shows. The performances here are very traditional Japanese with all performers wearing Kimonos and Hakatas – in the style of Samurais and Gaishas.
You won't see anything like this back home. With very reasonable admission prices (1900 Yen for Adults, 1200 Yen for Children) we believe you should absolutely see a performance while near the cup noodle museum Osaka.
Details
Address: Osaka Ikeda Sakaehonmachi 6-15 〒563-0058
Phone: 072-752-0529
Admission Fee: ¥1900 for Adults | ¥1200 for Children
Performance Times: 12:30 pm for Matinee | 6:00 pm for Evening performances
Average Show Duration: appx. 3 hours.
3. Kyuan-Ji Temple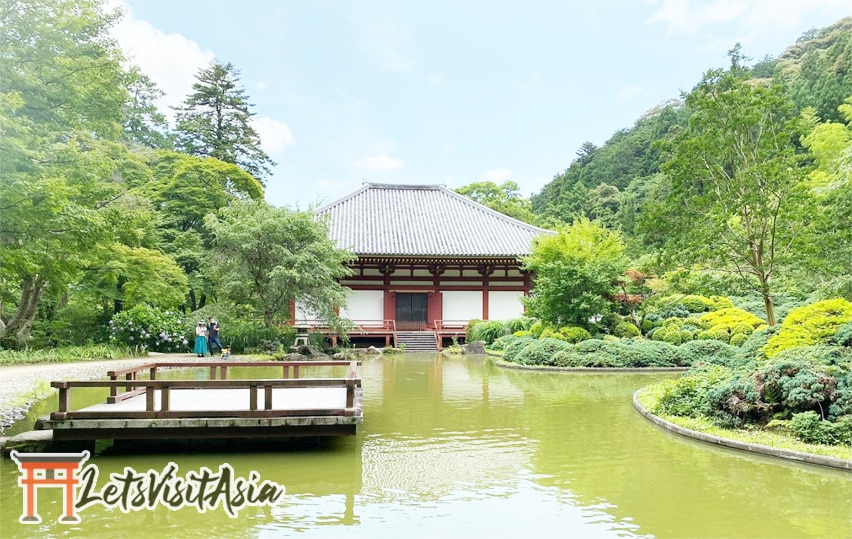 As well as the parks, shrines and museums, we believe Japan is also well known for its Temples. With Kyuan-Ji Temple showcasing exactly why.
This is one of the places where you won't really see tourist visitors flocking to. Instead, the Japanese locals like to keep this one under the radar, so there won't be many crowds (unless this article gets tons of views…).
It offers a bit of everything you want to see while visiting Japan; great gardens among clean ponds, a great temple building that's typically Japanese, as well as incredible trees and flowers.
Speaking of flowers, Kyuan-Ji Temple has become known as one of the best places to see the hydrangea during autumn.
In fact, if visiting the cup noodle museum Osaka in autumn, then consider this our #1 recommendation.
Details
Address: 697 Fushiocho, Ikeda 563-0011 Osaka Prefecture
Phone: +81 72-752-1857
4. Suigetsu Park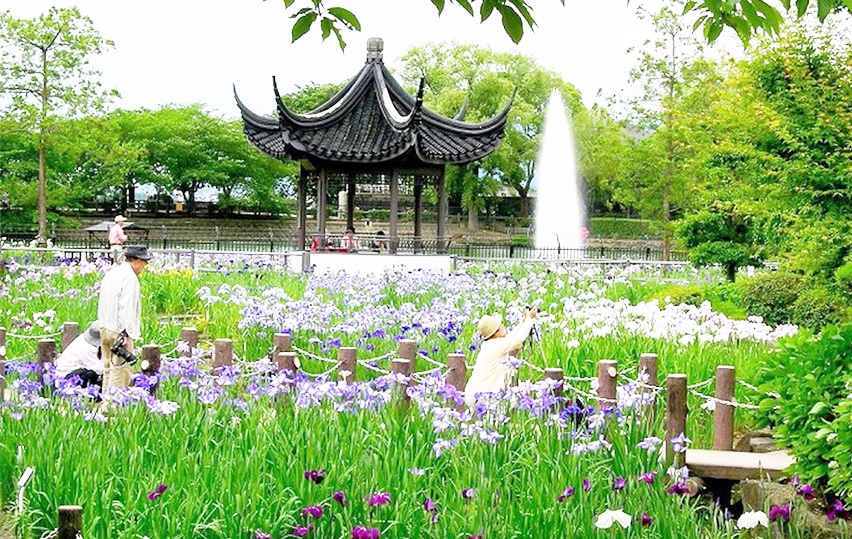 Even the public parks in Japan are amazing to see. They are beautifully kept with amazing trees and plant life flourishing everywhere.
And Suigetsu Park is no exception.
You'll be able to relax around the large pond and take in the clear air and scenary. If you feel hungry, you can find your way to the food stalls where you'll be able to try a range of traditional Japanese street food.
There are very unique Japanese trees here that are common in the country, but not anywhere else. So take in as much of the natural beauties in Japan as you can.
As a result, we believe Suigetsu Park is definitely one of the best places you can visit while you're close to the cup noodle museum in Ikeda, Osaka. Especially since it's free, being a public park.
Details
Address: 3 Chome-6 Hachizuka, Ikeda, Osaka 563-0024, Japan
Phone: +81 72-762-7532
5. Itami Sky Park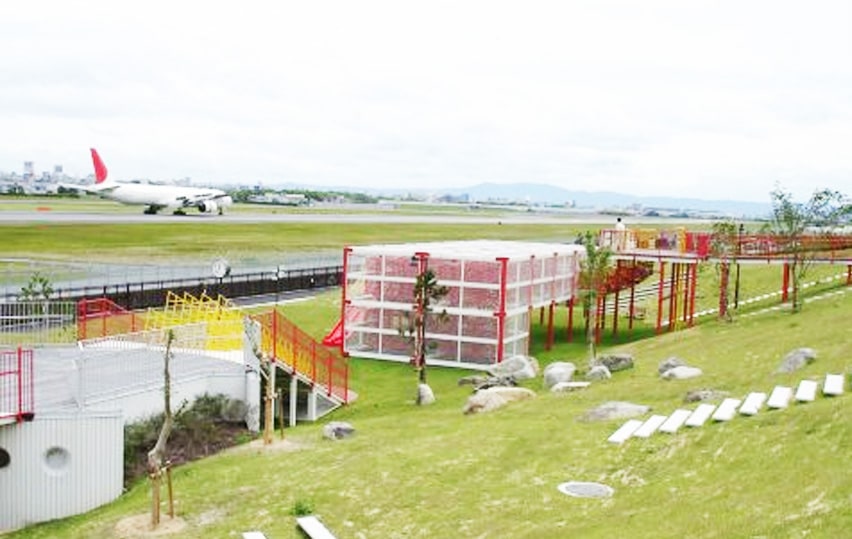 This won TripAdvisor's "travellers' choice 2020 award", which should give you quick validation on why this is so high up on our list.
There's a high chance you've never heard of a Sky Park before, so allow us to explain; it's a garden situated on the west side of Osaka International Airport (also known as Itami Airport).
If you're with your kids, you'll be glad to know that there's a children's playground at the Itami Sky Park. Along with the views of airplanes taking flight and landing, your young ones will never be bored. It can certainly be a fun experience.
We like this being on this list because it's not something that many would plan on visiting, if not on the same day they have a "main attraction" to go and see. So if you need have some time spare on your visit to the Cup Noodle Museum in Osaka, then Itami Sky Park offers something different.
Details
Address: 7 Chome-1-1 Morimoto, Itami, Hyogo 664-0842, Japan
Phone: +81 72-772-3447
6. Toshi Ryokka Botanical Garden
Japan boasts some of the most beautiful gardens in the world.
Since you're planning on visiting several "Japanese gardens", we thought you'll enjoy Toshi Ryokka Botanical Garden; home to a wide variety of flowers, it's a great place to break away from the crowds and relax.
Like the other places on this list, the Toshi Ryokka Botanical Garden probably isn't going to be on many tourists' priority attractions to visit while in Japan. So we think it's another perfect place to visit while you have some spare time before or after enjoying the Cup Noodle Museum.
Details
Address: 5-2-5 Satsukigaoka, Ikeda 563-0029, Osaka Prefecture
Phone: +81 72-752-7082
7. Itsuo Art Museum
Japanese art is incredible. Something that isn't really seen commonly around the world but is preserved in the country extremely well.
And you may not know that Japanese art has inspired some of the greatest artists of all time. For example, Vincent Van Gogh was massively influenced by Japanese art – something most people aren't aware of.
As a result, we believe that museums showcasing historic art should be visited. At the Itsuo Art Museum, there are some very well preserved scrolls showcasing Japanese literature, as well as ancient bowls that were used a long time ago.
This museum may not be the biggest or most popular in Japan, but it can be a great way to spend some time before or after your visit to the Cup Noodle Museum in Osaka.
Details
Address: 12-27 Sakaehonmachi, Ikeda, Osaka 563-0058, Japan
Phone: +81 72-751-3865
8. Satsukiyama Zoo
We'll admit it. When booking your plane tickets and holiday to Japan, we know you weren't planning on visiting a zoo in the land of the rising sun.
In fact, there are actually tons of better things to do during your time in Osaka too. However, you're reading an article about things to do near to the cup noodle museum in Ikeda, Osaka.
There's also the saying "the best things in life are free". Well, stand by, because now you know that the admission to Satsukiyama Zoo is free.
It's been open since 1957 a the base of Mount Satsuki in Ikeda, Osaka. The fact it's still open after all these years should give an positive impression alone.
With all that in mind, it's actually quite an impressive zoo. Not "big" with tons of animals, but a good variety on show nevertheless (such as kangaroos, emus and wombats).
Bear in mind (see what we did there?…) that many people in Japan live in the center of busy cities. So while you may be visiting from the US, UK, Australia or somewhere else where there's tons of countryside and animals to see frequently – people in Tokyo visiting Osaka won't usually see kangaroos hopping around eating ramen in shinjuku.
Details
Address: Japan, 〒563-0051 Osaka, Ikeda, Ayaha, 2 Chome−5−33 五月山公園内
Phone: +81 72-752-7082
9. Kureha Shrine
When you think of Japan, you think of ramen, gardens, big cities…and shrines. So while at the cup noodle museum in Ikeda, you may as well visit Kureha Shrine that's nearby.
It's also about 5 minutes walk away from Hankyu Ikeda Station (its Takarazuka Line) too, so a great attraction to see just before heading out of Osaka too.
It's not a massively popular tourist attraction. But as you'll see from the google reviews, Kureha Shrine is often visited by Japanese Nationals – which should say a lot of positive things about the history and quality of this place.
If you're a gamer, then you'll probably also know that there is a shrine in the game series "Fatal Frame" named after this one. Literally called Kureha Shrine – so this may be of particular interest to those that like this game.
It's also of interest due to its link with the Kimono, which is said to have been brought to Japan from the country of Kure under the era of Emperor Ojin of the kimono shrine.
Details
Address: 7-4 Muromachi, Ikeda, Osaka 563-0047, Japan
Phone: +81 72-753-2243
10. Head Into Central Osaka!
We'll be honest. If you've been to a couple of places on this list after enjoying your cup noodle museum trip, then we recommend that you go and explore the great things to do in central Osaka – it's one of our favorite cities in Japan for a reason, it's awesome.
The other things nearby to the cup noodle museum are the Ikeda City Tourist Information Center, the Ikeda City Library. Of course, if you want to stick around Ikeda for longer, then feel free to visit those places.
For us personally, we'd much prefer to go into central Osaka and enjoy the bustling evening there; there's tons of street food stalls and places to drink beer and saké! Some even say that they prefer the nightlife of Osaka to Tokyo for this very reason.
We're very likely to write up a Osaka Guide in the future, so we'll keep this section brief until then. But in a nutshell, if you're looking to enjoy a night out and find loads of restaurants, then you won't go wrong in these places…
Our recommendation of areas in central Osaka:
Kita (Umeda), Osaka
Minami, Osaka
Conclusion
It's not rare to find a place that you want to visit on holiday, but have no idea of where else to go that's nearby. So hopefully you'll be able to make some great plans for when you visit the cup noodle museum in Osaka (which we totally recommend you doing, because we love cup noodles and ramen).
If you're currently budgeting and planning a trip to Japan (and not just Osaka), then check out our article about the Yokohama Ramen Museum Price and Kyoto Ramen Koji, both places being essential for lovers of ramen and noodles!