Struggle to sleep on planes and are looking for the best sleeping pills for long flights to help?
You may also be worried about choosing the right product. Since sleep pills can seem a little scary at first, not even taking into account being in a pressurized flying metal container.
Well, you're in the right place.
We've tried and tested countless over-the-counter (OTC) sleep aids during our time traveling Asia (more importantly for this article, flying long-haul between the West and East too).
Note that we're saying OTC here, because we're not recommending any prescription supplements; in our experience, staying with natural options is a great way to ensure you benefit from restful sleep, without the grogginess when you wake up (we'll explain more further down in this article).
So, without any further intro, take a look at the best sleeping pills for long flights that we recommend.
---
*For those wanting a quick answer, you can check out an in-depth review of our favorite product called
Performance Lab® Sleep
.
---
3 Natural Ingredients To Look For in the Best Sleeping Pills for Long Flights
We briefly mentioned in our intro that you should look for natural sleep aids instead of synthetic products filled with chemicals. This is because, in our personal experience, synthetic sleeping pills are more likely to induce morning grogginess (our honest opinion).
And since there are safe and effective natural ingredients that can promote deep sleep, there's simply no reason to choose chemicals.
Take a look at the ingredients you should be looking for in the best sleeping pills for long flights below…
Montmorency Tart Cherry (Natural Source of Melatonin)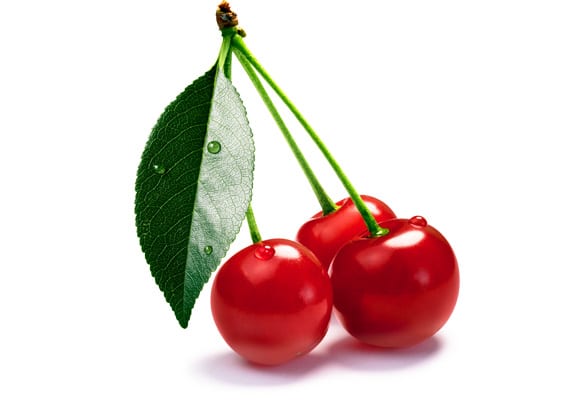 Everyone knows that melatonin can help you sleep. The issue is that a quick check of travel forums will tell you that many people suffer from morning grogginess after taking melatonin pills (especially those that come with large dosages of melatonin per serving).
On the topic of dosages, there's no need to consume large dosages of melatonin either. There have been plenty of clinical studies showing that melatonin dosages as low as 0.3 mg improves sleep quality, with 1 mg being the highest dosage used in the study to positive effect [1].
More good news is that you don't have to consume synthetic melatonin to achieve these low dosages; Montmorency Tart Cherry delivers melatonin in a completely natural way, due to being the most abundant natural source of melatonin, and is becoming more commonly found in over-the-counter sleep pills.
…and for those obsessed with proof from clinical studies, you'll be glad to hear that there are indeed many studies showing the effectiveness of Montmorency Tart Cherry in inducing restful sleep [2].
L-Tryptophan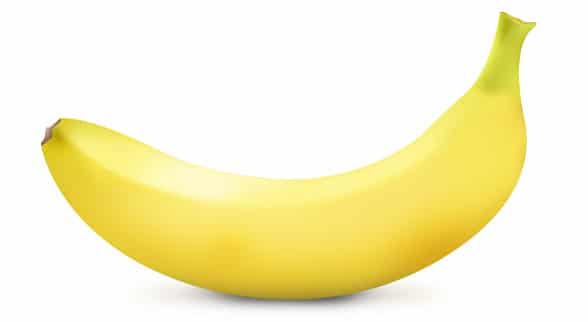 If you've been researching about how to improve sleep with foods, then you may have come across people recommending bananas before bedtime. Well, this is partly because bananas naturally contain L-Tryptophan.
You may have also seen people recommending 5-HTP too. 5-HTP often comes in synthetic forms in cheap sleeping pills, but you'll be glad to hear that L-Tryptophan is a more natural option that converts into 5-HTP in your brain (resulting in increased relaxation to prepare you for better sleep).
Not only that L-Tryptophan also converts into melatonin in your GI tract too, therefore naturally increasing your melatonin levels without having to consume synthetic melatonin.
You're probably getting quite bored about hearing the science behind this ingredient. So we'll leave it there…just know that L-Tryptophan is again another tried-and-tested ingredient that helps you sleep better [3] at home or on long flights.
---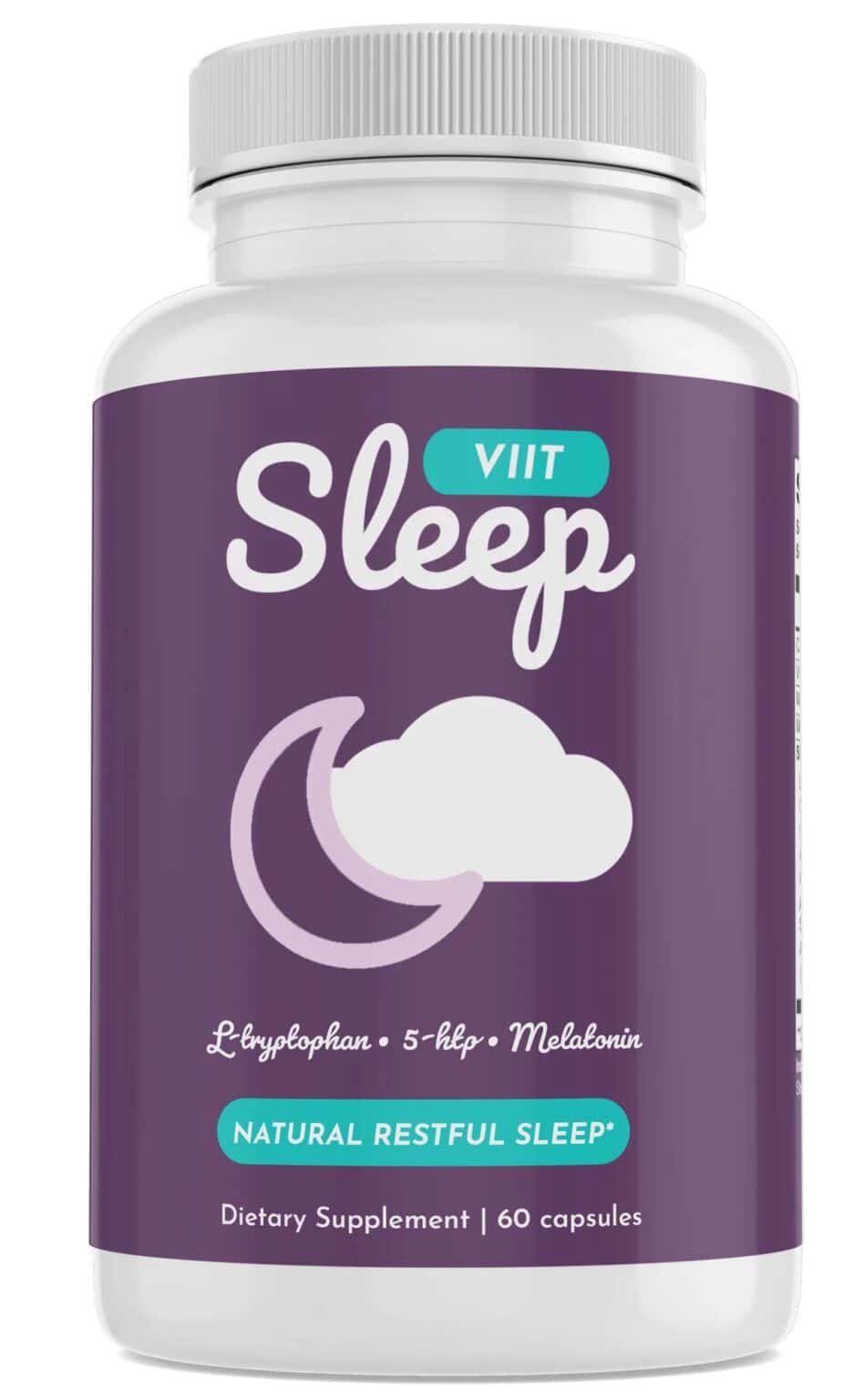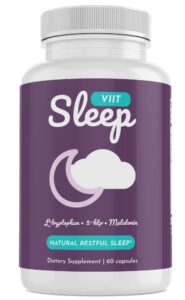 *Click here to check out our top recommended natural sleep supplement containing melatonin, l-tryptophan, 5-HTP, Magnesium and more: Viit Complete Sleep Aid.
---
Magnesium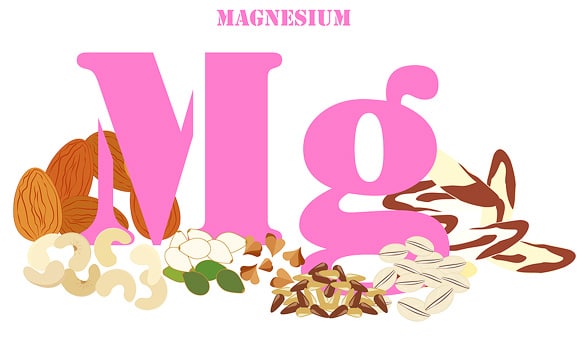 If you've been reading online, then this is another ingredient that shouldn't come as a surprise. Magnesium has been used for many years in fairly popular sleep products in the bodybuilding/fitness world called "ZMA" too.
More advanced research, however, has shown that Magnesium can be more effective when taken alongside L-Tryptophan; this is because magnesium aids the conversion of L-Tryptophan to serotonin in your body [4], which then further promotes relaxation, helping you prepare for restful sleep.
Not only that, magnesium on its own has shown to improve sleep quality on its own, making it a great ingredient in any natural sleep supplement in its own right [5].
---
Our Best Sleeping Pills for Long Flights
Now you know the ingredients that we look for when trying out over-the-counter sleep supplements, we'll go ahead and show you the one product that we take everywhere on our travels around Asia (and other places we visit around the world).
Performance Lab® Sleep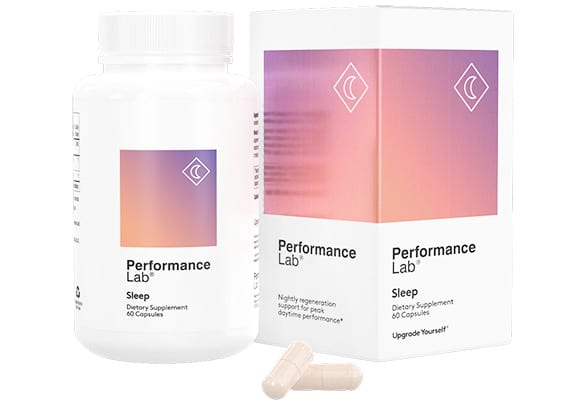 Why we recommend it:
No more morning grogginess after taking this product.
Helps to "hard reset" our circadian rhythm when entering a new time zone.
Improved our quality of sleep after years of struggle.
Key features:
CherryPure® – A patented form of Montmorency Tart Cherry, a natural source of melatonin.
TryptoPure® – the highest purity phramaceutical grade form of L-Tryptophan on the market.
Magnesium – 3 different forms of magnesium, including the highly bioavailable NutriGenesis®.
Check the lowest price for Performance Lab® Sleep
Quick Summary of the best sleeping pills for long flights
After trying out tons of sleep products containing synthetic melatonin and other chemicals, we were about to accept that feeling groggy in the morning was something we'd have to accept when taking sleeping pills.
That's when we found a natural sleep aid called Performance Lab® Sleep recommended by one of the leading sleep coaches in the world.
So we decided to road test it – and we're glad we did.
For us personally, it worked from the first dosage in helping us sleep better at night and on long flights; the science behind this product checks out and we're equally impressed by the research Performance Lab have undertaken in producing this clean, all natural formula.
By "clean", we mean that Performance Lab® Sleep is: non-GMO, soy-free, gluten-free, alergen-free, non-irradiated, banned substance tested, GMP certified, and vegan friendly since the capsules are made from prebiotic fiber instead of gelatin.
We now make sure to take a bottle of this over-the-counter sleeping pill on our travels at all times (we've even had some delivered to a hostel in Japan without any issues too, which is also impressive).
For all these reasons, this is the only sleeping pill that we recommend that we personally take ourselves.
Check the lowest price for Performance Lab® Sleep
or
---
Best Sleeping Pills for Long Flights: Conclusion
Hopefully we provided you with everything you were looking for in this article.
In quick summary: we recommend going with a natural over-the-counter sleep aid rather than choosing a sleeping pill filled with large dosages of synthetic melatonin.
For us, the above has helped us avoid the morning grogginess you usually experience with taking synthetic melatonin directly. We can't tell you the number of melatonin gummy bears and other products that we've road tested over the years as digital nomads, but just know that it's a large number.
Finding an OCT sleep supplement containing Montmorency Tart Cherry, L-Tryptophan and magnesium has been a game-changer for us, and hopefully it helps you too.
---
References
ME Attenburrow. Low dose melatonin improves sleep in healthy middle-aged subjects. Psychopharmacology (Berl). 1996 Jul;126(2):179-81.

Glyn Howatson. Effect of tart cherry juice (Prunus cerasus) on melatonin levels and enhanced sleep quality. Eur J Nutr. 2012 Dec;51(8):909-16.

E Hartmann. Sleep induced by L-tryptophan. Effect of dosages within the normal dietary intake. J Nerv Ment Dis. 1979 Aug;167(8):497-9.

DM Richard. L-Tryptophan: Basic Metabolic Functions, Behavioral Research and Therapeutic Indications. Int J Tryptophan Res. 2009; 2: 45–60.

B Abbasi. The effect of magnesium supplementation on primary insomnia in elderly: A double-blind placebo-controlled clinical trial. J Res Med Sci. 2012 Dec; 17(12): 1161–1169.