In terms of location and ease of travel to the rest of Tokyo, the JR Kyushu Hotel Blossom Shinjuku is perfect.
Visiting Tokyo is always amazing.
It's certainly one of my favorite cities, not only in Asia, but in the world; incredible food, beautiful Japanese gardens and temples, it offers something for everyone.
Due to the sheer size of Tokyo, it can be important to choose a hotel in a great location.
If you're considering using a hotel as a hub to really visit the whole of Tokyo, as well as neighboring cities and towns such as Nikko and Hakone (which I'd definitely recommend), it doesn't get much better than the Jr Kyushu Hotel Blossom Shinjuku.
It's a great hotel and the beds are comfy so I don't always have to take a natural sleep aid (if you're interested, check out my Performance Lab Sleep Review).
I stayed there for a total of 2 weeks, so I'll be giving you all the information you need about Jr Kyushu Hotel Blossom Shinkuku, along with my personal experience for this review.
Jr Kyushu Hotel Blossom Shinjuku Location
The first thing I mentioned in this review was location. This was the deciding factor when booking the Jr Kyushu Hotel Blossom Shinjuku.
As you can see by the name of this hotel, it's located in Shinjuku, which is an amazing place to stay in Tokyo.
Just in this one ward of Tokyo, there is endless places to eat and you can visit the Tokyo Metropolitan Government Building, which offers 2 panoramic observation decks for amazing views of Tokyo.
If you're thinking of using a hotel as a hub for traveling around Tokyo and wanting to travel to other cities on the Shinkansen, then you'll be glad to hear that it's right next to a major railway station…
Below is a map embed showing exactly where this hotel is:

Jr Kyushu Hotel Blossom Shinjuku to Shinjuku Station
Staying in a hotel that is literally 3-5 minutes walking distance to the busiest railway station in the world is definitely a HUGE benefit.
That's right, it it incredibly easy to walk to Shinjuku Station. I doubt that you'll need specific directions, because it's that close.
However, I know that it saves a lot of stress knowing exactly where you're going the first time you visit Tokyo, so I'll provide easy instructions on the Jr Kyushu Hotel Blossom Shinjuku to Shinjuku Station route:
Simply exit the main exit of the Jr Kyushu Hotel Blossom Shinjuku (which leads you right next to Lawson, the convenience store).
Turn right and walk past Lawson to the end of that small road where you'll find yourself next to a McDonalds on the street corner.
With McDonalds on your right, turn left and head towards the building with "Lumine" written on it.
Then walk to the right of the "Lumine" building for 1-2 minutes and you'll find yourself at the main entrance of Shinjuku Station.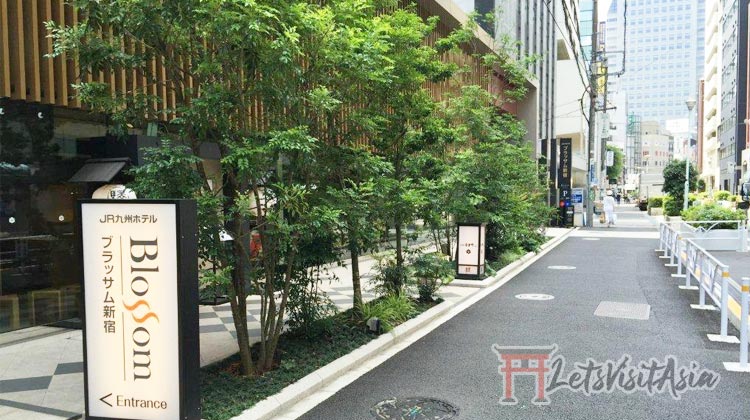 From Narita Airport to Jr Kyushu Hotel Blossom Shinjuku
When you arrive at Narita Airport (or Haneda), the last thing you want is a complex journey to drop your suitcases and bags off at your hotel.
The good news is that going to this hotel straight from Narita Aiport is super easy. It's literally one train ride to Shinjuku Station – and you now know how easy it is to get to this hotel from there.
Here are some directions from Narita Airport:
Take the JR Narita Express (NEX) to Shinjuku Station.
This train runs every 30 minutes, with the overall journey from Narita Airport to Shinjuku Station being 53 minutes.
Then walk to Jr Kyushu Hotel Blossom Shinjuku.
Popular Tourist Attractions Nearby
Not only does Shinjuku Station provide you with the perfect transport links, this hotel itself is really close to some great landmarks too.
These landmarks include the Shinjuku Gyoen National Garden, Miji Jingu Shrine and Yoyogi Park, all of which are around 1 mile away.
I recommend the Shinjuku Gyoen National Garden
While all of the nearby attractions are great, I would personally recommend the Shinjuku Gyoen National Garden in particular; it's amazing to find yourself in such a quite, peaceful area minutes away from the hustle and bustle of the rest of Shinjuku.
If you visit Japan in cherry blossom season, Shinjuku Gyoen National Garden is one of the best places to see the cherry blossoms too. You can actually see that there's a many different varieties of cherry trees (around a dozen to be exact), so it's no surprise that it's one of the most popular national gardens in Tokyo,
There are 3 different types of gardens in Shinjuku Gyoen National Garden
First time visitors may think that Shinjuku Gyoen is just one massive garden. However, if you do your research, you'll find that there are 3 different styles of areas to be found; the Japanese landscape garden, English landscape garden, and also a French style garden.
As a result, you certainly get your money's worth when visiting the Shinjuku Gyoen National Garden. There's even a greenhouse that houses subtropical and tropical flowers too – talk about variety!
How to get to Shinjuku Gyoen National Garden from Jr Kyushu Hotel Blossom Shinjuku
As you probably know by now, we like to provide directions…so it's only fitting that we provide you with directions on how to reach Shinjuky Gyoen National Garden from the hotel we're reviewing here…
You'll be glad to hear that it's not a long walk from the hotel (around 15-20 minutes, depending on how fast you walk.
We recommend starting at Shinjuku Gate (one of the 3 entrances called 'gates' to Shinjuku Gyoen National Park). It is around a 10 minute walk east from the New South Exit of the JR Shinjuku Station (which is very close to JR Kyushu Hotel Blossom Shinjuku).
Here are the most notable tourist attractions close to Jr Kyushu Hotel Blossom Shinjuku and their distance away:
Shinjuku Gyoen National Garden – 0.7 miles away
Meiji Jingu Shrine – 0.9 miles away
Yoyogi Park – 1.2 miles away
Japan Imperial Palace – 3.1 miles away
Tokyo Tower – 3.3 miles away
---
Popular Content: 
---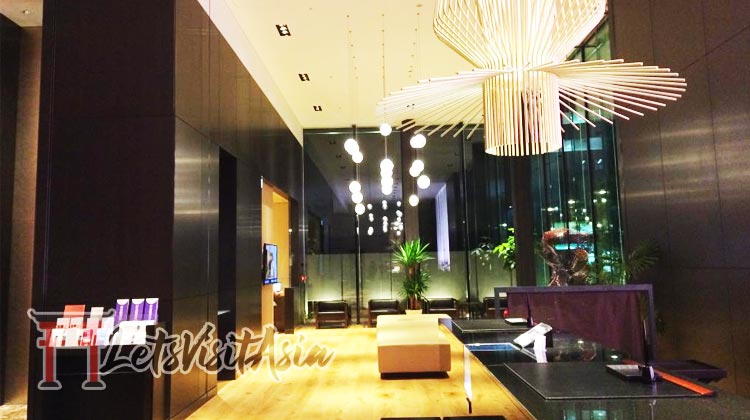 Jr Kyushu Hotel Blossom Shinjuku Rooms
There is a choice of 7 different types of rooms at this hotel in Shinjuku, Tokyo. 5 of these choices are 'twin' rooms which contain 2 beds, with the only 1 room suitable for a couple being their "Standard Double" room.
Here is a list of the 7 different room types:
Single (Standard): This is the smallest room in the hotel, containing 1 single bed (Size: 194 feet)
Standard Double: The only room with 1 double bed, it's the best option for couples visiting couples (Size: 205 feet²)
Standard Twin: A room containing 2 single beds, a great option for friends visiting Tokyo (269 feet²)
Universal Twin: This room is the same size as the 'Standard Twin' but made with wider passage for those with disabilities (269 feet²)
Superior Twin: A total capacity of 3 people, this contains 2 single beds (with the option of adding a 3rd single bed). It's slightly bigger than the 'Standard Twin' (323 feet²)
Deluxe Twin: This room contains 2 single beds but the room is much bigger than the standard and superior (409 feet²)
Twin Room with City View: The most 'premium' room in the hotel, this offers a more spacious bathroom and 2 single beds.
Akasaka Umaya Shinjuku: Breakfast, Lunch or Dinner
If you book to have breakfast included in your stay at Jr Kyushu Hotel Blossom, then you'll be served breakfast at Akasaka Umaya Shinjuku. It's the 'on-site' restaurant on the 1st floor of the hotel.
On the hotel website, it mentions that the restaurant was created by Japan's representative kabuki actor, Ichikawa Ennosuke III. It aims to offer authentic food from the Kyushu region, as well as western choices too.
It offers breakfast, lunch and dinner at these times:
Breakfast: 6:30am -10:30am (Last orders 10:00am)
Lunch: 11:30am – 15:00pm (Last orders 14:30pm)
Dinner: 17:00pm – 23:30pm (Last orders 23:00pm)
Jr Kyushu Hotel Blossom Shinjuku Breakfast
Like with many hotels, the breakfast is laid out in a buffet style.
There's a mixture of Japanese and Western dishes, so everyone will find something to their liking; eggs cooked fresh in all its forms (omelet, boiled or fried), bread, salads and fruits, as well as Japanese pickles, noodles and rice.
You'll also find the usual options of drinks such as coffee and orange juice.
There are a few complaints about the high price of the breakfast at Jr Kyushu Hotel Blossom Shinjuku. So it's up to you if you want to eat at Akasaka Umaya Shinjuku in the mornings.
If adding breakfast isn't in your budget, then there's absolutely no need to worry. Since this hotel is located in Shinjuku, there is a vast number of coffee shops and other places to have breakfast (and if you can wait until lunch, you can eat tons of the best ramen in Shinjuku nearby too.
My 2 Week Experience Staying at Jr Kyushu Hotel Blossom Shinjuku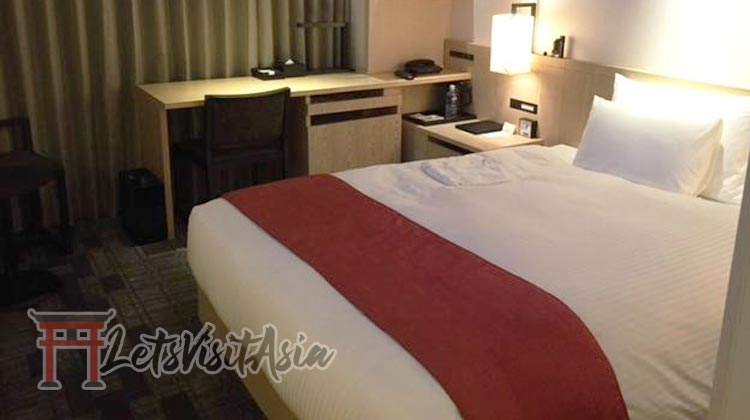 As mentioned, I booked to stay in this hotel mainly due to its location. And it was totally worth it.
It's close proximity to Shinjuku Station was always going to result in easy travel around the whole of Tokyo, as well as visiting other cities such as Kyoto (thanks to the Shinkansen stopping through Shinjuku Station).
In terms of cost, it wasn't a budget option. But it also wasn't anywhere near as expensive as hotels such as the Hilton or Hyatt (made famous for being the chosen hotel for the movie, "Lost in Translation" starring Bill Murray and Scarlett Johansson).
Overall, I'd say that Jr Kyushu Hotel Blossom Shinjuku was worth every penny; the rooms were clean and more modern than others in its price range and you can't beat being 3-5 minutes walking distance from Shinjuku Station.
For those that want a more detailed review of my experience, read on…
Check In
As detailed earlier in this review, it's extremely easy to get from Narita Airport to Jr Kyushu Hotel Blossom Shinjuku. It's literally one train ride and 3-5 minutes walk away.
After arriving at Jr Kyushu Hotel Blossom, I was very pleased that check in went smoothly. The receptionists spoke adequate English; while I do generally speak acceptable Japanese, I know not everyone visiting Japan does, so I'm sure many more guests visiting this hotel wouldn't have any issues in terms of communicating with the receptionists either.
I was given my key card and I went straight up the lift to my room.
My Room
I generally like to save my spending money for the food in Japan. Ramen, Sushi, Tempura, Gyoza and more.
So, I never spend big on the most "premium" room available in any hotel. That said, I was slightly disappointed that there was only 1 option for visiting couples – the Standard Double.
This is because the Standard Double Room is the only room choice that offers the full size double bed. To my knowledge, the other 'Twin' rooms contain 2 single or semi double beds.
The good news is that the Standard Double Room was enough to suit me and my partner's needs.
The bed was comfortable, the bathroom was spacious enough – in Tokyo, the rooms often are smaller than in Western countries, but this is never an issue. I also enjoyed that it was styled in a 'Japanese style' with lantern stye lamps,
There was also enough space for our suitcases without having to walk over them, so that was also a bonus.
All I need is somewhere to come back to at the end of the day and get some sleep in. The Standard Double Room did not disappoint in this regard.
Readers might also be pleased to hear that you will find a "high tech" Japanese style toilet that's become quite famous on social media in the bathrooms of the Jr Kyushu Hotel Blossom Shinjuku.
For those unaware, it means that you can spray your bum with water (Japanese toilet's are basically a 2-1 toilet and automatic bidet) by just pressing a button – you'll be able to see this in our picture below, with the button titled "Bidet". We must admit that we didn't press the "shower" button in fear of what would happen – if anyone has, let us know if the comments!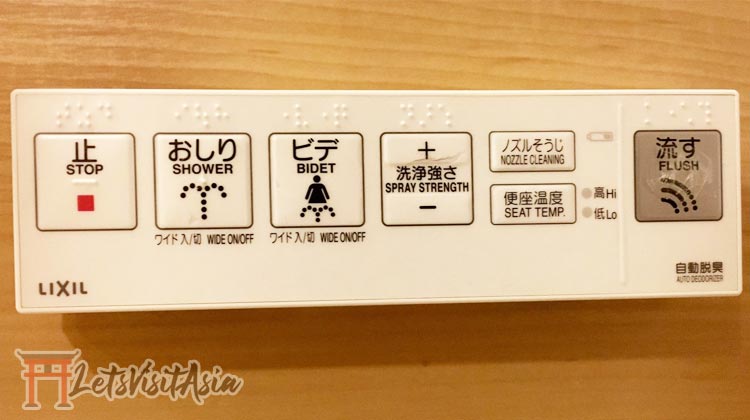 Breakfast
We ate breakfast at the Akasaka Umaya Shinjuku restaurant once during our stay. We didn't decide to pay extra when booking to include breakfast.
There were certainly enough options to please everyone. I was pleasantly surprised by the many options you were given in terms of eggs being cooked, and I even enjoyed some Japanese style breakfast items such as noodles, as well as Japanese pickles and rice.
While there was absolutely nothing wrong with breakfast at Akasaka Umaya Shinjuku, the only reason I didn't choose to have breakfast there more often was down to the vast number of choices the rest of Tokyo offers.
If you're on a bit of a tight budget, then I'd highly recommend visiting the Lawson convenience store that's right next to the Jr Kyushu Hotel Blossom Shinjuku; you can buy ready made sushi (maki rolls) and a variety of other Japanese style breakfast items, including my favorite, Natto…
…in case you don't know, Natto is femented soybeans that's known for it's pungent smell. It might be an acquired taste, but it's genuinely one of my favorite things to eat while in Japan – and it's even been found to be a probiotic food and rich in many nutrients.
The bottom line is that you'll never be short of places to eat in Tokyo. After all, it is known as  'food capital of the world' regardless of your budget.
My Base During Trips to Nikko, Hakone. Even Nagoya, Osaka and Kyoto
I keep on bringing up location when mentioning this hotel. But I really believe it's one of the best hotels to stay in if you're looking for somewhere with the best travel links.
Shinjuku Station is the busiest railstation in the world for a reason. You can get anywhere in Tokyo, and most places outside of Tokyo that's reachable by train, with ease.
I found it incredibly easy to travel to neighboring towns and cities such as Nikko and Hakone, which I'd 100% recommend anyone staying in Tokyo to go to.
Not only that, since Shinkansen trains (Japanese Bullet Trains) pass through Shinjuku Station, you're only 1 train ride away from the likes of Kyoto too.
Because I got a great deal booking a 2 week stay in Jr Kyushu Hotel Blossom Shinjuku, the hotel staff were completely fine with me going over to Nagoya, Osaka and Kyoto for 3 nights in the middle of my stay. There were no issues when I returned.
My Final Thoughts on Jr Kyushu Hotel Blossom Shinjuku
Location, location, location.
If you're looking for somewhere to stay in Tokyo that's in mid-range in terms of price with an amazing location, you'll love the Jr Kyushu Hotel Blossom Shinjuku. The Lawson being next door really is a bonus too – the pre-prepared sushi that you can buy from Japanese convenience stores really is worth trying (it's super cheap and surprisingly great quality sushi!).
Here's how good the location is; while bookings were high over the Rugby World Cup in Japan back in 2019, the price to stay in this hotel quadrupled!
So my review is based on the price before the rates went sky high, before the Rugby World Cup. I imagine the prices at the Jr Kyushu Hotel Blossom Shinjuku might stay high over the next year or so due to the upcoming Olympic Games too (you can check out the latest prices on their site here).
When I stayed at this hotel, it was considered as a "mid-range" hotel in terms of price. To give you an example of price, it was around the same cost to stay in the Shibuya Granbell Hotel.
For the price I paid to stay at this hotel for 2 weeks, I can absolutely recommend it. Is it a 5 star luxury hotel? No, but it's worth every penny for the price you pay – you'll see that all reviews online give this hotel a 4.5 star rating, and we agree with that.
The only bad thing about this hotel is that it's now often fully booked up all year!