Performance Lab Sleep Review: Quick Summary
Using only 100% natural ingredients and sources of melatonin, we believe Performance Lab Sleep is the best natural sleep aid currently available.
Whether you struggle to sleep daily or just on occasion, Performance Lab Sleep is sure to improve your sleep quality – without you waking up feeling drowsy.
I've used Performance Lab Sleep countless times to help 'hard-reset' my circadian rhythm while suffering from jet lag.
Sleep has been said to be the most important performance enhancer by many sleep experts and doctors.
And for good reason – you simply can't operate long-term at your best without a good night's sleep.
The last thing you want is to be too tired to see landmarks while you travel the world.
I often struggle with sleep at the best of times. Never mind during a long-haul flight or while staying in hotels.
As a result, I naturally began searching for sleep aids that could help me drift off quicker and improve my quality of sleep here at Let's Visit Asia. So I could wake up feeling fresh and ready to make the most of each day.
And that's when I found Performance Lab Sleep.
Who are Performance Lab?
Performance Lab is a cutting edge supplements company that are known for their clean and natural products.
All of their supplements are vegan-friendly, with absolutely no artificial flavors, colors or ingredients added to them – all 100% natural.
They released their range of supplements to the market a couple of years ago now, so they're still a pretty fresh company. We like that Performance Lab are dedicated to producing the cleanest and highest quality products on the market – we've only really tried their multivitamin (see our Performance Lab Multivitamin Review), their nootropic supplement (see our Performance Lab Mind Review) and this sleep supplement, but we're happy with what we've seen so far.
What Is Performance Lab Sleep?
Sleep is Performance Lab's natural sleep aid that's been backed by Nick Littlehales…
Nicknamed 'Sport Sleep Coach', Nick Littlehales is a sleep doctor that's helped elite athletes and celebrities, such as Cristiano Ronaldo and Olympic teams, to improve their sleep quality. So I was happy to see it recommended by a high profile professional such as Nick.
Nick has been mentioned in reddit threads and international newspaper articles too, so he's almost a household name by now.
This sleep supplement is probably the cleanest and most natural you'll find out there. It's allergen free, gluten free, soy free, synthetic additive free (there's many things to list, so we'll just grab a picture from their website showing you all these features below).

Performance Lab Sleep Price
It costs $40 (£30) for 30 serving bottles, so it's certainly not the cheapest sleep aid on the market. But as we mentioned, it's the most natural one we've seen and not every sleep supplement is recommended by doctors that work with elite athletes.
While it is pricey, we don't think it's too expensive. Most people will still be able to afford this on a monthly basis – I mean, you can't put a price on good sleep, right?
Where to Buy Performance Lab Sleep
The slightly bad news is that you can't get this on Amazon or other online retailers such as GNC.
In fact, the only place to buy this sleep supplement is on their official website; I've been told the reason for this is so that they can directly control the customer experience, being so confident in their service that they even offer a 30-day money back guarantee.
The good news is that you can buy Performance Lab Sleep on its official website using PayPal and Amazon Pay. I always like seeing more options to purchase products, so this is a big thumbs up from me.
It actually arrived (to my apartment in the US) within a few days, so no complaints about shipping from me.
Click here to view lowest price for Performance Lab Sleep
Performance Lab Sleep's Ingredients
I strongly recommend that everyone knows exactly what they're putting into their body. Especially when it comes to supplements.
Simply put, you don't want to consume a sleep aid overloaded with something that can cause side effects. No-one wants to experience side effects, full stop.
It's for this reason why I'll analyze exactly what's in Performance Lab Sleep, in terms of ingredients in its formula.
NutriCaps
It's not often that the capsules of a supplement are a feature worth mentioning. But it is with Performance Lab Sleep.
Performance Lab's R&D department produced a revolutionary capsule that's made from prebiotic fiber. Meaning even the capsule is beneficial for you; it helps promote digestive health.
These NutriCaps are patented by Performance Lab, so you won't see them in any other supplement out there. Pretty impressive.
Even better, the capsules aren't made from gelatin. Which makes Performance Lab Sleep completely vegan-friendly, so anyone can take it regardless of lifestyle choices.
In terms of 'main' ingredients, this sleep supplement contains five; 3 different forms of Magnesium, Montmorency Tart Cherry, and L-Trytophan.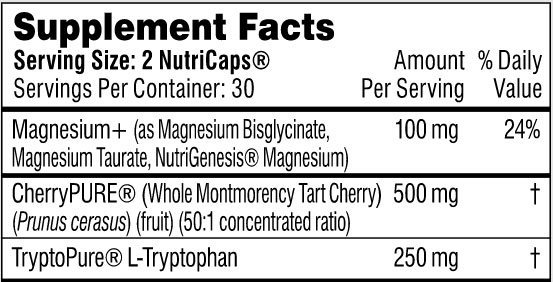 Magnesium – 100mg
As mentioned, there are 3 different forms of Magnesium in Performance Lab Sleep:
Magnesium Biscglycinate
Magnesium Taurate
NutriGenesis Magesnium
This makes sense, as it's no secret that Magnesium can improve your sleep quality. In fact, sleep issues are often associated with magnesium deficiency – this is an interesting chunk of information for those of you that didn't know.
But the most interesting thing that we found out was that Magnesium helps boost the effectiveness of another ingredient that's shown to promote sleep quality (that's also in Performance Lab Sleep). Called L-Trytophan…
L-Tryptophan – 250mg
Ever wondered why bananas are linked with better sleep? It's because bananas are a natural source of L-Tryptophan. (bananas are also a good source of magnesium too). 
Anyway, L-Tryptophan can affect your serotonin and melatonin levels; serotonin is responsible for your stress level and mood, while melatonin influences your sleep and wake cycle.
So we should all agree that L-Tryptophan plays an important role when it comes to sleep quality. And you'll be glad to hear that there are numerous clinical studies out there that back this up.
I mentioned that Magnesium works in synergy with L-Tryptophan. Which is no surprise when this sleep product comes from a company called 'Performance Lab' – clearly tons of research in their R&D had taken place to formulate this natural sleep aid.
Performance Lab haven't cut costs either. They've included the more costly, premium and patented form of L-Tryptophan called TryptoPure (which is supposed to be more effective).
Montmorency Tart Cherry – 500mg
Montmorency Tart Cherry is the highest dosed ingredient in this natural sleep aid. So it's the 'star' of the show here.
It's for good reason: Montmorency Tart Cherry is the highest natural source of melatonin (melatonin being key to promoting a good night's sleep).
But you might be asking the question "why don't I just take melatonin directly instead of through montmorency tart cherry"? And that's a good question indeed.
Key Point: The majority of sleep supplements on the market contain synthetic melatonin.
Synthetic melatonin is much cheaper than adding Montmorency Tart Cherry, and consuming melatonin directly is often linked with the morning grogginess (or drowsiness) that most sleep supplements are known for.
I've actually tried some melatonin gummy bears and other synthetic melatonin supplements before. And I can confirm that I woke up feeling drowsy the morning after. For this reason, I can safely say that we much prefer taking a natural sleep aid containing Montmorency Tart Cherry such as Performance Lab Sleep.
Does Performance Lab Sleep Work? My Personal Review…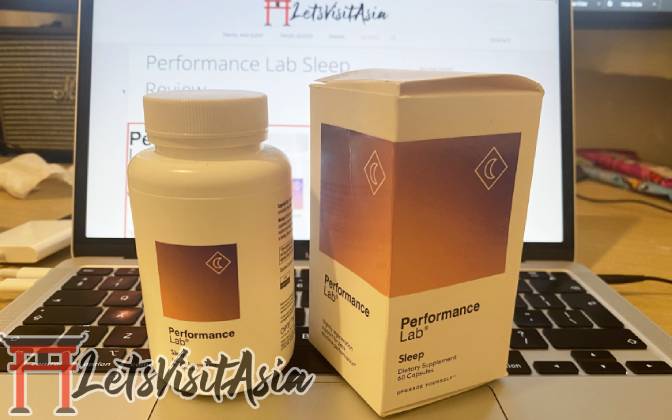 You didn't think I'd leave you with a review without my personal experience in this Performance Lab Sleep Review, did you?!
Well, today's your lucky day…
Where Did I Buy Performance Lab Sleep?
The only legitimate place to purchase Performance Lab Sleep is through Performance Lab's official website: www.performancelab.com 
So, this was exactly where I continue to buy my bottles whenever I need to.
The best thing is that Performance Lab have had no issues with shipping around the world to me. So it doesn't seem to matter where I travel to, I can always have a bottle delivered to a hostel, hotel or apartment.
Click here to view lowest price for Performance Lab Sleep
1st Night Taking Performance Lab Sleep
I can't speak for everyone. But for me, Performance Lab Sleep worked from the first dose.
You're instructed to take 2-4 capsules around 45 minutes before you go to bed. So that's exactly what I did.
As mentioned, I usually struggle to fall asleep without browsing my phone or watching a random video on YouTube. However, after the 45 minutes of taking Performance Lab Sleep, I felt like I was in a really good place to just get my head on my pillow.
It definitely helped me get to sleep in record time.
After 1 Year of Consistent Use
Performance Lab Sleep has become without a doubt my 'go-to' natural sleep supplement. Whether I'm chilling in the US or traveling around Asia, I always make sure to have a bottle around.
You'll be glad to hear that I'm not 'addicted' to Performance Lab Sleep, though.
It seems to have a long-lasting effect on sleep quality; after taking it for a couple of months, my sleep issues have seemingly gone and I can now sleep well without having to take this sleep aid every night.
In fact, now, I  go to bed without taking Performance Lab Sleep. And I only take it if I lie in bed for 1 hour without being able to sleep (which isn't too often nowadays).
Perfect for 'Hard-Resetting' Your Sleep Cycle in Different Time Zones
We've all experienced jet lag after flying into a different time zone and continent. Well, I found that taking 4 capsules of Performance Lab Sleep on my first night in a new country helps 'hard-reset' my sleep cycle – especially with jet lag returning from Japan.
Afterwards, I find myself waking up in the morning more in-tune with time zone and can make the most of my visits quicker. This is actually one of the main reasons why I always travel with a bottle of this natural sleep supplement now.
Does Performance Lab Sleep Cause Side Effects?
The answer to this question, for me personally, is NO.
I have never experienced any negative side effects after taking Performance Lab Sleep.
And after using it for 1 year, I can probably confidently say that it's safe (in my honest opinion).
I can't speak for everyone, though. So if you do try it for yourself, please let me know your experience in the comments!
Performance Lab Sleep Coupon Code?
It's human nature to want a discount at all times. When I order a pizza or takeout, I always google to see if there is any kind of discount code or coupon available to use.
So…it's only natural that our readers have asked us whether we managed to find any coupon or discount code for Performance Lab Sleep.
The bad news is that we didn't manage to find any. And after asking their customer service team, we were told that no discount/coupon codes exist for Performance Lab supplements. The good news is that you Performance Lab have offer multi-box deals on all of their products, including their natural sleep aid in this review.
FYI: These discounts are automatically applied once you add more than 1 bottle to your cart. 
Here are all the prices of the multi-buy deals available:
$39 for 1 bottle (1 month supply)
$78 for 2 bottles (2 month supply)
4 bottles & Free Shipping for $117 (4 month supply; as shown below)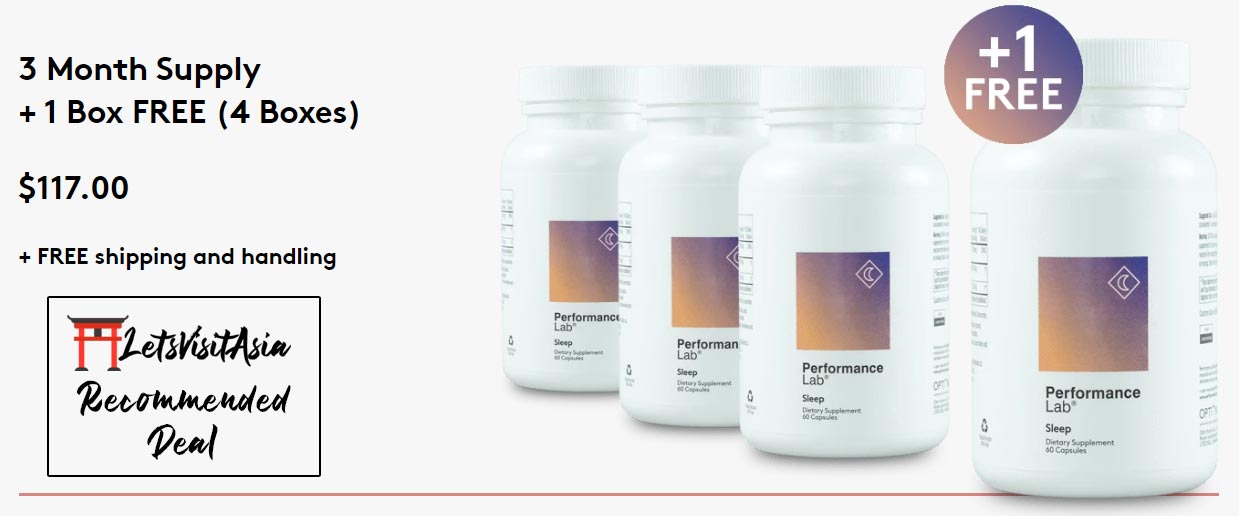 Click here to view lowest price for Performance Lab Sleep
Performance Lab Sleep Review Conclusion
I've tried many different sleep aids and sleep supplements while traveling before.
Melatonin gummy bears, countless different pills. You name it. And not all of them have helped me get to sleep quickly without making me feel groggy or drowsy in the morning.
In my honest opinion, this is best natural sleep aid on the market.
Notice that I didn't say 'strongest'. Because synthetic sleeping pills filled with chemicals and synthetic melatonin supplements are wayyy stronger.
But stronger isn't better, in my experience. While synthetic sleeping pills and melatonin will 'knock you out', I always wake up feeling groggy in the morning afterwards.
That's the best thing about Performance Lab Sleep for me; I never feel 'groggy' the morning after.
So while this sleep aid won't 'knock you out', it certainly has helped me get to sleep quicker and wake up feeling fresh in the morning.
And as I mentioned in my personal Performance Lab Sleep Review above, it seems to have helped my sleep quality long-term without having to take it each night now after half a lifetime of suffering with sleep issues (I've been taking it for around 1 year).