If you want to experience the many different varieties of ramen found across Japan, Kyoto Ramen Koji is perfect for you.
For most visitors to Japan, eating authentic ramen is high on the to-do list. It is one of Japan's biggest cultural exports, along with sushi and Hello Kitty.
While ramen is a delicious food regardless of location, Japan's mastery of ramen makes it especially desirable.
With such variety of ramen, a collection of restaurants like Kyoto Ramen Koji is a perfect way to taste regional styles without the hassle of traveling to various locations; it introduces the myriad of flavors associated with ramen in a way that is ideal for both ramen-lovers and the casual visitor.
Origins of Ramen and its Diversity
Ramen has a long history and its origin is sometimes disputed.
According to the Yokohama Ramen Museum, ramen was first brought to Japan from China in the 1850s.
However, while the original food came from China, it has been changed and adapted so much throughout the years that Japanese ramen is a completely different food.
Japan is famous for its regional varieties of food and ramen is no different.
Every area of Japan has claimed a certain variety of ramen as their own specialty; from the dark soy sauce ramen of Toyama to the creamy tonkotsu ramen of Fukuoka.
The regional differences generally include a difference in broth base and noodle type.
While ramen touring is a very real activity, it is a lot more difficult as an international visitor. And so, a solution has been found for those wishing to try multiple regional varieties of ramen without the time or organisation needed to tour the whole of Japan.
Welcome to Kyoto Ramen Koji…
---
Related Posts: 
---
What is Kyoto Ramen Koji?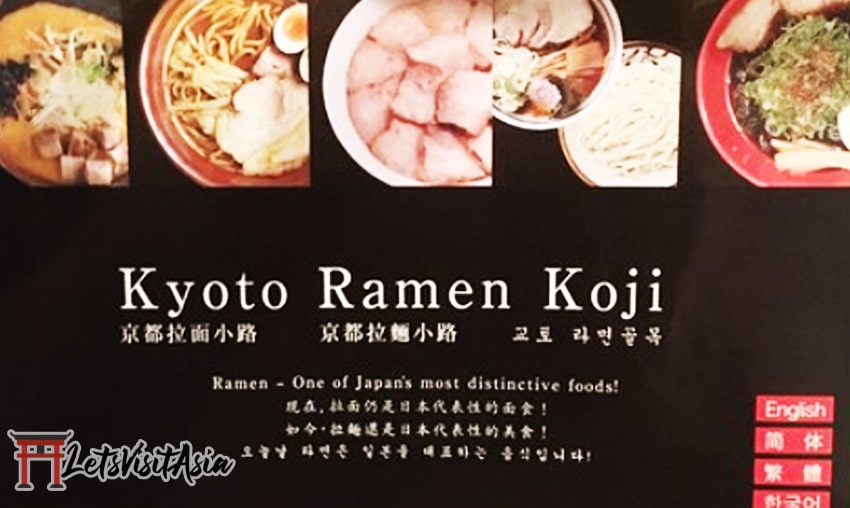 Kyoto Ramen Koji, which translates to Kyoto Ramen Street, is a small, dimly-lit corridor of ramen restaurants. It's a small, well-hidden part of Kyoto Station (so we'll provide some brief instructions on how to find it in a section below).
There are eight different restaurants found in Kyoto Ramen Koji, each specializing in a different type of ramen. This range of specialization means it is possible to try a range of regional varieties, all in one place.
How to Find Kyoto Ramen Koji
Despite being a group of restaurants, Kyoto Ramen Koji follows this same rule; there is very little signage to show where it is and the first time I found it was purely by chance.
The best way to find Kyoto Ramen Koji is to first find the much larger and easier to locate Isetan Department Store. From the department store there is an elevator to the 10th floor, and here we find a ramen-lover's heaven.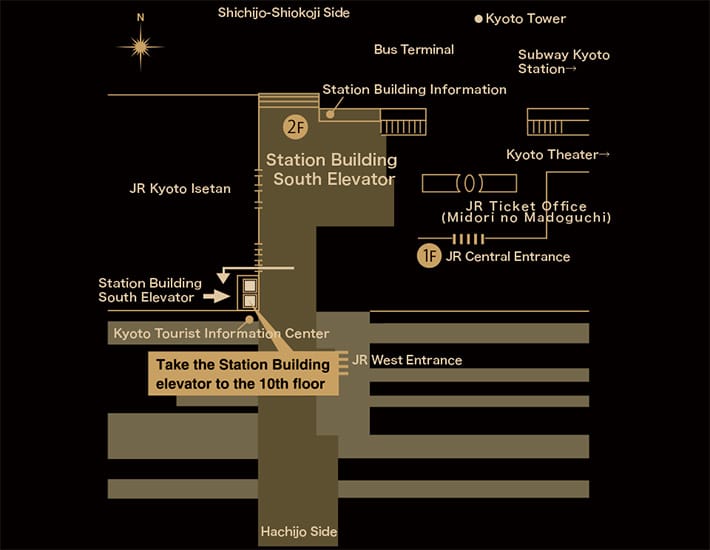 Ticket Vending Machine Ordering Service at Kyoto Ramen Koji
The restaurants all use the machine ordering system, utilized by most ramen restaurants in Japan, and are able to be used in English. This makes the ordering process quite easy and straightforward.
After choosing a restaurant, using the machine merely consists of:
Choosing your ramen.
Adding any extras (extra meat, extra egg etc).
Deciding on sides and drinks.
The machine will then display your total and paying works similar to a vending machine; it will then print a ticket which is then given to the waiter or waitress and the ordering is sorted.
While the advertising of some restaurants can be intimidating due to being all in Japanese, navigating the ordering process is straightforward.
Best Times to Visit Kyoto Ramen Koji
Kyoto Ramen Koji restaurants can have long lines at peak times – lunch and dinner times.
However, every time I have visited the restaurants have been quite empty. This has usually been soon after opening (opening hours start at 11am) or mid-afternoon.
So, from my personal experience, visiting soon after 11am has usually resulted in no time waiting around.
---
The 8 Restaurants in Kyoto Ramen Koji

With eight different restaurants, it can be hard to make a choice. So it's time to look into these restaurants.
To start with a hometown ramen, we have Masutani serving Kyoto-style ramen.
Masutani: Representing Kyoto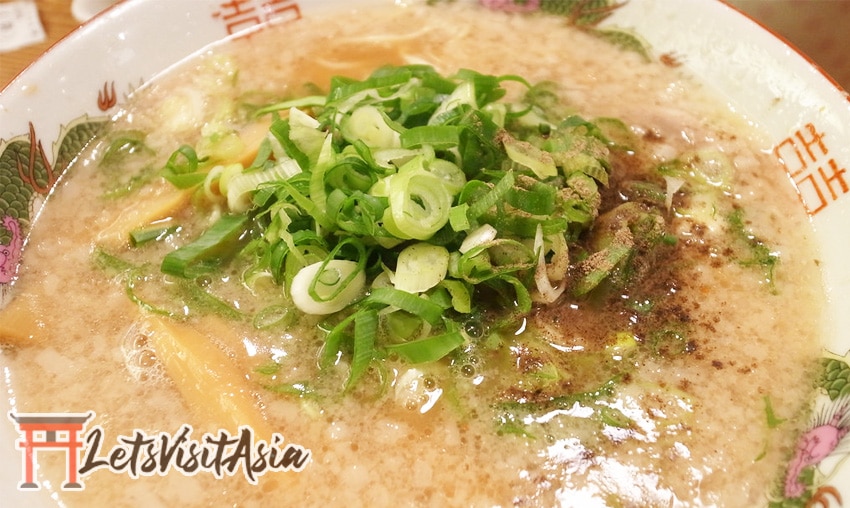 The first Masutani store opened in Kyoto in 1948 and so the flavor holds a strong sentimental value for those living in Kyoto. This also makes it one of the most popular restaurants of Kyoto Ramen Koji.
Kyoto ramen is generally heavily soy-based with a mix of pork back fat and soy sauce in the broth. It has a fairly light broth with thin noodles.
This ramen uses the most common ramen meat topping of char siu pork. The ramen is fatty and salty and the restaurant is one of the most famous in Kyoto.
How much is ramen at Masutani?
The Kyoto Ramen Koji branch of this restaurant seats around 16 people and the ramen costs around ¥900.
Nakamura Shoten: Representing Osaka
Nakamura Shoten is a ramen shop originating from the neighboring prefecture of Osaka. While Osaka as a city doesn't have a strong connection to one style of ramen, Nakamura Shoten does provide some interesting contenders.
Their specialty is considered to be Kin no Shio ramen, or Golden Salt ramen. It offers seafood and chicken-based broth with medium thickness noodles. Heavily flavored with shiso, a common Japanese herb, and salt. It's a fresh and light ramen, considered more refreshing than some of the heavier, creamier styles.
Ultimately, this type of ramen is perfect for the warm Osaka climate.
How much is ramen at Nakamura Shoten?
Nakamura Shoten's Kin no Shio ramen comes to ¥1100 per bowl and is a great refresher for tired travelers.
Ramen Todai: Representing Tokushima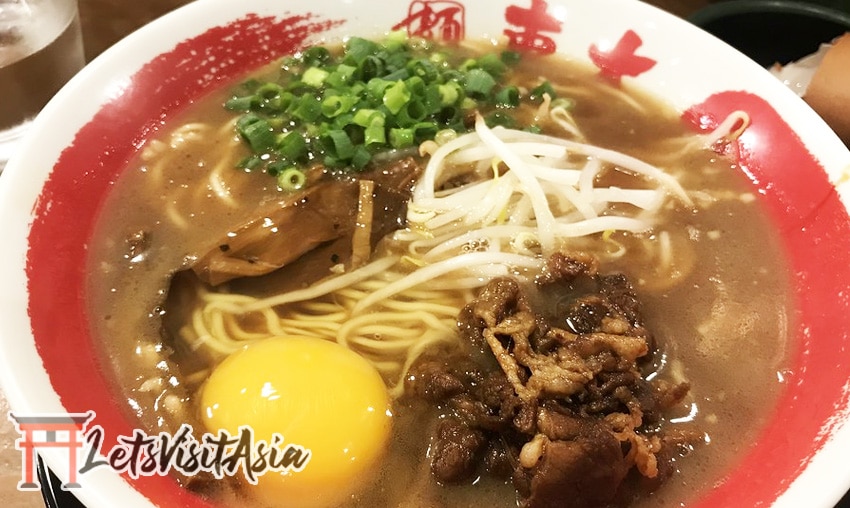 So far, the ramen shops mentioned have all originated in the main island of Japan, Honshu. For something different, we have Ramen Todai from Tokushima in the more southern island of Shikoku.
Tokushima ramen uses a sweet broth with a mixture of pork bone and soy sauce. It is characterized by its similarity to sukiyaki, a hotpot-style dish with very thinly-sliced meat cooked at the table and mixed with raw egg yolk.
Ramen Todai also uses thinly sliced meat and raw egg is placed on top of the ramen. The use of raw egg adds a unique flavour and texture to the ramen. Tokushima ramen uses medium thickness noodles and has a deep, rich flavor.
How much is ramen at Todai Ramen?
The Todai Ramen bowls range from ¥700 – ¥1300 in price.
Menya Iroha: Representing Toyama
Next we jump to Menya Iroha from the seaside city of Toyama and their award-winning black soy sauce ramen. This ramen is quite striking in appearance with its jet-black broth.
The broth is chicken and seafood-based. Using two different stocks creates a richer and more detailed flavor.
However, the star of the show is the black soy sauce; Menya Iroha use a fish soy sauce which has been matured for a number of years to give their ramen a unique flavor.
The char siu pork in the ramen is also stewed in the black soy sauce to imbue even more of the flavor. Menya Iroha has won the Tokyo Ramen Show for five years consecutively and is well-acclaimed.
How much is ramen at Nakamura Shoten?
The Toyama Black soy sauce ramen is around ¥1000, although it can get up to ¥1500 with extras.
Menya Hanabi: Representing Nagoya
Representing Nagoya ramen is Menya Hanabi, the birthplace of the unique Taiwan Mazesoba.
Despite the name, this ramen was created in Nagoya in central Japan. It was named Taiwan mazesoba as the meat seasoning is quite similar to Taiwanese dishes and it is spicier than most other ramens.
Taiwan mazesoba is very different from most ramens as it is missing one of the key components – the broth.
It is a dry ramen, a bed of noodles served with toppings of seaweed, spring onions, minced meat and egg yolk. The minced meat is cooked with soy sauce to add further flavor. These toppings are then mixed together at the table to create a fresh and unique dish.
This ramen has a strong, rich taste and uses thick noodles.
How much is ramen at Menya Hanabi?
At Menya Hanabi, a bowl of Taiwan Mazesoba comes to around ¥900.
Bannai Shokudo: Representing Fukushima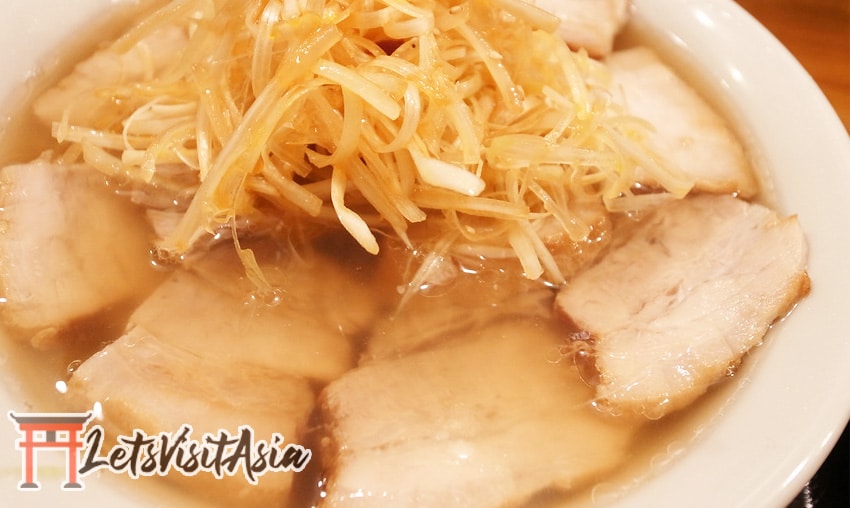 The small city of Kitakata in the northern prefecture of Fukushima is unassuming, but over the last 50 years has produced one of the top three varieties of ramen in Japan.
Bannai Shokudo is one of the ramen shops to help create this distinctive style of ramen, although nowadays Kitakata has the largest amount of ramen shops per capita.
Kitakata ramen has a thick, salty tonkotsu (pork bone) broth, a staple for many ramen shops. However, it is flavored with sardines and soy sauce, making it different from most other pork-based ramens.
The most distinctive characteristic of Kitakata ramen is the noodles themselves.
Kitakata ramen noodles are known for being flat, wide and curly, with a clear difference from the standard ramen noodle. They are closer to a curly fettucine in appearance with a strong flavor. These distinctive noodles, in combination with a thick, rich broth, have led to Bannai Shokudo's ongoing popularity.
How much is ramen at Bannai Shokudo?
The ramen at Bannai Shokudo ranges from ¥700 – ¥1000.
Taishoken: Representing Tokyo
Hailing from the capital, Tokyo, is Taishoken ramen. Taishoken is the home of a summer delicacy in Japan, tsukemen noodles. Tsukemen is cold noodles served separately to the hot broth, which is then used as for dipping.
The broth is pork and chicken bone-based with a variety of toppings available, including the usual pork, green onions and bamboo shoots, but also some unique toppings; these include smoked mackerel, minced meat, vegetables and sardines.
The noodles are served cold and dipped into the hot broth, creating a refreshing dish.
Tsukemen is especially popular during the hot, humid summer months. Interestingly, while the dish is commonly referred to as tsukemen across Japan, it is actually named Morisoba in the Taishoken stores. A common side dish is char siu pork served with pickled bamboo shoots.
How much is ramen at Taishoken?
A bowl of the regular chilled noodles will set you back about ¥900 while a deluxe bowl comes to ¥1250.
Ikkousha: Representing Fukuoka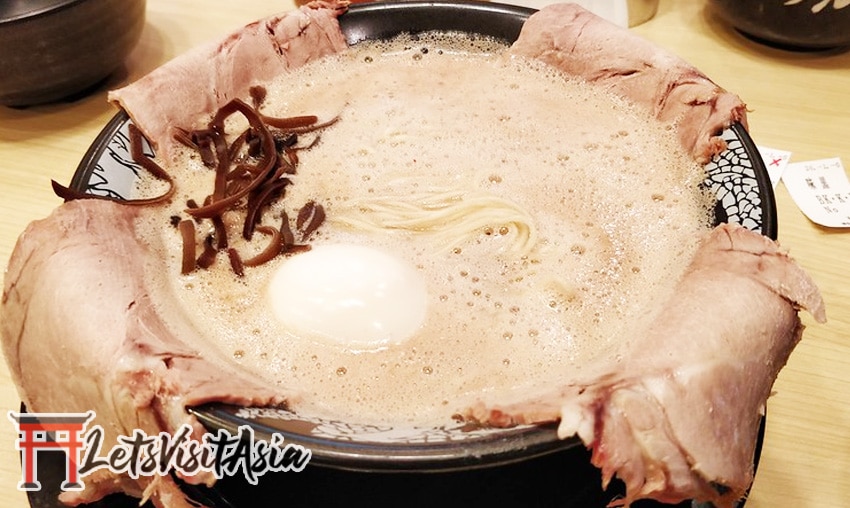 And finally, from Fukuoka, the city largely regarded as the mecca of ramen, we have Ikkousha serving Hakata ramen. Hakata ramen is a simple style of ramen, but one of the most popular, also placing in the top three varieties of ramen ranking.
This ramen uses the original tonkotsu, or pork bone, broth, cooked to a smooth, creamy perfection. The broth is milky white with a strong salty pork flavor.
Thin, hard noodles are used in tonkotsu ramen, providing the perfect contrast of textures.
Due to the small size of the noodles, they can become soggy faster and so a smaller portion is usually served. However, most restaurants offer 'kaedama' or a second serving of noodles to allow the customer to truly enjoy the full broth.
It is served with slices of perfectly cooked char siu pork with spring onions and a boiled egg.
Hakata ramen is one of the most common styles of ramen found across Japan, and for good reason. Ikkousha offers a wonderful representation of this crowd favorite.
How much is Hakata Ramen?
Ikkousha ramen bowls range from about ¥800 – ¥1300.
---
For Those Visiting Kyoto Ramen Koji with a Sweet Tooth…
Ramen is generally a very filling meal which doesn't tend to leave room for dessert. However, for those with a sweet tooth, Kyoto Ramen Koji does have sweets café also.
Chasen Cafe
Chasen café is a small shop specializing in Japanese confectionery and desserts.
It is largely focused around matcha, or green tea, flavored items. However, there are also seasonal flavours and items available. Chasen café is great for anyone wanting a dessert to follow their ramen, or even to buy a snack for another time.
---
Final Word on Kyoto Ramen Koji
Ramen is hugely popular, both inside and outside of Japan. There are so many varieties of ramen that it is possible to continue trying different ramen restaurants for years and never get bored of them.
However, for international visitors hoping to try authentic ramen, this can be difficult.
Many varieties are regional and are made best by the shops that popularized them. Kyoto Ramen Koji provides a small solution to this. By offering a range of the top regional varieties of ramen from famous shops, it is possible to try various ramens without leaving Kyoto.