If you like ramen, then you will definitely have heard about Tsuta. We just had to taste their ramen and write a Tsuta Tokyo Review…so here it is!
Tsuta originally opened with the name "Japanese Soba Noodles Tsuta" (ジャパニーズソバヌードル 蔦) with its original 9 seater ramen restaurant in 2012. The location of its original ramen shop is Sugamo, Tokyo, and is the one we visited.
But what makes it so special?
Tsuta became the first ramen restaurant in the world to achieve Michelin Star status in 2015. Thus, skyrocketing the reputation of ramen around the world (it's been known to Japanese residents for a long time that ramen is absolutely delicious – it's one of the most commonly eaten dishes in the whole of Japan).
Since then, many people have travelled from different countries to taste the Japanese Soba Noodles of Tsuta in Tokyo. Often queuing for hours, even with a time slot booked via Tsuta's ticket pre-booking arrangement.
*Since we visited Tsuta, it has since moved location.
Updated location of Japanese Soba Noodles Tsuta (Tokyo): 
Current Address: Japan, 〒151-0066 Tokyo, Shibuya City, Nishihara, 3 Chome−2, 2-4 B1
Brief Details: The original Tsuta restaurant that we visited was the a small 9 seater shop. The current store is now located in Yoyogi-Uehara and is not the specific one that this review is about, although the menu remains very similar and we are assured that the food quality is the same standard.
Phone Number: +81 3-6416-8666
Opening Hours: Open daily between 11am-3pm (apart from Thursdays where Tsuta is closed every week, all day).
Getting Your Ramen Time Slot at Tsuta Tokyo
If you've just landed in Tokyo, Japan and are wanting to head straight to Tsuta, there's something you need to know; due to its popularity, Tsuta operates a ticketing system which requires all customers to effectively "pre-book" a time slot – to avoid longer queues than there already are.
In fact, while we were waiting in line we saw many people who hadn't done their research and were turned away after trying to wait in line without a pre-booked ticket/time slot.
Tsuta's Ticket System Explained
You might be thinking: "what is Tsuta's ticketing system?" or "how do I get a ticket from Tsuta?". Luckily we'll explain everything you need to know in this section.
Basically, since Tsuta has become a "tourist hot-spot", the Japanese Soba Noodles shop has created a pre-booking system using tickets to avoid crazy queues of people. It's actually a really efficient system, so don't let this put you off visiting!
How to get your Tsuta Ticket
You can visit Tsuta after 8am on most days of the week to obtain your ticket. You are required to pay a deposit of ¥1,000 for your ticket, which is refunded to you when you return later to enjoy your meal.
There are different tickets in different colors and each color represents a different time slot:
White Ticket: 11am
Yellow Ticket: 12am
Blue Ticket: 1pm
Pink Ticket: 2pm
Green Ticket: 3pm
Light Blue Ticket: 4pm
Can you Choose a Certain Time to eat Ramen at Tsuta Tokyo?
We visited Japan in late May and were able to choose between a couple of different time slots. Since we wanted to feast with a big order, we decided on a 4pm time slot and were given a light blue ticket; this also allowed us to go back into Shinjuku to shop around and chill in some parks (as there really isn't much to do around the location of Tsuta).
However, during extremely busy periods you will have to settle for any time slots that you can get your hands on. So, the answer to this question is: it depends on how busy Tsuta is when you go there to secure your ticket.
In all circumstances, we would strongly recommend that you arrive as early as 8am as possible. Since 8am is the earliest time when you can pay the deposit to obtain your ticket and time slot, you have a higher chance of being one of the first people that day to obtain their ticket.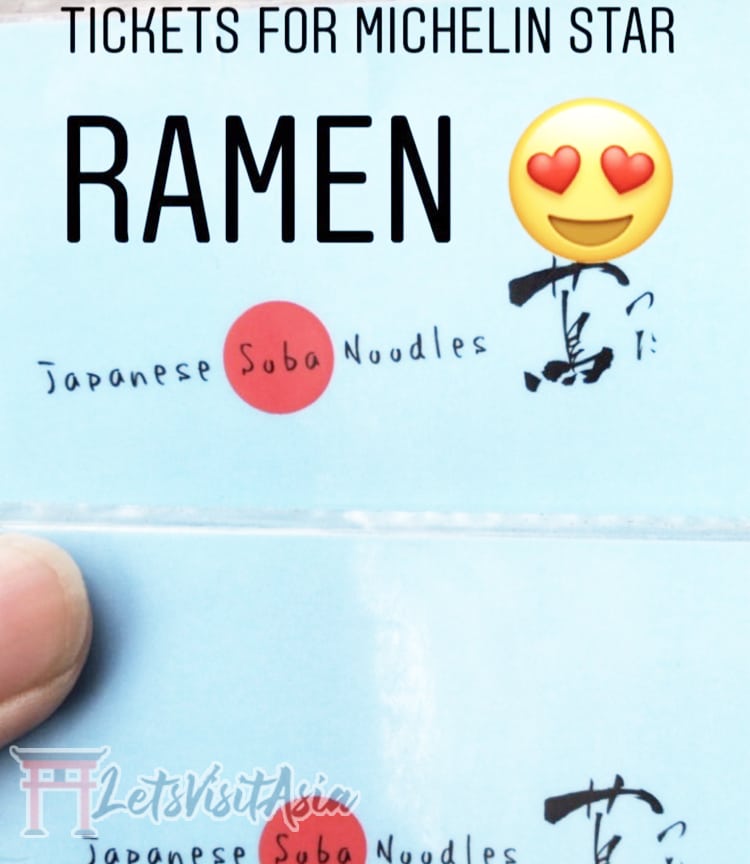 Our Personal Tsuta Tokyo Review

:
Eating Michelin-starred Ramen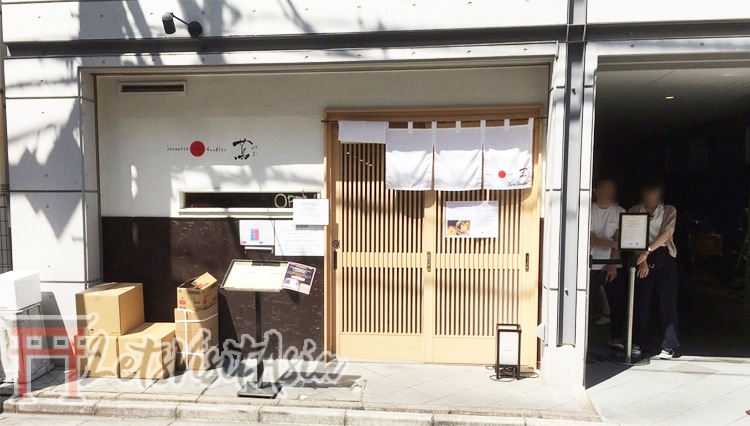 While we fully recommend that you inform yourself about Tsuta's ticketing system to avoid any disappointments and secure your time slot, this is most likely the section you came here to read. After all, we read tons of reviews in excitement before making the decision to visit Tsuta too!
Our quick summary to the question: "Is Japanese Soba Noodles Tsuta worth visiting?" is an absolute YES. But for those wanting a more in-depth review, we'll give you our full experience of lining up and finally entering this michelin-starred ramen restaurant to enjoy our meal.
Waiting in the Queue at our Designated Time Slot at Tsuta Tokyo
If we have to think hard about any negatives during our visit to Tsuta, the only one that we'd mention is the queuing.
In a nutshell, even though they do have their efficient ticketing system in place that designates all customers a time slot, there are still queues outside.
It's fair enough, as no-one wants to be rushed in and out. We respect that Tsuta doesn't pressure anyone into eating their bowl of ramen quickly, so everyone can fully enjoy their time in their shop and eating their Japanese soba noodle dishes.
We didn't bring a stopwatch and didn't really keep strict timing on how long we waiting outside the shop in the queue. However, if we remember correctly after speaking with other customers in the queue, it wasn't unusual for people to wait around 30 minutes before being able to enter Tsuta.
The positive from the situation was that we enjoyed talking with other customers in the queue; there were people visiting from all over the world and it's always amazing to hear different stories from others.
So, don't let the queuing put you off visiting Tsuta.
Think about it this way, you would have to book a date months in advance for other Michelin-starred restaurants so it's great that you can pre-book a time slot on the same day you want to eat at Tsuta most of the time.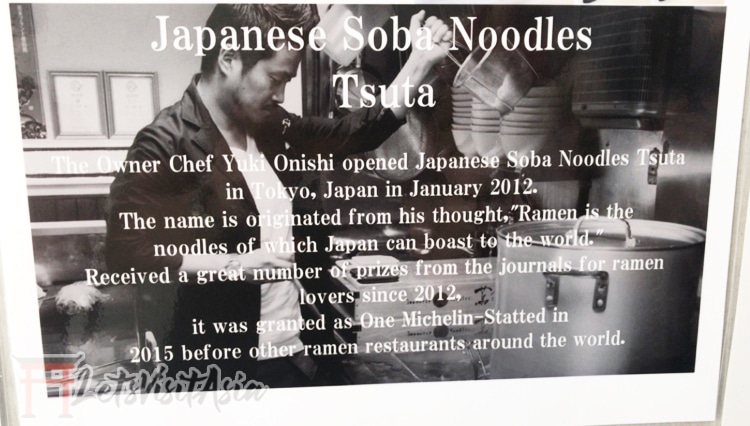 Finally Entering Tsuta (Tokyo) and Enjoying Michelin-Starred Ramen
On entering Tsuta, we were met with one of their staff who returned our deposit of ¥1,000 (per ticket) in exchange for the time-slot tickets. Since there were two of us, we received ¥2,000 back.
We were then required to buy a meal ticket (a common thing in Japanese restaurants, especially ramen shops) from a vending machine.
Tsuta's Vending Machine Ticket Ordering Service
After hearing about the pre-booking time-slot ticketing system, you're probably thinking: "not another ticket!". So you'll be glad to hear that the vending machine ticket ordering system is super efficient.
While the vending machine is in Japanese, you can look at a one-page menu that lists all menu items in English. The best way is to then look at the prices in Japanese Yen of the dishes you want and press the buttons with the same value (since all menu items have different values)…or you can ask a member of staff which option you'd like to order and they'll be happy to help.
Since we speak Japanese, this wasn't an issue for us. But it's always useful for non-Japanese speakers to know the correct etiquette before visiting.
Once you press the button and insert your cash (just like any other vending machine), you'll pick up your meal tickets and then kindly offer them to a member of staff who will then get round to preparing your selected food dishes.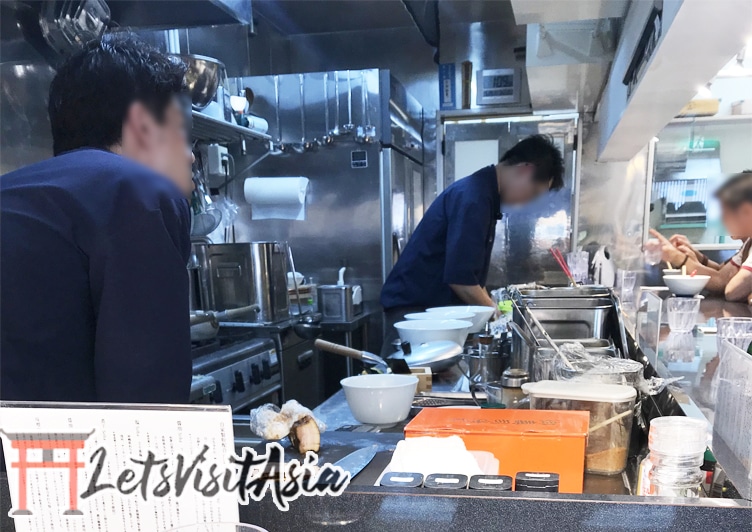 Tsuta Ramen's Menu in Tokyo
There are 3 different soup-bases to choose from for your ramen as listed on their in-store menu:
Soy based soup on black truffle flavor.
Salt based soup on white truffle flavor.
Dried sardine and bone-broth soup.
If you wanted to try something a little different to ramen at Tsuta, they also offer a "TsukeSoba" option. This is described on their English menu as:
"TsukeSoba is different from ramen. The noodles and broth are in separate bowls which you dip and eat. Our TsukeSoba is to dip with hot broths as the way of the Japanese cuisine culture.

"We Recommend TsukeSoba to everyone who would like to enjoy the taste of noodles more than ramen.

"*You can choose noodles from cold or hot"
Charsiu Wonton Ajitama Shoryu Soba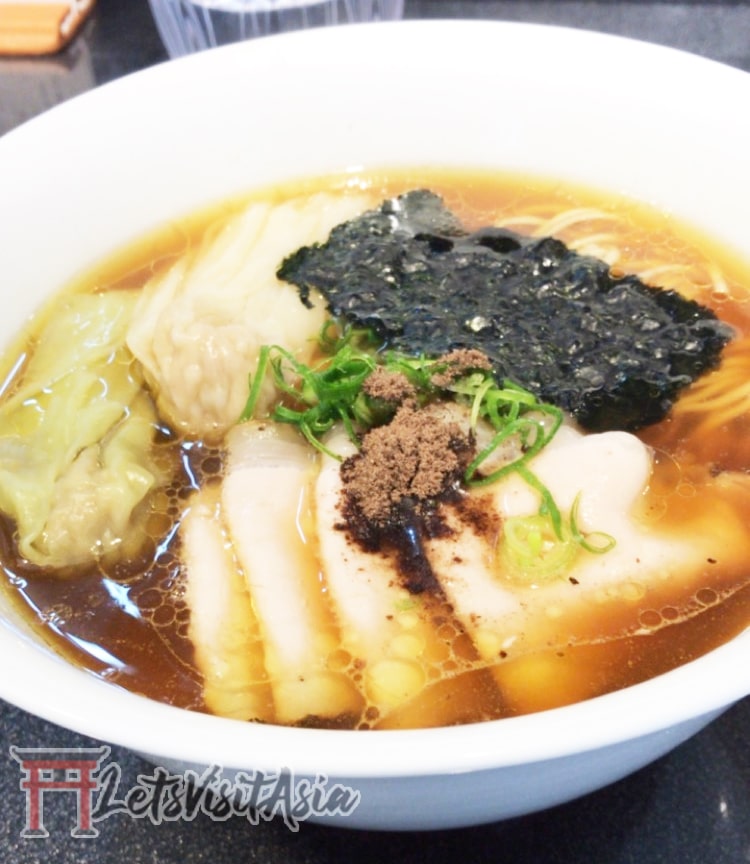 After carefully looking at the menu, we chose 2 portions of the Charsiu Wonton Ajitama Shoryu Soba, which was part of their "soy based soup on black truffle flavor" options.
This is the most expensive item on their menu costing ¥1,700 (around $16 USD or £13 GBP). This is an amazing price considering that it's earned a Michelin-star for its food quality.
It was absolutely 100% worth it too. And we would choose this menu item again if we were to return (which we would love to next time we visit Tokyo).
As you'll see from the picture of my ramen bowl, my Charsiu Wonton Ajitama Shoryu Soba contained:
Black truffle broth.
Slices of black truffle.
2 wontons.
4 slices of charsiu.
1 piece of nori (dried Japanese seaweed).
Soba noodles.
*I'm not 100% sure what the powder was on top, but most likely some black truffle seasoning (it was delicious anyway).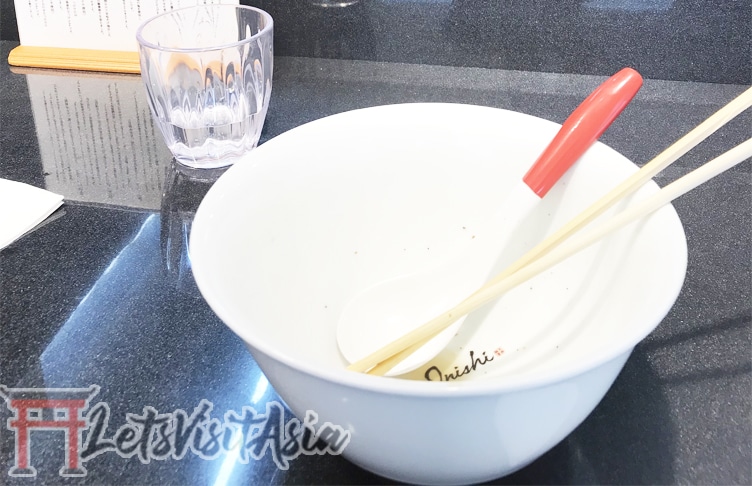 Review Conclusion: Our Favorite Ramen is from Tsuta Tokyo!
Our Score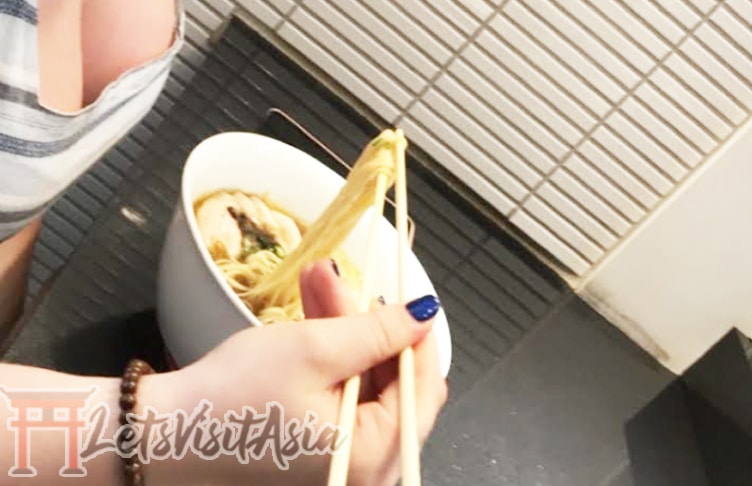 That's a big statement we've made above. But we really do believe that the Charsiu Wonton Ajitama Shoryu Soba was our favorite bowl of ramen that we've eaten so far.
We say "so far" because we plan on returning to Japan many, many times and eating hundreds of other bowls of ramen in the future.
Our favorite thing about our Tsuta Ramen Dishes was that it was unusual in a good way; you won't find many bowls of ramen that include black truffle along with soba noodles instead of the wheat noodles that are usually used by ramen shops.
Would we go back, knowing about the long waits in the queue? Yes, we would. Although we would make sure that we have no plans to be anywhere else within 2 hours of my time slot – as mentioned, we heard from several others in the queue that wait times could be as long as 30 minutes to 1 hour.
In summary, the whole experience of eating ramen at Tsuta Tokyo requires:
Visiting Tsuta from 8am onwards to obtain your time-slot ticket by paying a deposit of ¥1,000.
Turning up on-time and queing up outside Tsuta.
Exchanging your time-slot ticket in return for your deposit on entering the restaurant.
Purchasing your meal tickets using their in-store vending machine.
Handing your meal tickets to a member of staff and being sat down in your seat.
Watching the chefs expertly prepare your meal and being served.
There are 6 steps necessary to eat Tsuta's ramen dishes in Tokyo. But it's efficient enough not to be a stressful experience, and you won't regret it once you're sat down eating your bowl of ramen.
We hope you enjoyed our Tsuta Tokyo Review! Let us know if you've been in the comments!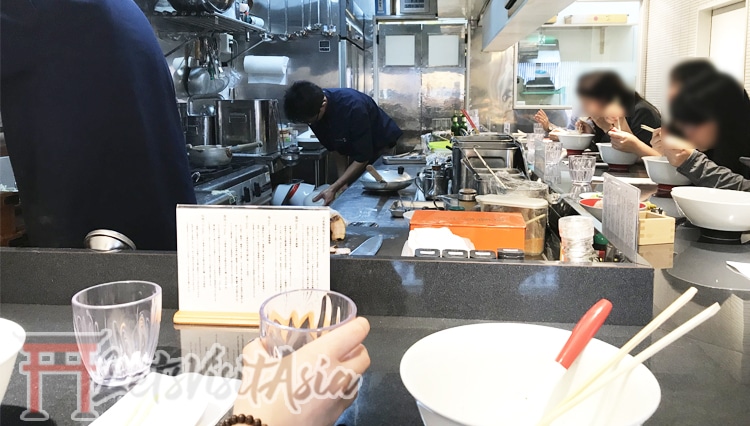 *As mentioned at the start of this Tsuta Tokyo Review, the restaurant has now moved location from Sugamo to Yoyogi-Uehara. Tsuta have changed their ordering system since moving location and there is now no need to purchase meal tickets on a vending machine – everything is now table service in a bigger restaurant. You can find their current website here.