Warm waters, white sand, reliable sunny weather (not forgetting the great food). A lifetime will probably not be enough to explore all the wonderful beaches in Asia.
A quick search of the "Best Asian Beaches" gives you dozens of options. And let's fact it, not all of us have the luxury of traveling full time.
That hasn't stopped me from spending weeks researching about the top rated beaches in Asia, though.
And if you press me to narrow it down to 5…I've written about my top five beaches (in random order) which I would like to see and visit in the next few years…not that I have any intention of dying anytime soon.
Take a look:
---
Popular Posts: 
---
1. Pasir Putih (Bali, Indonesia)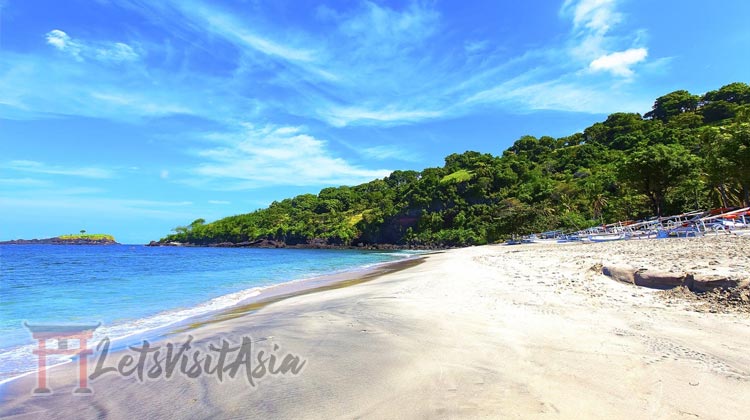 Despite chronic terrorism issues and natural disasters in Bali, I just have to visit sometime. And you won't be short of beaches on this Indonesian Island.
However, if you're looking for perfect, pristine white sand, you may be disappointed in Bali if you don't do your research; many of Bali's beaches are classed as 'Black Sand Beaches.
Not Pasir Putih, though.
You're probably thinking: "what the heck does Pasir Putih mean?"
Well, it literally translates to "White Sand Beach" – and if you look at images of it, you'll see that it was given its name accurately.
Where is Pasir Putih and how do I get to it?
It's a remote beach on the east coast of Bali in Candidasa (aka. Candi Dasa), which is a seaside town on the east coast.
While it is in a very remote location, it has turned into one quite a popular tourist attraction over the years. Probably due to articles like this one I'm writing (sorry!).
As a result, it's not going to be completely empty. But that also comes with the benefit of there being sunbeds, cafes to get cold drinks from and being able to rent snorkeling gear to make the most of the perfect blue waters.
It's also not too difficult to find Pasir Putih beach. Here's how driving in a car:
Start at the main area of Candadisa and head towards Perasi Village.
Either ask for directions from locals, or keep an eye out for Pura Bale Angung temple (towards your left coming from Candidasa).
You'll then be led down some dirt tracks (be warned, it is quite rocky) all the way down to the beach about 1km away.
There will then be a toll booth where you pay for entry – 10,000 Indonesian Rupiah (IDP) per person, which is roughly equates to around $0.65USD or £0.50GBP.
After the toll booth, you'll find more than enough spaces to park in a car or motorbike.
---
2. White Beach (Boracay, Philippines)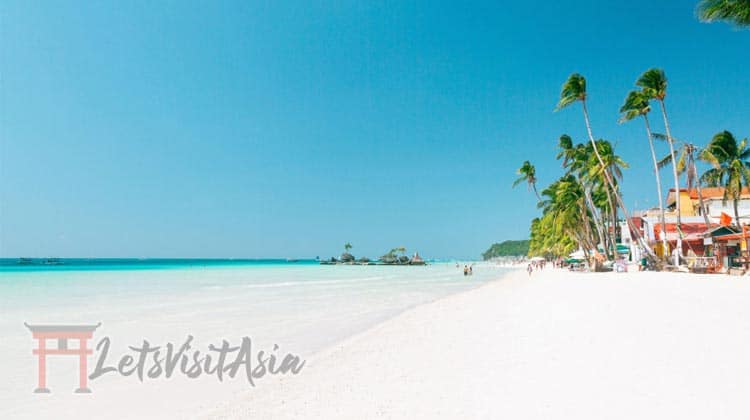 Another beach that has been named perfectly. Rated as one of the finest beaches in the world, White Beach in Boracay, Philippines.
No questions asked after seeing a few pictures of this natural beauty.
It's no surprise that it's become a popular place for holiday goers to flock to; amazing white sand, crystal clear blue and green water tons of beach activities, cafes and restaurants…there really is something for everyone here.
This will be one of the more busier beaches on my list here. Mainly because it's the biggest and most popular beach in Boracay.
But don't let that put you off going to White Beach.
Because it's so big (around 4km long) there is ample space for everyone to be able to relax and chill, without feeling cramped.
Where is White Beach and how do I get to it?
White Beach is located on the island of Boracay, which is off the northwest corner of Panay Island; it belongs to the Western Visayas Island Group of the Philippines.
It's easier to reach than Pasir Putih if you're already on Boracay. It's not the biggest island so you can probably travel the whole place in 1 day since it's only 8km long.
As mentioned, White Beach is estimated to be around 4km long, so you'll easily find it without having to rely on strict instructions.
But we'll throw in some directions to White Beach from Caticlan Airport:
Take the ferry to Boracay from Caticlan Airport (AKA, Godofredo P. Ramos Airport, Boracay Airport).
Then grab a taxi straight to White Beach.
The journey, with both the ferry and taxi included, should take around 30 minutes overall.
---
3. Danang Beach AKA My Khe Beach (Da Nang, Vietnam)
This beach has once been rated as one of the most luxurious beach destinations in the world by Forbes magazine.
You probably won't be surprised to hear that Danang Beach boasts incredible white sand (no prejudice towards black sand beaches, you just have to admit that white sand beaches are amazing, am I right?!).
It's measures around 30km (20 miles) long so it's certainly one of the bigger beaches I want to visit; beginning at Monkey Mountain and ending towards Hoi An, this beach provides endless views of white sand and blue waters.
It's known to be a perfect location for everything you'd want to do on a sunny beach. This includes sunbathing, snorkeling, fishing as well as numerous water sports such as jet-skiing and surfing.
Where is Danang Beach and how do I get to it?
Da Nang is a coastal city found on the coast of the East Sea. Danang (or My Khe) Beach is found around 6km east of Da Nang and it's certainly worth the journey.
Depending on where you are traveling from, you'll have to at least fly to Danang International Airport first (obviously ignore this if you're already in Da Nang).
Here's how to get to Danang Beach from Danang International Aiport:
From Danang International Aiport, grab a taxi straight to the Danang Beach (AKA. My Khe Beach).
The trip is aproximately 25 minutes, so it won't be long until you're enjoying the white sand and blue water.
---
4. Silver Beach (Koh Samui, Thailand)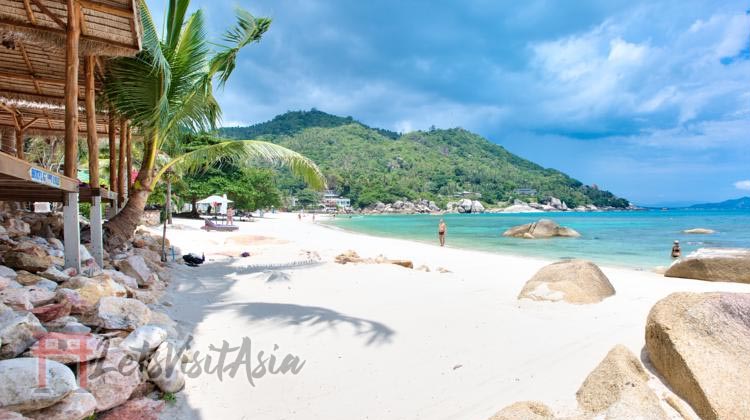 An 80 minute flight south of Bangkok, Koh Samui island is supposedly less tourist-packed than Phuket. While the island isn't huge, there are numerous amazing beaches to visit.
And even better, there are accommodations to fit just about any budget!
But out of them all, the one I most want to visit is Silver Beach, also known as 'Crystal Bay'.
Looking at images, Silver Beach is another natural beauty that boasts white sand and clear waters – you'll be able to see your feet the water is that transparent.
Although Silver Beach is actually one of Koh Samui's smallest beaches, it looks to be among the most photogenic and beautiful I've seen.
Where is Silver Beach and how do I get to it?
Located on the East side of Koh Samui, Silver Beach is only a short trip from Chaweng. It takes roughly 20 minutes to get there from Chaweng and it's also easy to rent a bike or scooter.
As always, though, we'll provide directions from Koh Samui airport:
If beginning at Koh Samui airport, you can either get a bus or taxi direct to Silver Beach.
By Bus, the estimated travel time is around 47 minutes.
If traveling by taxi, the journey time is significantly lower at around 13 minutes.
---
5. Hulhumale Beach (The Maldives)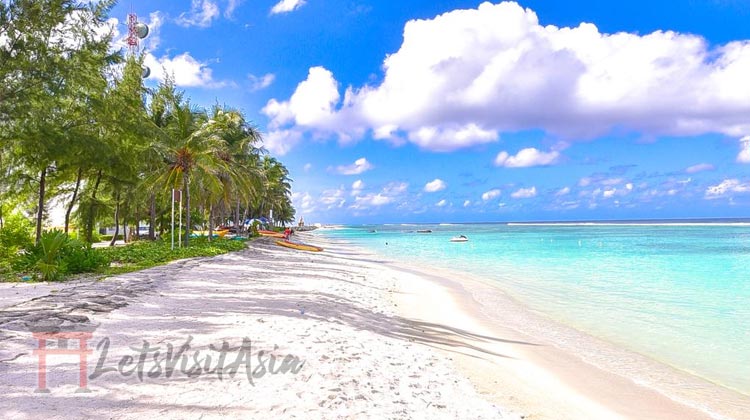 1,190 coral islands, forming an archipelago of 26 major atolls. 202 are inhabited, 87 are exclusive resort islands. Any one of those 87 you'd like to recommend?
I saved this one for last since it's most likely to be the most expensive option at all times. Everyone knows it's not cheap to stay in the Maldives.
To be honest, you could go to any of the beaches/resorts in The Maldives and have an amazing time. Not one looks bad.
However, the most popular seems to be Hulhamale Beach.
And looking at the pictures, you can see exactly why.
Hulhumale wasn't always the tourist hot spot it is now, though. It oriinally was land used to help with the expansion of the airport nearby. But due to the popularity and traffic of the airport, Huhumale became the perfect space for travelers that you see now.
There's also tons of things to do there too. If you want to do more than just soak up the sun, you'l be glad to hear that you can go snorkeling, scuba dive or enjoy various watersport activities including jet-skiing, kite surfing, wake boarding and even parasailing.
Where is Hulhumale Beach and how do I get to it?
Hulhumale Beach is located on the island of Male. It neighbours the other islands, Himmafushi and Gulhi Falhu.
There are numerous ways to reach Hulhumale Beach from Male Aiport, but the quickest way is by bus.
From Male Aiport, take the direct bus that departs every 20 minutes.
The overall journey time from Male Airport to Hulhumale Beach is around 10-15 minutes.
---
Conclusion
I hope you've enjoyed my top 5 list of Asian beaches I'd like to see before I die.
I should have many years ahead, but you never know…it's always good to have a bucket list, right?
Anyway, how about you? Which tropical paradise in Asia are you dreaming of?
Let me know in the comments section!