Ever seen an internet cafe in Tokyo turn itself into a budget hotel? Read how MANBOO created Net Room…
Internet cafe's in Japan are very popular with a wide variety of people.
From gamers and students to backpackers wanting to find a cheap place to stay overnight.
However, not many internet cafe's have officially recognized people using them as budget hotels before Manboo did exactly that. By transforming some of their internet cafe's into budget hotels sub-branded as "Net Room".
Who are Manboo?
If you've not visited Japan before, you're probably wondering what Manboo even is. So let us explain…
Manboo are Japan's biggest internet cafe operators. They own 51 that are based in Tokyo, so you'll be able to find one quite easily while visiting.
Manboo's Sub-Brand "Net Room"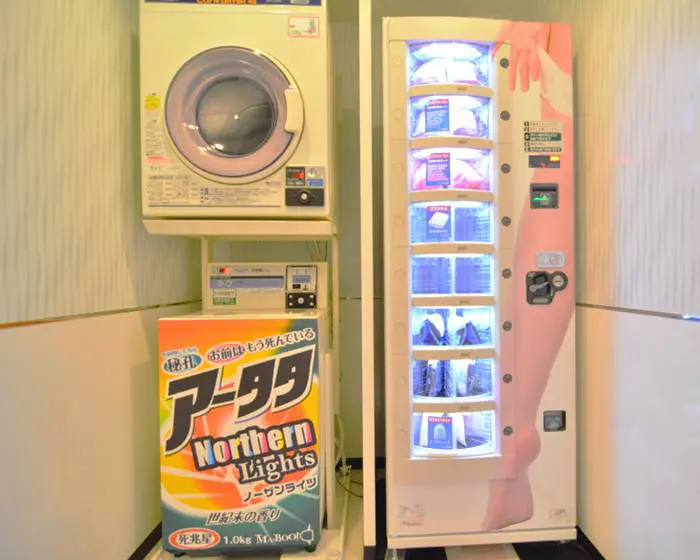 Around 2017, Manboo transformed 17 of their existing internet cafe's into budget hotels sub-branded as "Net Room".
These Net Rooms look like any other budget hotel on appearance. Welcoming guests with their own check in areas and offering private rooms that they can lock from the outside when leaving (as opposed to the usual cubicles found in internet cafe's with no locks from the outside to keep belongings safe).
You can also wash yourself, your clothes and receive mail at Manboo Net Rooms
Not only that, their guests can even choose from a variety of rooms; all rooms offer a desktop PC, free Wi-Fi, Blu-ray player. As well as access to a wide selection of free-to-watch movies.
It gets better too.
For guests planning on staying for a while, Manboo even offers the use of washing machines, dryers and showers. So guests can do their laundry and maintain their hygiene during their stay.
The cherry on-top of the pie is that guests also have the option of receiving mail while staying at Manboo Net Rooms. So, it really is a super cheap hotel to stay in for 2 weeks, with everything you could need.
A lobby offering tons of manga, unlimited beverages and food
If you thought everything you've read so far is good, then wait till you hear about the "freebies" during your stay at a Net Room…
Most internet cafe's offer customers unlimited free soft drinks, coffee, tea or hot chocolate during their visit. And Net Room is no different – all the aforementioned is available in the price included in guests' stay.
If you want more than hydration while you stay at a Net Room (in terms of food), then you'll be glad to hear that there are also vending machines offering full meals too at cheap prices.
Yep, that's right. For those that haven't visited Tokyo before, you can indeed buy full hot meals from vending machines including fried chicken, instant ramen noodles, pasta, and more.
So if you really didn't want to, you wouldn't even have to leave the Net Room building if you wanted to survive comfortably for the maximum 2 week stay.
How much to stay in Manboo's "Net Room"?
Guests can stay at a "Net Room" for as low as 100 Yen (around $1 USD) an hour.
To put into perspective how cheap that is, a longer stay can cost as little as 14,000 Yen (around $130 USD) per week.
What's the catch?
The only caveat is that guests can only stay for a maximum of 2 weeks at a time. Unfortunately, meaning that guests can't live at Manboo's "Net Room" budget hotels in Tokyo forever.
It's also worth mentioning that all rooms are officially "non-smoking" rooms. But the good news for smokers is that Net Rooms have their own smoking lounges indoors.
Where are Manboo Net Rooms Located in Tokyo, Japan?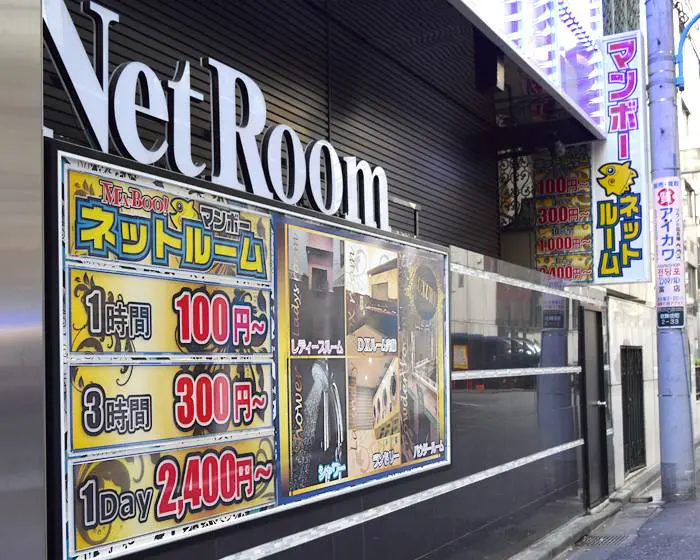 If you're reading this article, then we're guessing that you're interested in staying here during your visit to Tokyo, Japan.
As a result, we won't make you leave without knowing where to find Manboo Net Rooms.
Manboo operate 17 "Net Room" budget hotels around the Japanese capital. The exact locations include Tokyo, Kanagawa and Saitama.
Great Net Room location in Shinjuku
For those planning on doing a lot of traveling, staying in Shinjuku is a great idea; it's an amazing hub to travel the whole of Tokyo from due to its big train station.
You'll even find it easy to travel to other popular cities (such as Osaka and Kyoto) from Shinjuku, due to it being a travel hub for Japan's famous "Shinkanesen" bullet trains at the Shin-Shinjuku station.
So you'll be glad to hear that you can find a Manboo Net Room in Kabukicho, Shinjuku. Staying for as little as 14,000 Yen (around $130 USD) per week in a prime Tokyo location – not bad at all.
That's crazy cheap compared to other hotels we've stayed at in the same area (read our Jr Kyushu Hotel Blossom Shinjuku Review for more info).
You can check out this location in the google map below:

---
Our Tokyo Food Guides: 
---
Full List of Net Room Locations
If you didn't want to stay at the Kabukicho location of Net Room, then take a look at the full list of locations available to visit…
Tokyo
Kita-Shinjuku Branch
Shinjuku Nichome Branch
Haramachi (Shinjuku Ward) Branch
Kabukicho Branch
Okubo Branch
Shin-Okubo Branch
Asakusa Rockza Branch
Kanda Branch
Sugamo Branch
Kichijoji Branch
Ogikubo Branch
Kamata Branch
Kanagawa Prefecture
Kawasaki Branch
Kawasaki 2 Branch
Isezakicho Branch
Fujisawa Branch
Hon-Atsugi Branch
Saitama Prefecture
Reservations Available at Net Room Locations
Most internet cafe's don't allow you to reserve stays before your arrival.
But remember, Manboo's Net Room sub-brand are budget hotels – so you can, in fact, reserve your stay ahead of time (which is recommended due to the rising popularity of Net Rooms).
To do so, you can visit the website of the specific Net Room location (yep, each location has their own individual website) and reserve on there.
For non-Japanese speakers/readers, you'll be glad to hear that the websites offer translations into English and Chinese.