While Japan has a proud tradition of maintaining a very unique cuisine style of its own, the last century has brought an abundance of foreign cuisines to its shores.
From earlier dishes which were merely 'inspired' by overseas cooking styles to more authentic meals to more modern renditions of the old favourites, overseas cuisine has become increasingly popular in Japan.
And one of the most popular, most well-loved styles is world-famous Italian cuisine.
When it comes to European cuisines, Italian food in Tokyo is a clear frontrunner in Japan, with a monopoly on every part of the market – from budget fast food to luxury high end restaurants.
Here at Let's Visit Asia, we will look into some of the best Italian restaurants in Tokyo…
1. Trattoria e Pizzeria Fico
View this post on Instagram

Trattoria e Pizzeria Fico is a cozy, little Italian restaurant located in Kawagoe, north of Tokyo.
With the premises being in a small family home, the restaurant creates a comfortable atmosphere. With customers dining with well-made Italian food and wine.
The restaurant has a number of seasonal menus, ranging from ricotta cheesecake in autumn to smoked eel with Sakura chips in spring.
There is a great commitment to authentic recipes and traditional Italian cooking while still integrating local ingredients and aspects.
Eating at Trattoria e Pizzeria Fico is also supporting the local industry as the restaurant buys fresh vegetables directly from local farmers.
With an amazing range of mains, sides and desserts, Trattoria e Pizzeria Fico is must-do for any Italian food-lover wanting to enjoy Italian food in Tokyo.
An added bonus is that Trattoria e Pizzeria Fico have staff who are fluent in English, so it's very tourist-friendly too.
Trattoria e Pizzeria Fico Details:
Address: 7-64 Higashitamachi, Kawagoe City, Saitama Prefecture
Opening Hours:

Lunch (Saturday & Sunday only): 12 am – 2 pm
Dinner (Wednesday – Sunday): 5 pm – 9 pm

Contact: 049-215-0791
---
2. La Coccola
La Coccola is a fun fusion restaurant located in the Aoyama district of Tokyo, close to Harajuku and Omotesando.
The restaurant takes pride in their creativity and unique combinations of Italian and Japanese cuisine. The restaurant is popular for dinner parties due to its unique and quirky nature.
They also offer personalized (name written on the plate) platters for birthdays along with welcome or farewell parties.
Private rooms and cakes can be reserved ahead of time. However, the main draw of this restaurant is the interesting fusion of Japanese and Italian food.
One of the best examples of this is the Western-style sushi risotto. This dish is hard to narrow down into a simple title with its layers of complexity. The dish is an amberjack risotto with kelp dashi jelly – Japanese ingredients in an Italian dish. However, it is then served with the appearance of sushi.
For a further twist, the appearance is supposed to be that of Western-style sushi, rather than the simpler Japanese-style sushi. With innovative dishes like this, it is no surprise that La Coccola is very popular.
---
3. Carneya Antica Osteria
The suburb of Kagurazuka is considered significant in the development of both Japanese cuisine and French cuisine in Japan.
In the heart is Carneya Antica Osteria, an Italian restaurant with a heavy focus on meat-based dishes and the importance of quality meat.
The owner of the restaurant grew up with his parents owning a Japanese BBQ restaurant and came to know the range of Japanese meats available and the importance of selecting the best meat. He also spent time in Italy and worked in Italian restaurants.
He has now combined his knowledge to create a restaurant focusing on the best meats in the best Italian dishes.
With a range of meats from traditionally aged and smoked meat to milk-fed Hokkaido lamb and game meats like venison and quail, Carneya Antica Osteria aims to provide a first class experience for every customer.
---
4. Il Buttero
Il Buttero is a little touch of Tuscany in the heart of Shibuya. Il Buttero has a long history of providing authentic Italian cuisine to the city of Tokyo.
With authentic ingredients, recipes and even materials, the restaurant has been awarded a certificate by the Italian government and approved as an orthodox Italian restaurant.
Even the terracotta floor tiles and wooden furniture are imported from Tuscany. Il Buttero is committed to true Italian-style food, rather than catering to the differences often made to recipes in order to better suit a Japanese palate.
The website warns that the food may feel salty or heavy at first for Japanese customers, but it is the true taste of Italy. The restaurant has also created a beautiful ambiance with an outdoor glass terrace and cascading waterfalls. These truly come to life with the beautiful night view.
Il Buttero is a great way to experience a taste of Tuscany in Tokyo.
---
5. Mondo
Mondo is a relaxed restaurant in the European-influenced residential suburb of Jiyugaoka. With a focus on the 'art of hospitality' Mondo has aimed to recreate the philosophy behind the Italian idea of "mamma's cooking".
Using seasonal ingredients, the restaurant makes top-quality Italian dishes in a comfortable family restaurant atmosphere. The restaurant focuses on authentic recipes, as the owner studied in Italy.
He uses the knowledge gained working in Michelin star restaurants to provide authentic Italian meals using the best of Japanese seasonal ingredients. For a relaxed, yet stylish family restaurant, Mondo is a great choice.
---
6. Pellegrino
For a more exclusive and luxury experience, we have Pellegrino in the upmarket area of Hiroo, Tokyo.
Courses here are often upwards of ¥39,000 (~$400) and so are quite probably out of most customers price ranges, but for those looking for something really special, Pellegrino is it.
With a seating capacity of just 6, each meal from Pellegrino is truly personalized. Most courses come with a wine pairing with authentic Italian wines. The restaurant is largely focused on dishes from the Parma region, home of the popular Parmesan cheese and Parma ham.
The Pellegrino philosophy is "everything supreme", meaning everything in the restaurant must be the best possible. Service, food and wine pairing is all impeccable. Naturally, reservations are necessary for this restaurant, often quite far in advance.
While such restaurants may not be an everyday Italian restaurant, for a special occasion or significant date, Pellegrino may be the ideal spot.
---
7. Ristorante Hamasaki
If you're looking for a luxury experience at a more reasonable price, Ristorante Hamasaki in fashionable district of Omotesando is a great option.
With top-quality ingredients and authentic recipes, Ristorante Hamasaki aims to create a high-end experience. While the meals are fixed-course, the owner often displays his hospitality by making adjustments after conversation with customers.
These improvisations and personalizations make Ristorante Hamasaki a unique experience. Some examples of their top dishes include quail slow-cooked for four hours with herbs, honey and balsamic and Japanese spiny lobsters, freshly stocked.
The restaurant has a number of private rooms, making it perfect for small gatherings. For a top-quality experience, Ristorante Hamasaki is the place to go.
---
8. Tacubo
One of the highest-recommended luxury Italian restaurants in Tokyo is Tacubo.
Located in the artistic suburb of Daikanyama, it is modest in outside appearance, but hosts amazing food, wine pairings and ambiance inside. Tacubo is Italian-inspired but has created a fusion with Japanese cuisine.
The restaurant set up is mostly counter seats, with some private rooms, in a style quite reminiscent of traditional Japanese sushi restaurants. However, the furnishings and interior design are modern and stylish. One of the main features of the restaurant is the Wagyu steaks, but they are cooked over a wood-fired oven.
The restaurant is largely focused on the concept of nature and enjoying the best of nature in the ingredients used to create their dishes. While Wagyu may be the main attraction, the restaurant also has amazing grilled seafood, freshly-baked ciabattas and innovative pasta dishes.
Tacubo is ideal for a unique experience with fresh, well-sourced ingredients and well-honed cooking techniques.
---
9. La Bisboccia
In the popular ex-pat suburb of Hiroo, we have a great all-rounder, La Bisboccia.
Rather than focus on one specialty, La Bisboccia has mastered a large variety of Italian dishes. With rustic décor and soft lighting, La Bisboccia has the instant comfortable appeal of a great Italian restaurant.
They offer a large range of authentic dishes using local, well-sourced ingredients. Extra drama is added with flairs like the tossing of risotto in a parmesan cheese wheel, rather than simply grating parmesan on top, or the displaying of a full dessert cart instead of just a menu.
The desserts are just as well-loved as the mains and La Bisboccia is considered the full package when it comes to good Italian cuisine.
---
10. Elio Locanda Italiana
Elio Locanda Italiana is an authentic Italian restaurant located in Kojimachi, near the Imperial Palace of Japan.
With an Italian owner, Elio, and a mix of Japanese and Italian staff, this restaurant encapsulates the authentic atmosphere of home Italian cooking. Inspired by his grandmother's cooking, the owner aims to recreate the tastes of home in his restaurant.
With a focus on Southern Italian food, especially dishes from Calabria, Elio's hometown, the restaurant bring authentic recipes and flavours together with local, seasonal ingredients.
Elio Locanda Italiana has been recognized and approved by the Italian government as an orthodox Italian restaurant. The restaurant has also provided catering for the Italian embassy, a number of Italian companies and even the Japanese Imperial Family.
With such strong recognition, it is no surprise that Elio Locanda Italiana remains such a popular choice for Italian cuisine.
---
Conclusion: 10 Best Italian Restaurants in Tokyo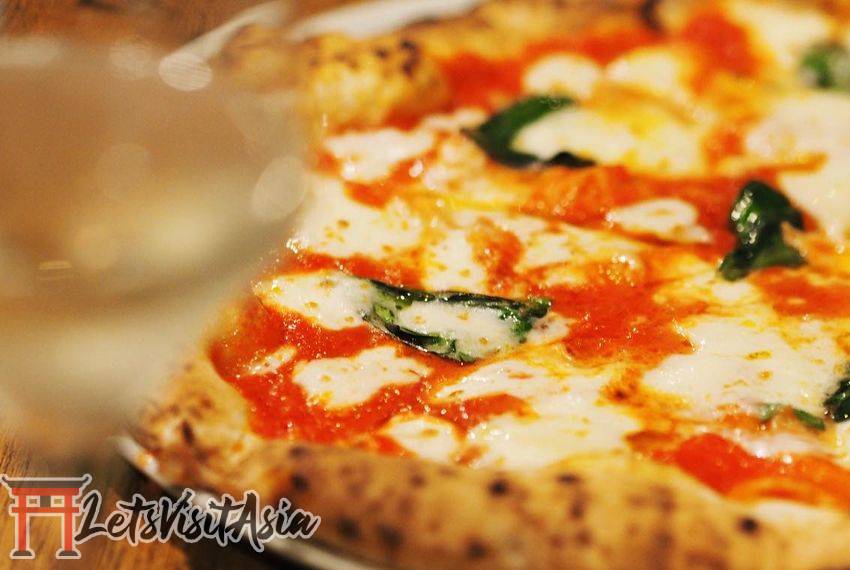 European cuisines have slowly been growing in popularity in Tokyo (and the whole of Japan) over the last few decades with Italian as one of the top choices.
With Japanese attention to detail and Italian flavours, amazing restaurants have been started, both innovative and authentic dishes created, and there is now a huge variety of choice when it comes to Italian food in Tokyo.
Here we have collated just some of the best Italian restaurants in Tokyo. Our favorite has to be Trattoria e Pizzeria Fico with its unmatched pizza and cosy environment.
---
Other Popular Food Guides: