Looking for the Best Shabu Shabu in Tokyo? We've found the top 10 places for you to visit…
Food is a huge part of Japanese culture.
And any visit to Japan isn't complete without trying some of the best local food Japan has to offer.
The main options for tourists usually include the likes of sushi and ramen in shinjuku. However, there is so much more to Japanese cuisine and one of the best parts that regularly gets overlooked is shabu shabu.
Here we have a look at some of Tokyo's best shabu shabu restaurants to make sure you don't miss out too.
---
If you're vegetarian, check out our Vegetarian Shabu Shabu in Tokyo article to see the best restaurants to try.
---
So Firstly, What is Shabu Shabu?
Shabu shabu is a form of Japanese hotpot which becomes especially popular during the cooler months. It's a communal meal consisting of a main pot with a light broth.
The ingredients are brought separately to the broth at your table and can be added at your own pace.
The most common ingredients in the best shabu shabu in Tokyo: 
Bean sprouts and other vegetables.
Tofu.
And most importantly thinly-sliced meat.
The meat is usually beef or pork of a very high quality, cut very finely so it cooks faster in the hot broth.
The name, shabu shabu, is actually a Japanese onomatopoeia, equivalent to swish swish in English. It refers to this very fast cooking time – the meat only requires a quick swish through the broth to be cooked.
Shabu Shabu is much loved in Japan as it's a great way to enjoy some of the more group-oriented Japanese cuisine and a good option for trying some of Japan's best meat.
---
Top 10 Shabu Shabu Restaurants in Tokyo
1. Shabuzen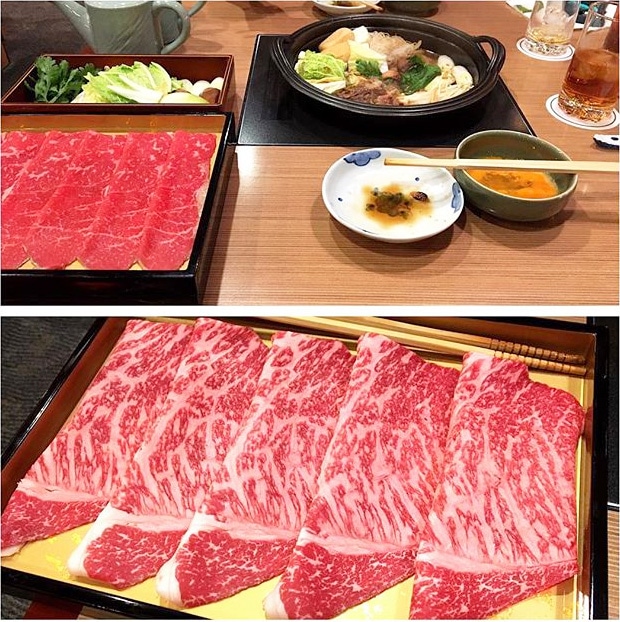 Shabuzen, located in the Roppongi area of Tokyo, is a great option for trying the best of Japanese meat at a reasonable price.
They use wagyu beef and high-quality pork in their shabu shabu.
There are a large number of options available at Shabuzen. But it largely comes down to either two popular options:
2-hour all-you-can-eat shabu shabu course
or a set portion.
The set portions vary in price depending on the type of meat but the 2-hour course stays at ¥5400 and comes with an appetizer and noodles.
The restaurant also has a range of table and room options, catering to both traditional Japanese tatami rooms and more Western-style standard table and chairs.
These options allow you to really make the experience your own and enjoy your time at Shabuzen.
---
2. Yamawarau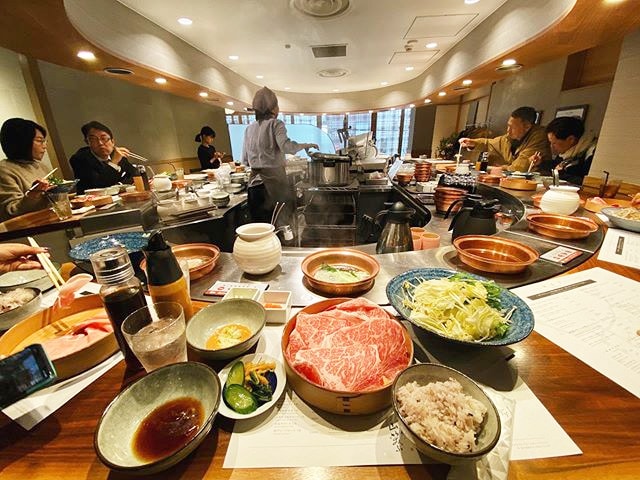 This is a slowly growing chain of shabu shabu restaurants that started in the fashionable district of Omotesando. They have since opened franchises in Ginza and Shibuya.
Yamawarau have modernized the experience of shabu shabu to fit today's consumers and aesthetics.
While traditionally shabu shabu was considered a group meal, a way of sharing food with a communal broth, Yamawarau recognizes that more and more people are eating alone and caters to solo diners.
As a result, it's a perfect option for those travelling alone who still want to experience shabu shabu in Tokyo.
They do still take group bookings but a lot of effort has gone into making the restaurant a comfortable experience for people wishing to eat alone.
There are a range of courses available at Yamawarau with dinner courses starting at ¥2900 for sirloin and going up to ¥4800 for sirloin and pork loin.
The lunch course is very affordable at a low ¥1500 if you're visiting Tokyo on a budget.
---
3. Yasai-ya Mei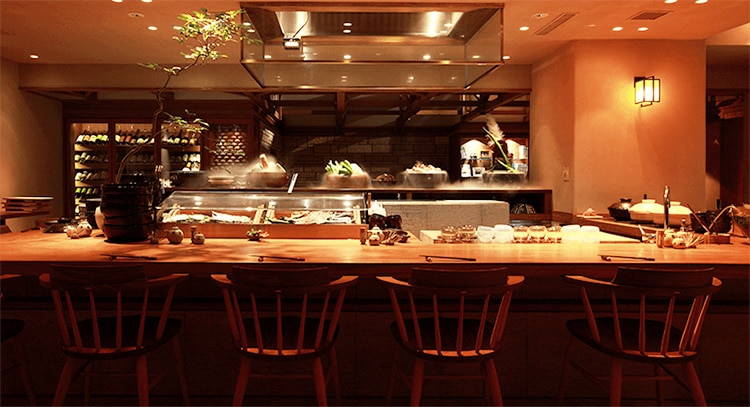 Japan is often considered a fairly difficult country to maintain a vegetarian diet in.
There is a prominence of meat in everyday meals and the popularity of vegetarianism and veganism has not taken off in Japan the same way as a lot of Western countries.
However, Yasai-ya Mei is working to combat this difficulty and provide high quality vegetable-based meals.
With a range of branches in popular Tokyo suburbs including Omotesando and Ueno, Yasai-ya Mei provides a modern and contemporary version of shabu shabu, with vegetables sourced directly from local producers.
The dinner courses start at around ¥4000 for a full course.
A reasonable price and a great option for those wanting vegetarian shabu shabu in tokyo.
---
4. Mo-mo Paradise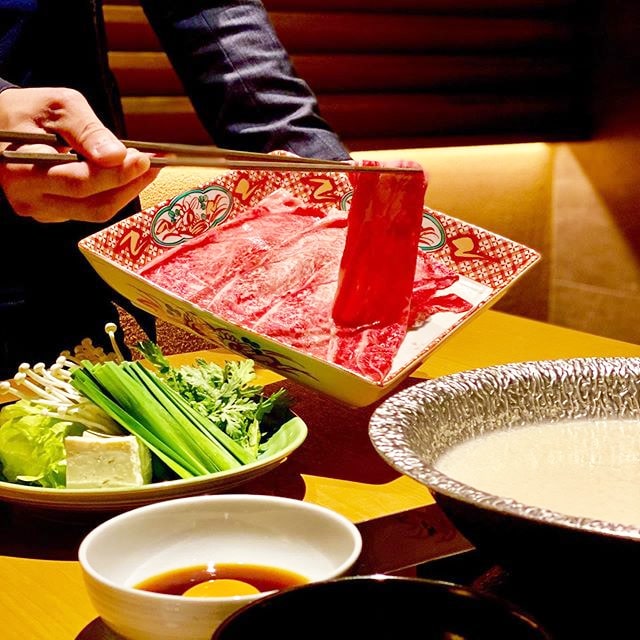 Mo-mo Paradise is a chain shabu shabu and sukiyaki restaurant which is a great option for trying out a range of options for a reasonable price.
Rather than being limited to one type of meat, their ¥3000 course offers:
beef shoulder
beef rose
pork shoulder
pork rose
and even fish ball.
The above 3000 Yen course is an all-you-can-eat course lasting 100 minutes and is great value for money. There are also branches in both Kabukicho and Shinjuku, some of the most popular areas of Tokyo.
Mo-mo Paradise is a great first-timer's shabu shabu restaurant, with 'upper courses' available for those looking for the higher grade meat.
---
5. Hitsuji No Yu
If you are already a shabu shabu connoisseur, or just looking for something a little different, Hitsuji No Yu might be the place for you.
Rather than the standard beef or pork shabu shabu, they serve a lamb meat shabu shabu. It is still sliced very thinly and cooked in the same way, but brings a different flavour with the use of lamb.
This also means the restaurant is Halal, another food restriction that can be hard to find appropriate food for in Japan.
As lamb isn't a common meat through most of Japan, this point of interest actually makes for quite a different experience than most other shabu shabu restaurants. Course menus start from around ¥3000.
(We believe this restaurant is now closed)
---
6. Tokyo Niku Shabuya
This tiny restaurant in Shinjuku is actually one of the highest-rated on Japanese food review sites despite having very limited space and serving capacity.
With only 12 seats the experience at this restaurant is very personal; the owner is very knowledgeable about the beef he is using, right down to the age and location where it is sourced.
The set-up of Tokyo Niku Shabuya is slightly different to most shabu shabu restaurants in Tokyo. This is because it appears more like a ramen shop with counters for eating, rather than a number of separate tables.
The beef is also cut thicker than standard shabu shabu beef in Tokyo, allowing for a different experience when eating.
The even marbling of the beef and the thicker cuts mean it is easy to eat a small amount but still feel as satisfied as a full course from other shabu shabu restaurants.
While Tokyo Niku Shabuya is a little more expensive than some of the other restaurants in this list, with courses starting at around ¥4000 and quickly working up, the individual care and attention put into the food makes it worth the price.
---
7. Nabezo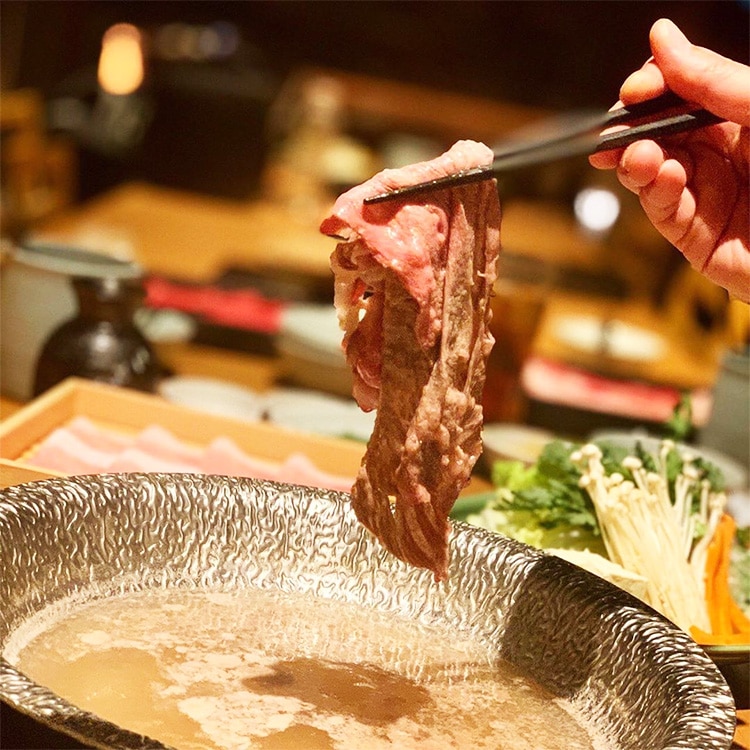 Nabezo is one of the most prominent chains for shabu shabu with an abundance of restaurants all across Shibuya, Shinjuku, Ikebukuro and more.
This is one of the best options for a cheap and cheerful shabu shabu meal.
Dinner courses start at around ¥2800 for the 100 minute all-you-can-eat basic course, with an even cheaper lunch menu available on weekdays for around half the price.
---
8. Kisoji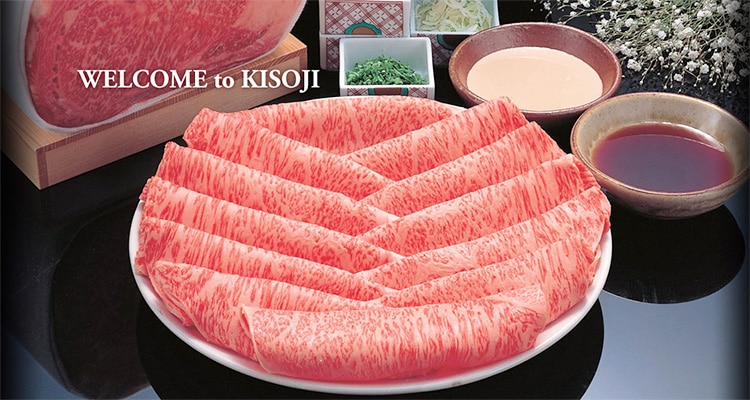 In the upper-class area of Ginza we have the highly-praised shabu shabu restaurant, Kisoji.
Taking it's name from an old Japanese word for a place where travellers can rest, Kisoji is committed to a high level of hospitality.
As an example of this, Kisoji uses all wagyu beef and take pride in their specially-formulated sesame sauce.
While it is normal for all shabu shabu restaurants in Tokyo to provide a sesame sauce and a ponzu sauce, Kisoji has gone to extra effort to develop a special sesame sauce with the highest quality ingredients, including peanuts and walnuts.
Courses start at ¥5500 and come with a beautifully prepared starter.
For a more indulgent meal, there is also a course with crab, sashimi, sushi and tempura along with the shabu shabu wagyu beef.
---
9. Aobaya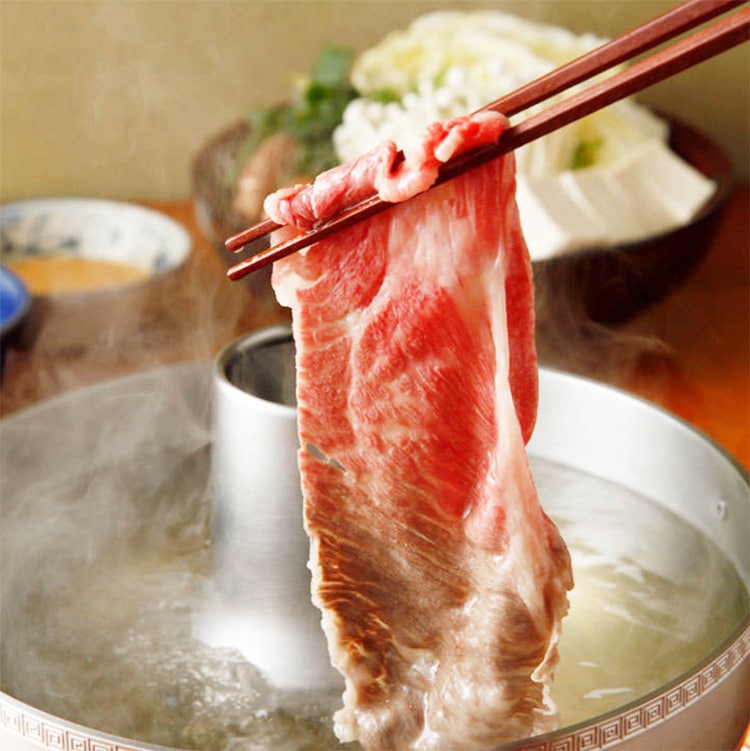 Just one minute from Ginza station is Aobaya, a shabu shabu restaurant focusing largely on Kansai-style shabu shabu.
The restaurant is known for using high quality beef from Mie prefecture and serves Kyoto-style condiments to go with the meat.
Aobaya also regularly uses Kobe beef, some of the best in the country and sources high quality vegetables to match with it in the final product.
Courses start at around ¥3000 with more premium courses at around ¥6000.
---
10. Rangetsu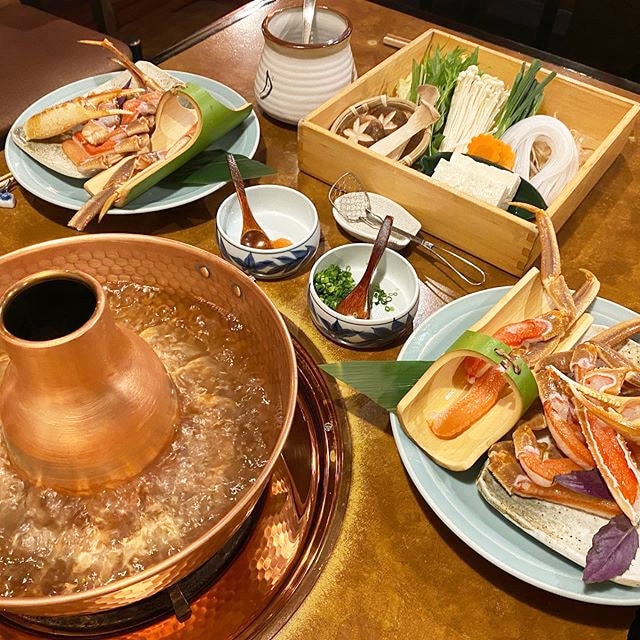 Finally, for a more luxury choice, we have Rangetsu.
Established in 1947 and still going strong, Rangetsu provides premium beef and crab in their Ginza restaurant. The addition of crab to the menu makes it a more unique experience and adds to the meal in an interesting way.
Rangetsu uses A5 grade beef, some of the best in Japan, and premium crab and transports them to the restaurant using a specific route designed to keep them in the best condition possible.
The use of premium ingredients comes at a premium price, with lunch menus starting around ¥5000.
However, for a luxury treat meal during a visit to Japan, this is a great choice.
---
Conclusion: Best Shabu Shabu in Tokyo
After a visit to Japan, many travellers will constantly praise the quality and variety of food in Japan. Over the past few years, this has grown beyond the standard sushi to include a number of seasonal and regional dishes.
However, one that is still often missed is Japanese hotpot, or shabu shabu.
As one of the best winter warmers (or even as a summer meal) shabu shabu deserves to shine, and here we have some of the best places in Tokyo for you to try it on your next Japan trip.
---
Related Post: