Whether you're a tourist visiting Japan or a resident of the capital city, you'll no doubt be in awe of the incredible eating options available to you.
After all, Tokyo is known as the culinary capital of the world.
The most popular types of places to eat remain Ramen bars and restaurants. But Italian food is something that's grown massively in popularity in Tokyo, resulting in an increasing amount of Italian restaurants appearing in modern times.
We've been asked by a few readers to write an article about the Best Pasta in Tokyo (top 10 restaurants to eat pasta dishes) for when you want a taste of Italy while in Japan…
…so that's exactly what we've done for you. Enjoy!
---
1. Trattoria e Pizzeria Fico (フィーコ)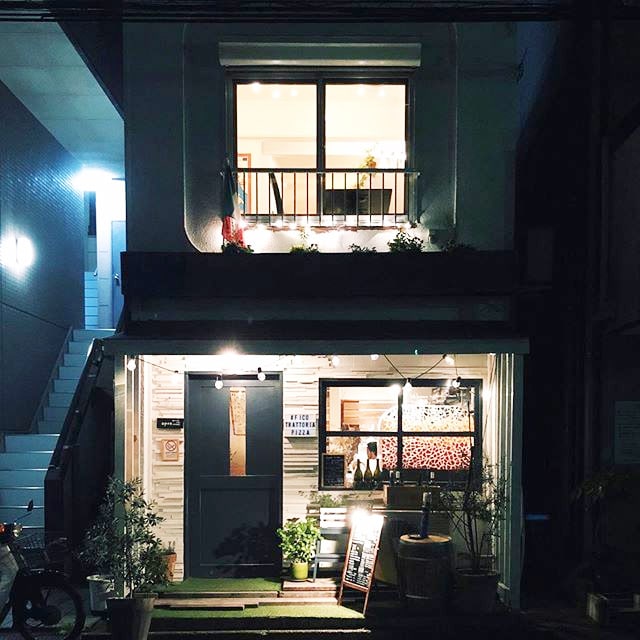 We love to explore small, independent restaurants whenever visiting different cities and countries. There's nothing better than going "off the beaten path" and finding some hidden gems.
Admittedly, Fico is located slightly outside of Tokyo in a place called Kawagoe (川越), which is a really cool place to visit that's not always on the lists of tourists en masse.
It offers a taste of what Japanese buildings looked like years before, with Kawagoe's main street (Kurazukuri Street) being filled with buildings in a style reminiscent of the Edo period. Being close enough to visit for half a day from central Tokyo, we absolutely recommend taking a look at Kawagoe's historical architecture.
So, in our opinion, Kawagoe is certainly worth the train ride from Central Tokyo to visit for more than just Fico.
We were recommended Fico by Japanese locals living in Kawagoe
Anyway, whenever we visit a new city, we always ask the locals for the best places to eat.
Usually, we'd be advised to visit a highly rated Ramen bar or Tempura restaurant (always seems to be the case in Asakusa, at least). So we were pleasantly surprised when we were recommended an Italian restaurant by the locals in Kawagoe.
The place was none other than Fico.
Fico is very tourist-friendly with staff who speak perfect English
As soon as you enter Fico, you can see an impressive wood fired pizza oven that's manned by the chef; we did also try some pizza at Fico, which was also outstanding.
It's said that a restaurant can be rated by the number of locals in that country eating there. Well, Fico was full with loyal Japanese locals living in Kawagoe – and even some from Tokyo who regularly make the trip to eat at this Italian restaurant.
For tourists that can't read Japanese, you'll be glad to hear that there are English menus available at Fico. And we found out that the Maître D' had even studied at a University in London and was fluent in English.
As a result, Fico was actually one of the most tourist/foreigner friendly places to eat in and around Tokyo that we visited.
A great variety of pasta available (nearby) Tokyo at Fico
If you're looking for great, authentic pasta near Tokyo, then you'll be pleased to hear that Fico offers several fresh pasta dishes.
There are the classic options such as Spaghetti al pomodoro e basilico (spaghetti with tomato sauce and basil), to the more exciting Vongole alla napoletano (Naples-style clam spaghetti).
We tried both of the pasta dishes mentioned above and were blown away by how tasty they were.
After speaking to the 2 members of staff at this small restaurant, we found out that the owner and chef spent many years training and working in Florence (Italy) as a chef before returning to Japan.
The prices of the pasta dishes range from 980 Yen (around $9.50 USD) for the spaghetti with tomato sauce and basil, to 1400 Yen (around $13.50 USD) for the Naples-style clam spaghetti. So Fico is also priced extremely reasonably too.
We always love recommending local restaurants over big, commercial places that are part of franchises seen everywhere. And we can honestly say that Fico provided us with the tastiest pasta dishes we've tried both nearby and in Tokyo.
For these reasons, we're happy to recommend Fico as our #1 choice in our Best Pasta in Tokyo article here. It's also our overall Best Italian Restaurant in Tokyo due to their incredible pizzas and other non-pasta dishes too!
Address: 7-64 Higashitamachi, Kawagoe City, Saitama Prefecture
Telephone: 049-215-0791
Opening Hours:
12:00 – 14:00 (Lunch)
17:00 – 22:00 (Dinner)
---
2. Cuore Azzurro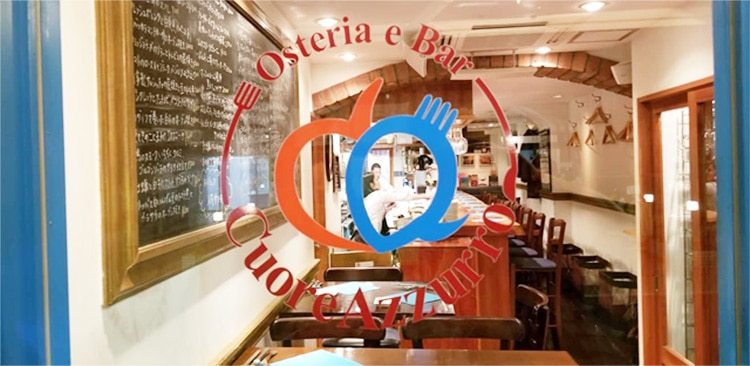 If you look at this Italian restaurant from the outside, you may be forgiven to momentarily thinking that you're in Italy.
Based in Meguro in Tokyo, Cuore Azzurro has a very authentic feel to the place and is another small independent restaurant. And importantly, it offers fresh pasta dishes that are highly rated by everyone who's visited too.
Most of the seats at Cuore Azzuro are right infront of the kitchen where the chef cooks (in the style of many ramen bars in Tokyo). There are a few additional separate tables available too, for those that don't wish to sit in front of the kitchen – but it's probably a good idea to prebook and ask for these tables since spaces are so limited.
Again, we like that Cuore Azzurro isn't going to be immediately top of tourists' lists of places to eat pasta in Tokyo. But those that have researched and managed to find it have had great experiences.
Cuore Azzurro is said to offer Sardinian-Piedmontese dishes if you are an Italian food expert and that means anything to you…
The prices of the dishes range between around 1,500 Yen (around $14.50 USD) to 2,400 Yen (around $23 USD) so it's not the cheapest of places to eat.
---
3. S'apposentu Di Aki
We mentioned that Fico was loved by the Japanese locals. Well, you only have to look at the reviews of S'apposentu Di Aki in Japanese to know that it's the same here too.
You can also "kill 2 birds with 1 stone" visiting this Italian restaurant too, since it's located in the famous Tsukiji Fish Market in the Chuo district of Tokyo; many YouTubers have visited this place and it still remains a place where many love to visit to see the fish auctions early in the morning.
We also found out that the chef at S'apposentu Di Aki also trained in Italy and aims to offer authentic Sardinian cuisine in Tokyo. It offers some great pasta dishes well worth trying out.
---
4. Rize Mize Italian Bar
We'll be honest, we had a look in TripAdvisor for the best rated places to eat pasta to find this one.
However, after reading the reviews from customers stating that Rize Mize Italian Bar offered some of the "best pasta in Tokyo", we were convinced to take a look for ourselves.
There is a selection of 5 pasta dishes on offer when looking at the online menu on Rize Mize Italian Bar's website:
Classic Lasagna: 1100 Yen
Peperoncino: 880 Yen
Penne Arrabiata: 980 Yen
Eggplant Bolognese: 1280 Yen
Carbonara: 1280 Yen
As you can see from above, the prices range from 880 Yen to 1280 Yen (between $8.50 – $12.50 USD) . So this is another Italian restaurant that we believe is very fairly priced in Tokyo.
---
5. Gluten Free T's Kitchen
Notice that the title of this article is "Best Pasta" and not "Italian restaurant". So, hopefully you don't feel like we've cheated too much by including a Non-Italian restaurant on this list.
We thought that it would be great to include a highly rated Gluten-Free restaurant, since it can be difficult traveling around on a Celiac diet (or just generally being gluten-free).
Anyway, T's Kitchen classes itself as an "International" restaurant and offers many different cuisines to try. It's probably the best place to come to with your friends, if you have friends who are very picky eaters since there is so much to choose from.
You can genuinely order some Gyoza in the same meal as Pasta and Pancakes. Pretty cool right?
Importantly, the pasta dishes are highly rated by those who have visited T's Kitchen so you won't be disappointed by this place.
The prices of pasta dishes at T's Kitchen cost 1,690 Yen (around $16 USD) for both a Macaroni and Vegan Cheese Pasta and Pork Bolognese Spaghettini. So it's certainly not the cheapest place to eat pasta on this list.
And arguably it's not going to be as "authentic" as other places on this list either. But as we mentioned, we feel it's important to give those that are gluten-free a good option for pasta when visiting Tokyo.
---
Conclusion: There Are Some Top Places to Eat Pasta in Tokyo!
If you came here looking for some great places to eat pasta in (or nearby) Tokyo, then we hope that you've enjoyed reading about our 5 recommended places to try.
Out of all the places we chose to eat pasta dishes, the one place that endeared itself to us was Fico.
Fico is a small, independent Italian restaurant with only 2 staff (one chef and one Maître d'). Offering a great variety if extremely tasty, authentic pasta dishes (as well as pizza cooked in their wood fired oven, which are also worth trying).
Not only that, the Maître d' speaks flawless English so it's also one of the most tourist-friendly restaurants that we visited in Japan too.
If you're interested, you can check out their menu on their website here: https://fico-kawagoe.therestaurant.jp/pages/2116778/menu