So you're either in Tokyo right now or are planning a trip to the Japanese capital city as a vegetarian.
And you've come across the Kaiseki cuisine and want to find some great restaurants that offer vegetarian menus.
Well, you're in luck. Because in this article, we're going to show you the top 5 vegetarian Kaiseki restaurants in Tokyo!
Check them out:
Top 5 Vegetarian Kaiseki Restaurants in Tokyo
1. Daigo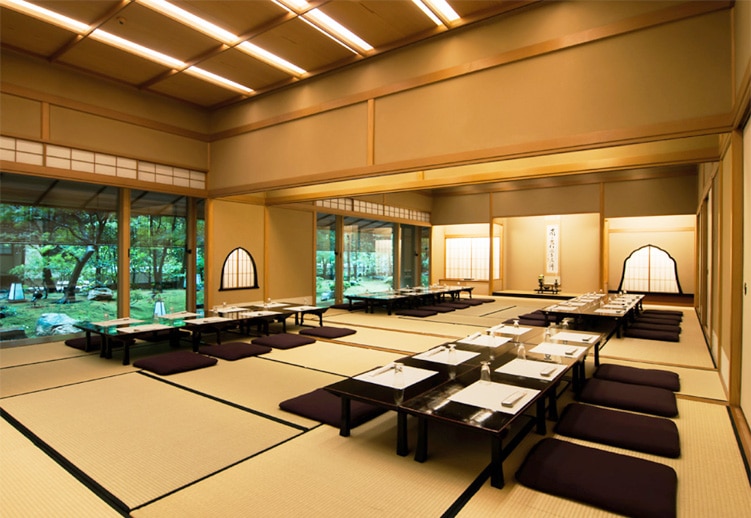 Alright, so we're starting off with a bit of a "cheat" option here; the Japanese cuisine that Daigo offers is actually in a style called "Shojin Ryori", which is the traditional food of the Buddist Monks.
We're not sure if you're aware (apologies if you are aware and this sounds incredibly condenscending), but Buddist Monks don't eat any meat, fish or animal products and it's the same with the Buddist Monks in Japan too.
As a result, the "Shojin Ryori" cuisine is all vegetarian/vegan.
However, as well as being vegetarian/vegan, the dishes come in a Kaiseki style. And since it's earned 2 michelin stars, we thought that we couldn't ignore this in our article about Vegetarian Kaiseki Tokyo restaurants.
The menu at Daigo typically contains 3 options of set menu's: 
Orchid Kaiseki: 19,000 Yen
Bamboo Kaiseki: 17,000 Yen
Apricot Kaiseki: 15,000 Yen
Chrysanthemum Kaiseki: 12,000 Yen
All 3 options are basically dishes 15 course meals.
And while you may be shocked at the price of around $180 USD for the most expensive course, remember that this place has earned 2 michelin stars and is perhaps the finest Kaiseki style eating establishment in Tokyo.
---
Let's Visit Asia's Tip on a budget: If you're looking for cheaper vegetarian restaurants, check out our article Vegetarian Shabu Shabu Tokyo: Best Restaurants for Veggies
---
2. Ise Sueyoshi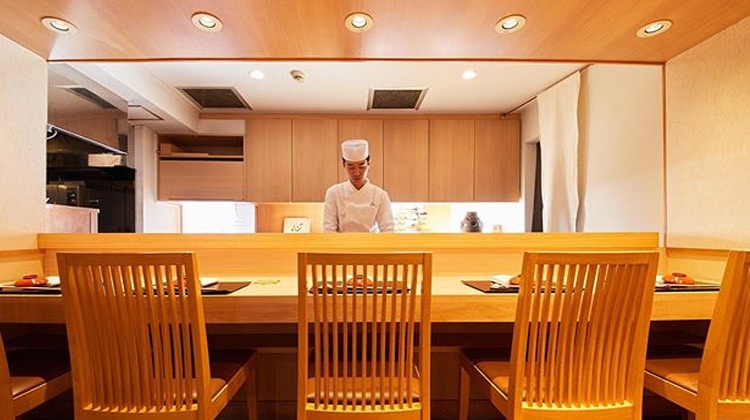 Now, for those looking for great Kaiseki restaurants, then look no further than Ise Sueyoshi.
The 4.8 star rating from its Google Reviews should tell you everything you need to know about the quality of food here. And even better, there is a vegan set menu available for those wanting to enjoy some vegan kaiseki cuisine in Tokyo (and as a result, there are clearly options for vegetarians too).
In fact, several reviews of Ise Sueyoshi specifically state that customers enjoyed this restaurant due to it offering a vegan set menu. So we're a little late to the party here, we admit – but better late than never…
If you hadn't heard of Ise Sueyoshi before, then it's great that we were able to give you the intro to this great vegetarian Kaiseki establishment in Tokyo.
The set menus for vegans and vegetarians comes at a cost of 18,000 Yen (around $170 USD). So again this one isn't cheap.
But by now you should probably have realized that Kaiseki cuisine isn't cheap…
Some quick important notes for this restaurant:
Ise Sueyoshi does not hold a michelin star at the time of writing, but many customers have mentioned in reviews that it deserves such recognition.
Also, if you're planning on visiting, it's worth knowing that this is a private restaurant that will absolutely need booking in advance.
Vegetarians and Vegans can choose specific Kaiseki set menus called "Special Care for Vegan" and "Special Care for Vegetarian" at a cost of 2000 Yen extra (18,000 Yen overall).
---
3. Itosho
If you're giving Ise Sueyoshi a miss simply because it doesn't hold a michelin star, then you could be missing out on a great option.
However, we do understand that some people want to add dining experiences at michelin star restaurants to their list. If you're one of these people, then Itosho is another great Vegetarian Kaiseki restaurant in Tokyo.
The Set Vegetarian Kaiseki menu at Itosho costs around $184 USD for 2 people dining there. So in terms of pricing, all 3 options on this list are similar.
Surprisingly, there were not many Google reviews of Itosho at the time of writing this article (only 28 to be exact, compared to 200+ of some of the other restaurants we've listed on this article).
However, we did find that it had received some positive reviews on respected websites such as JapanTimes. So we expect the number of reviews for Itosho to rise over the next couple of years, perhaps this article can help with that…
---
4. Sougo
As with Daigo, this is another restaurant that is officially listed as offering "Shojin Ryori" cuisine. But since its menu is styled in Kaiseki style courses, we thought this absolutely fits in our article.
And of course, as you know by now, since it's a "Shojin Ryori" restaurant, there is a completely vegan (plant-based) set Kaiseku menu.
For those that are vegetarian instead of vegan, there are Vegetarian Kaiseki menus that contain dried bonito (fish) broth, egg and dairy.
More good news is that the set menus at Sougo are the cheapest on this list; you can grab vegan and vegetarian Kaiseki set menus for as little as $75-95 USD (which really is much lower than the options at the other restaurants in this article). 
We'll list the details of the Shojin Ryori Kaiseki and the Vegetarian Kaiseki menus below…
Shojin Kaiseki Menu 1 called "Zen" for 12,000 Yen (around $115 USD): 
Starter
9 Dishes
2 Desserts
Shojin Kaiseki Menu 2 called "Sai" for 10,000 Yen (around $95 USD): 
Vegetable Kaiseki Menu 1 called "Kinu" for 10,000 Yen (around $95 USD):
Starter
9 Dishes
2 Desserts
Vegetable Kaiseki Menu 2 called "Sakura" for 8,000 Yen (around $75 USD):
If you're on a tigher budget, then you could even visit between 11:30 am and 3:00 pm to taste their Lunch sets, which cost between 1,500 Yen and 1,800 Yen ($14.50-17.50 USD).
---
5. Sosaibō
We'll be honest. Finding 5 legitimate vegatarian Kaiseki restaurants in Tokyo (worth recommending) turned out to be a very difficult task, but since we started writing this aiming to list 5 places to eat, we went ahead with the original plan.
We're not 100% sure whether Sosaibō can be classed officially as offering "Kaiseki" cuisine. But the good news is that it is a "Shojin Ryori" establishment, so a great place for vegetarians.
And in fairness to us, the meals come in many different bowls like they would in a Kaiseki restaurant; the first course in the set menu is basically several different appetizers called "nanashimori", which translates as "seven different kinds of starters".
Even better, this is by far the cheapest place to eat in this article. The set menu at Sosaibō costs 5,000 Yen (around $48 USD), which is less than a quarter of the full price of other set menus at Kaiseki restaurants such as Daigo and Itosho.
As a result, we're happy to recommend Sosaibō to those that want a vegetarian Kaiseki-like experience for a much lower cost than at other restaurants.
---
Conclusion: Which Vegetarian Kaiseki Restaurant in Tokyo will you visit?
This article actually took us much longer to research than we thought it would. We then had to go investigate each restaurant to make sure they were worthy of being recommended, so thank us by sharing this article on social media and more…
In all seriousness, we hope that you enjoyed reading this article and that we've made life easier for you as a vegetarian visiting Tokyo aiming to indulge in the Kaiseki cuisine.
We've given you 5 great options at different price points. Some holding michelin stars, with others being extremely highly rated while being more budget friendly.
Thanks for stopping by and feel free to check out some of our other articles while you're here!
---
Related Post: