We always emphasize that your health is worth looking after while traveling around the world.
No-one wants to be stuck in bed with an illness they potentially could have avoided by keeping themselves nutritionally fueled with a multivitamin.
As a result, we've tried a large number of multivitamin supplements over the years. At the moment, we're using Performance Lab Multivitamin and are enjoying that and didn't have plans to change our product of choice (it has served us well for over 1 year now).
However, when we heard that another supplement company that we like were releasing a new multivitamin, we just had to take a look at Ghost Multi.
While Ghost Muti hasn't been released yet, there are some images released of this upcoming supplement available online. So we're able to make an initial analysis of this multivitamin without actually having taken it (but we'll absolutely grab a bottle once it's on the market).
Aren't All Multivitamins The Same?
You might be thinking that all multivitamins are the same. If you are, then you may be very wrong (sorry to break the bad news!).
While all multivitamins may appear to contain the same vitamins and minerals, the kind of vitamins and minerals they contain can hugely vary in terms of quality and bio-availability (how well your body is able to absorb and use the nutrients).
For example, many experts believe that your urine turning yellow after taking a cheap multivitamin is a sign that your body has chosen to excrete it – instead of using it. So we do tend to check whether multivitamins turn our pee yellow or not for this reason.
We prefer to see patented forms of vitamins and minerals over standard lower quality forms
It says a lot about a company if they are prepared to include patented forms of vitamins and minerals; this is because they cost more than the standard forms, since they are higher quality.
The good news is that GHOST have indeed added some patented forms of nutrients (we'll explain in a few sections lower down).
That's one thing we'd recommend always checking for.
If a multivitamin product has a high price tag but only contains the same standard ingredients that other products contain found in any supermarket, then you're better off finding a higher quality product that contains some patented ingredients (in our honest opinion).
Our Initial Thoughts on GHOST Multi
We just briefly mentioned that the quality of vitamins and minerals used in multivitamin supplements can vary.
Well, from what we've seen of GHOST Multi so far, we like it a lot.
This multivitamin contains the vegan form of Vitamin D3; we like that more and more companies are starting to use vegan friendly nutrients in their supplements, making them accessible to everyone regardless of lifestyle choices.
GHOST Multi also contains high-quality patented nutrients including EVNolMax (a patented form of Vitamin E that's known for its high bio-availability).
We like the additional ingredients not usually found in multivitamins
From what we've read online, GHOST Multi contains some bonus ingredients not commonly found in the majority of multivitamins on the market.
This multivitamin is believed to contain Lutemax®; this is a patented combination of Lutein and Zeazanthin, which are believed to improve eye health.
GHOST Multi is also believed to be coming loaded with Phytoserv Veggie Blend, which is a combination of natural antioxidants which can be additional immune support for traveling.
Ghost Multi Ingredients: Which Vitamins and Minerals Are Included?
As mentioned, GHOST Multi isn't actually on the market yet so we haven't been able to get our hands on this multivitamin supplement.
We are looking at the images available online of its formula, so bear in mind the dosages may not be 100% accurate (although we'll be sure to update this review when we are able to purchase and try it).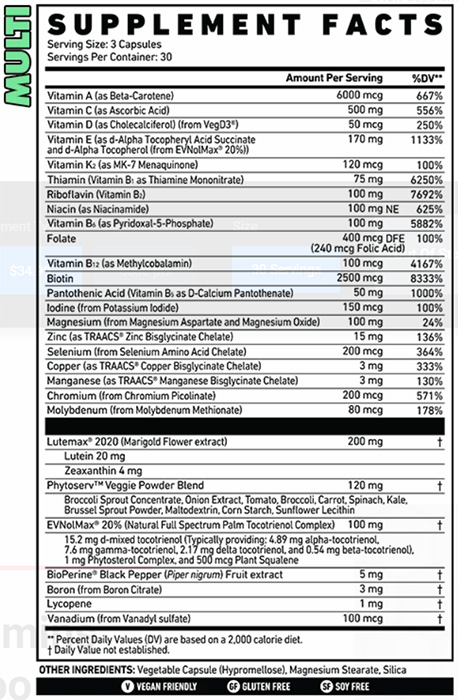 Here is the full list of ingredients and their dosages believed to be included in GHOST Multi's formula:
Vitamin A – 6000 mcg
Vitamin C – 500 mcg
Vitamin D3 – 50 mcg
Vitamin E  – 170 mg
Vitamin K -120 mcg
Thiamin – 75 mg
Riboflavin – 100 mg
Niacin – 100 mg
Vitamin B6 – 100 mg
Folate – 400 mcg
Vitamin B12 (as Methylcobalamin) – 100 mcg
Biotin – 2500 mcg
Pantothenic acid (Vitamin B5) – 50 mg
Iodine – 150 mcg
Magnesium – 100 mcg
Zinc – 15 mg
Selenium – 200 mcg
Copper – 3 mg
Manganese – 3 mg
Chromium – 200 mcg
Molybdenum – 80 mcg
Lutemax® – 200 mg
Phytoserv – 120 mg
EVNolMax – 100 mg
BioPerine – 5 mg
Boron – 3 mg
Lycopene – 1 mg
Vanadium – 100 mcg
GHOST Multi Price & Where To Buy
As mentioned throughout this review, we haven't had our hands on GHOST Multi yet due to it not being on the market yet.
However, on their website it shows the price of Ghost Multi being $34.99 for 30 serving bottles; this is a fair price tag for a high quality multivitamin supplement.
In comparison, the multivitamin we currently rely on (called Performance Lab NutriGenesis Multi) costs $39 per 30 servings, although you can reduce the price per box to $29.25 if you purchase they're 4 month supply multi-box deal.
At this point, we're unsure whether there will be any multi-box discounts available for GHOST Multi.
We'll also have to guess where it'll be sold too; GHOST supplements tend to be sold on 3rd party retailers such as GNC and Amazon, so we assume you'll be able to buy GHOST Multi on these platforms too (nothing is confirmed, though).
Review Conclusion: Will GHOST Multi Become Our #1 Multivitamin of Choice?
From the preliminary things we've seen of GHOST Multi so far, we like what we see.
We like that this multivitamin contains high quality, patented forms of vitamins and minerals such as EVNolMax for higher bioavailability. And the addition of Lutemax® could certainly appeal to those wanting added eye health care included in their daily dose of nutrients.
Will it replace Performance Lab Multivitamin as our favorite multivitamin to travel around with? That remains to be seen since GHOST Multi isn't released on the market yet.
What we do know is that the price seems fair and it looks to be a high quality product on first glance.
We'll repeat that we like the addition of patented ingredients such as EVNolMax® (trademarked form of Vitamin E) and Lutemax® (a patented combo of eye health boosting nutrients).
These small things can set multivitamins such as GHOST Multi & Performance Lab NutriGenesis Multi apart from the others that only contain standard forms of vitamins and minerals.