Ramen is a dish that is loved by many people all across the world, but how much is a bowl of ramen in Japan?
One of the most popular types of ramen in Japan is a bowl of ramen. This soup noodle dish is served at various ramen restaurants and bars throughout the country.
It's one of our personal favorite things to eat at Let's Visit Asia.
And you'll be glad to hear that you can find tasty ramen on a budget in Japan.
It is typically made up of wheat noodles in a meat or fish-based broth, flavored with soy sauce or miso, and often contains sliced pork (chashu) or vegetables – but how much does a bowl of ramen cost in Japan?
Read on to find out…
How Much Does a Bowl of Ramen Cost in Japan?
So, let's get down to the real reason you're reading this article. To find out how much is ramen in Japan:
The short answer – the average price of ramen at restaurants in Japan will range from $4 to $8.
The long answer – it depends on where you choose to eat ramen since prices vary in each restaurant.
If you're on a budget but still want a good quality bowl of ramen that even the locals enjoy, then one of the best places to get ramen in Japan is at Ichiran. At Ichiran, you can get some decent ramen noodles for 890 Yen (around $8.10 USD).
An example of how reasonably priced ramen is in Japan, is that a michelin star ramen restaurant called Tsuta Tokyo only charge around $15 per bowl of ramen.
However, if you're backpacking Japan on a serious budget, then you'll be even happier to know that you can eat tasty ramen for 300-500 Yen (around $3-4.50 USD).
The Cheapest Bowl of Ramen in Japan for 500 Yen We Recommend
Everything tastes better when it's cheaper, right? Well, we like to think so anyway…
Jokes aside, you really can get some super tasty bowls of ramen in Japan without paying a premium price. In fact, you can find great ramen for the same price as a happy meal from McDonalds (and we'd choose ramen every single time).
So where can you find such ramen on a budget of less than $5 USD (500 Yen)? Let us show you our top recommendation below…
Seiya (せい家)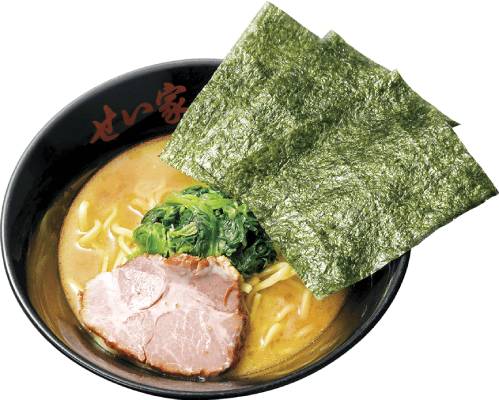 The we recommend for a bowl of ramen under 500 yen is a chain ramen restaurant called Seiya, who specialize in their signature tonkotsu soup broth that we love.
Here, you can find ramen that comes in a rich pork, chicken and soy sauce soup broth, with a slice of pork belly, nori (dried edible seaweed), and spinach. All for 500 Yen (around $4.50 USD), which is an absolute bargain.
Here are some worthwhile upgrades if you have a few extra Japanese yen to spare:
If you wanted to splash the cash and treat yourself, then you can upgrade your ramen to include a boiled egg for an extra 60 Yen.
For a total of 700 yen, you can purchase a ramen set that includes rice (with shredded leek on-top), gyoza dumplings, as well as the tonkotsu ramen with pork slices, nori and spinach.
We recommend the second option, but we absolutely love gyoza (as well as ramen, gyoza is one of our favorite things to eat in Japan).
How Much is Ramen in Japan: Conclusion
Hopefully you've come away with the answer to "how much is a bowl of ramen in Japan?".
For those that skimmed to the conclusion, the answer is between $3 USD for the more budget options to $15 USD for a bowl of michelin starred ramen.
In terms of our favorite cheap bowl of ramen when we're on a budget, we always recommend Seiya (せい家) which has over 30 ramen restaurants operating all across Tokyo. If you're wanting to try a bowl of michelin star ramen, then we recommend Tsuta Tokyo.
---
Related Posts: