You'll notice Japan's love for Itameshi (meaning "Italian Food" in Japanese) when traveling around Tokyo. And Japanese-Italian Fusion Food is a must try.
Sushi and Ramen may be the first foods you think of when visiting Japan. Which makes sense, since there are tons of incredible places to eat these types of food.
So, you may be surprised to hear that Italian food is extremely popular in the country; the Japanese even have a word for it, "Itameshi".
What is Itameshi?
Itameshi simply means "Italian Food" in the Japanese language. But it's also become synonymous for the Japanese-Italian fusion genre of food too.
There are many kinds of foods that come under this "Itameshi" category of Japanese-Italian fusion food.
One example is Wafu Spaghetti; "Wafu" translates to "Japanese Style" and is applied to many terms that originated in Western culture that has been made to suit the Japanese market, culture and taste.
That being said, you can also find the usual Italian foods such as a Margherita pizza and Spaghetti Bolognese in Japan too.
Anyway, to give you a better idea of what is classed as "Wafu" meals in the Itameshi category of food in Japan, we'll take you through the most popular Itameshi meals in Japan in the next section of this article.
---
Related Posts:
---
5 Most Popular Itameshi (Japanese-Italian Fusion Food) Dishes in Japan
If you're looking for Itameshi in Japan, then you're certainly doing the right thing.
It's easy to find Italian restaurants serving "normal" meals (such as spaghetti bolognese) that you'll find in Western countries – but that's not why you've traveled to Japan, right?
What you want while visiting Japan are meals you won't find anywhere else. And you won't find Wafu Spaghetti outside of Japan.
As a result, we'll detail the best types of Itameshi "Wafu" meals in Japan…
1. Tarako Spaghetti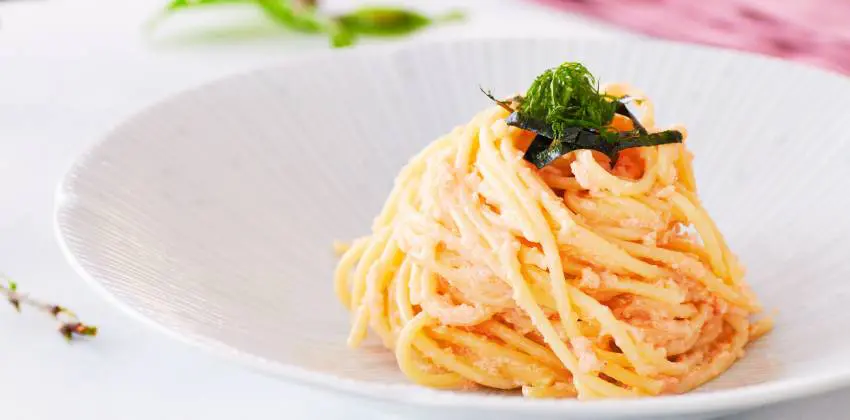 Forget the usual Carbonara or Spaghetti Bolognese. When in Japan, you want to try some Japanese-Italian fusion food such as wafu spaghetti.
Our personal favorite wafu spaghetti meal has to be Tarako spaghetti (also known as Mentaiko Pasta); "Tarako" is the Japanese word for the pollock roe and it is mixed in spaghetti along with butter, soy sauce and shredded nori (dried seaweed) to create an insanely tasty, umami meal.
To try Tarako Spaghetti, visit its birthplace at Kabe No Ana
Literally translated to "hole in the wall", Kabe No Ana is credited as the establishment that invented Tarako Spaghetti.
The story is that a customer asked the chefs at Kabe No Ana to add caviar to spaghetti, resulting in a delicious dish. However, the restaurant quickly realized that caviar would be too expensive for their audience, therefore the chefs decided to use Tarako (pollock roe) as a cheaper alternative.
Since its conception of Tarako Spaghetti, Kabe No Abe now offers the option to add additional toppings including a variety of Japanese mushrooms, vegetables and fish.
If we've convinced you to visit, the original Kabe No Ana is located in the Shibuya district of Tokyo:
Kabe No Abe address: Japan, 〒150-0043 Tokyo, Shibuya City, Dogenzaka, 2 Chome−25−17 カスミビル 1f
Other types of Wafu Spaghetti:
Japanese Spaghetti Salad – Japanese mayonnaise (kewpie), ham, cucumber tossed with spaghetti.
Ume Shiso Spaghetti – umeboshi (Japanese pickled plums), furikake red shiso, garlic and nori tossed with spaghetti
---
2. Napolitan Spaghetti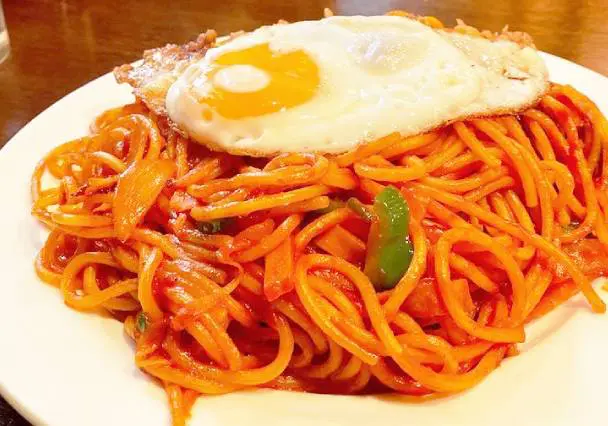 As well as coming in the Itameshi category, Napolitan Spaghetti is also placed considered yōshoku; literally translating to "western food" in Japanese.
This is because no Japanese ingredients are used in Napolitan Spaghetti, but it has still been created with western ingredients to suit Japanese tastes.
To demonstrate what we mean, Napolitan spaghetti is tomato ketchup, bacon, onions and mushrooms tossed with spaghetti. You can top it with a fried egg at most restaurants that serve this dish like in the image above.
Napolitan Spaghetti not something you'll find in western countries and it's certainly not authentic Italian food. But is an extremely popular dish that was created in Japan. And we can confirm that it is super tasty too.
Napolitan Spaghetti was created at the New Grand Hotel in Yokohama
To give you some history behind this dish; Napolitan Spaghetti was created not long after WWII by Shigetada Irie, who was the Head Chef of the New Grand Hotel in Yokohama at the time. Even to this day, you'll find this dish being served in the resident coffee house (simply called "The Cafe") located on the ground floor of the New Grand Hotel.
If you're wanting to try Napolitan Spaghetti, we recommend that you eat it at its birthplace where it was created, the New Grand Hotel in Yokohama:
New Grand Hotel in Yokohama address: Japan, 〒231-8520 Kanagawa, Yokohama, Naka Ward, Yamashitacho, 10番地
---
3. Japanese Spaghetti Salad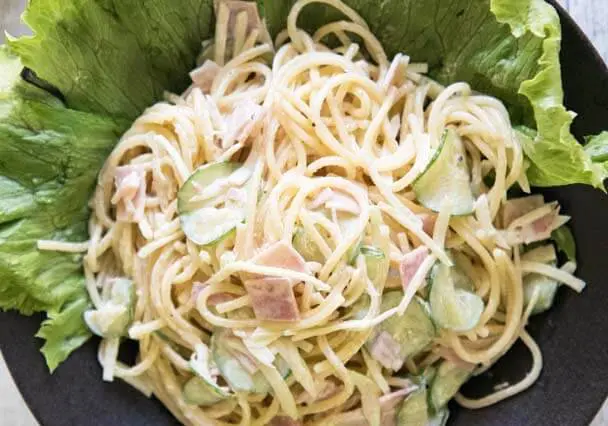 If you're wondering what this is, think of a potato salad but with spaghetti instead of potato and you've got yourself a Japanese Spaghetti Salad.
However, not just any mayonnaise is used. To suit the Japanese taste, you'll find kewpie (Japanese mayonnaise) being used.
The full ingredient list includes; Japanese mayonnaise, sliced ham and cucumber tossed in spaghetti.
This Itameshi dish is often served cold, but you can find it served hot in some restaurants.
We'll admit, though, that this is more of a dish you'll find in the ready-to-serve sections at convenience stores in Japan (and also in the homes of Japanese families) instead of most restaurants in Japan.
---
4. Ume Shiso Spaghetti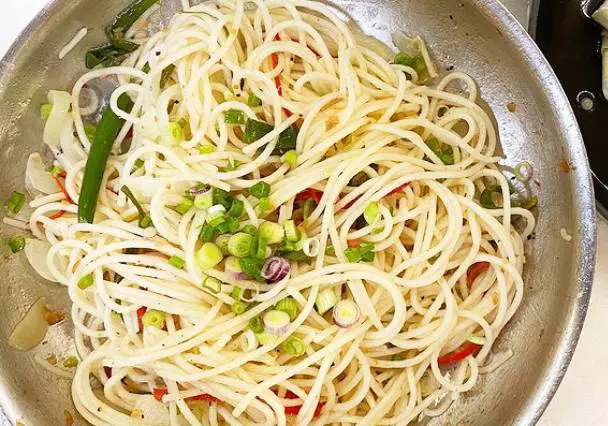 Umeboshi may be an "acquired taste" for many visiting. It's known for its distinct salty but sweet pickled flavour (after all, umeboshi is a type of pickled plum).
After you eat the first one, you'll probably be craving its perfectly umami flavor. So it's easy to understand why the Japanese love umeboshi, which is exactly why they like to add it to many dishes.
And the cuisine of Itameshi is no exception; when visiting the right restaurant, you'll find Ume Shiso Spaghetti on the menu.
If you're wondering what this is, it's basically umeboshi, furikake red shiso, garlic and shredded nori tossed with spaghetti to create another masterpiece you won't find outside of Japan.
You'll find this Ume Shiso Spaghetti dish being served at Kamakura pasta:
Kamakura Pasta address: 戸塚モディ, 7階, 10 Totsukacho, Totsuka Ward, Yokohama, Kanagawa 244-0003, Japan
---
5. Natto and Bacon Spaghetti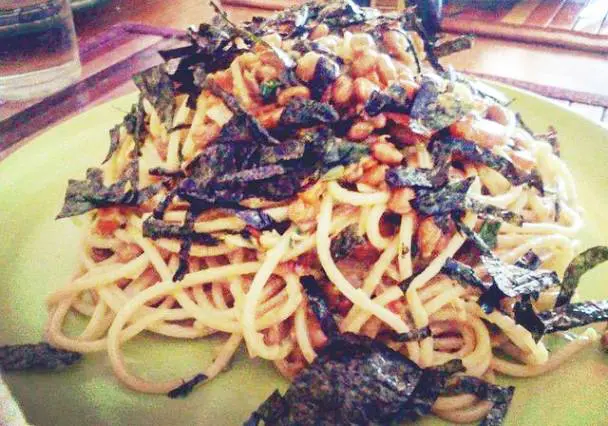 We're pretty confident that almost everyone will try and enjoy the other 4 Itameshi dishes we've listed. However, we'll admit that Natto is definitely an acquired taste that not everyone will find enjoyable to eat.
In case you're wondering, Natto is fermented soybeans that has a slimy consistency. But don't let its appearance put you off – Natto is known as a superfood due to it being loaded of many nutrients and protein, which is why we've listed it as one of the foods essential for the asian bodybuilding diet.
If you do try Natto and find that you like it, then you'll definitely love Natto and Bacon Spaghetti; served with a pile of Natto on top of spaghetti, along with shredded nori and bacon, this is most definitely an Itameshi dish you won't find in western countries.
You'll find Natto and Bacon spaghetti on the menu at popular Itameshi restaurant, Spajiro (this restaurant has locations in Ginza, Shibuya and Setegaya all in Tokyo):
Spajiro Ginza address: Japan, 〒104-0061 Tokyo, Chuo City, Ginza, 3 Chome−4−1 大倉別館 1階・2階
Spajiro Ebisu: 1 Chome-2-5 Ebisunishi, Shibuya City, Tokyo 150-0021, Japan
Spajiro Shimokitazawa: 2 Chome-14-13 Kitazawa, Setagaya City, Tokyo 155-0031, Japan
---
Conclusion: Itameshi is Worth Trying in Japan!
Writing about these Itameshi dishes has made me super hungry…I hope you've enjoyed reading and learning about them!
For me, the whole point in visiting different countries across Asia is to experience and taste different foods. And Itameshi restaurants allow you to try out the Japanese-Italian fusion dishes that you simply won't find outside of Japan.
I personally love all of the 5 dishes that I've listed. However, if I had to choose a favorite then it would be the Tarako Spaghetti; it really is the culmination of the "umami" flavor with the balance of saltiness and sweetness being super addictive (I could literally eat buckets of Tarako Spaghetti)…
Thanks for stopping by at Let's Visit Asia reading. Hopefully catch you on some of my other articles!