Travelling can be a great experience, full of new things to see and do. A trip to Japan is a whirlwind of new cultural experiences, new foods, beautiful views and huge contrasts.
One more thing every trip to Japan will include is a lot of walking; it may surprise you, but a day in Japan can quickly add up to well over 10,000 steps a day.
However, for those who like to keep a more detailed exercise regime, finding a gym to visit while on holiday in Tokyo may be a priority.
Gyms in Tokyo and Fitness Culture in Japan
One of the first things to realize about gyms in Japan is that fitness culture is very different.
Over recent years, more and more gyms in Japan have been appearing, but they are still nowhere near as widespread as gyms in Western countries.
Japanese gyms are also generally a lot more expensive (my current Japanese gym membership costs around $80/month while my previous Australian gym membership was $20/month)…and more complicated to join.
But don't be discouraged, there are options!
There are two main routes for short term usage of gyms in Tokyo and gyms in Japan:
Sports centers, provided by the city, where each visit is charged individually
Or private gyms with day passes.
In this article, we'll take you through the best 5 gyms in Tokyo for tourists that fit within these 2 main routes (and can be accessed without committing to any long-term membership plans).
---
Related Post:
---
1. Shinjuku Sports Center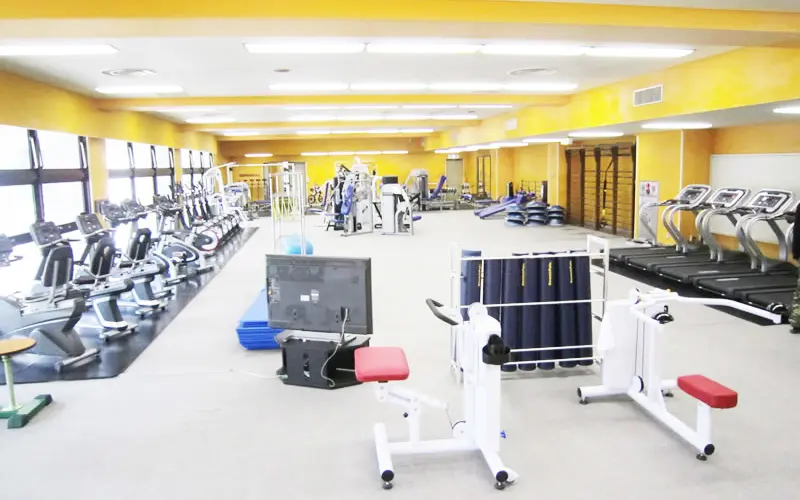 Shinjuku Sports Center is a great option for a centrally-located, easily accessible gym option.
The sports center facilities include a 25m pool, a martial arts training room and a standard gym room with cardio and weight training machines.
While some sports centers are only available to residents, or increase prices for non-residents, Shinjuku Sports Center is useful as it is open to everyone at the same price.
Price and brief directions
For use of one area (pool/gym/martial arts room) the cost is ¥400 per visit. Or for a package deal, allowing you to use two areas, the cost is ¥600.
Shinjuku Sports Center is located a short walk from JR Takadanobaba station and so is very central in Tokyo, making it one of the most convenient sports centers. It's around 30 minutes walk away from Shinjuku Station and Jr Kyushu Hotel Blossom Shinjuku for anyone staying nearby.
A key feature of Japanese gyms is strict adherence to rules; there are often rules that are either non-existent or not as strict in Western gyms, so it is good to know in advance which rules you will need to follow.
Useful Rules for Tourists to know at Shinjuku Sports Center in Tokyo [1]:
Tattoos must be hidden.
For swimming, a swim cap must be worn. This is a common rule for swimming pools in Japan.
When using the swimming pool in summer, the usage time is limited to 2 hours. For the rest of the year, the time is unlimited. The gym has a usage time of 3 hours. If you wish to use the gym or pool for longer, there is an 'excess charge' of ¥150 per hour.
Every 55 minutes, users of the swimming pool must take a 10-minute rest break. This is an older rule which has been phased out in some pool facilities but is still in place in others. Shinjuku Sports Center
still upholds this rule.
No photography is allowed in changing rooms or the pool area.
'Indoor shoes' must be worn for training. This is a common rule in Japanese gyms and it is expected to bring separate shoes for inside the gym.
---
2. Tokyo Metropolitan Gymnasium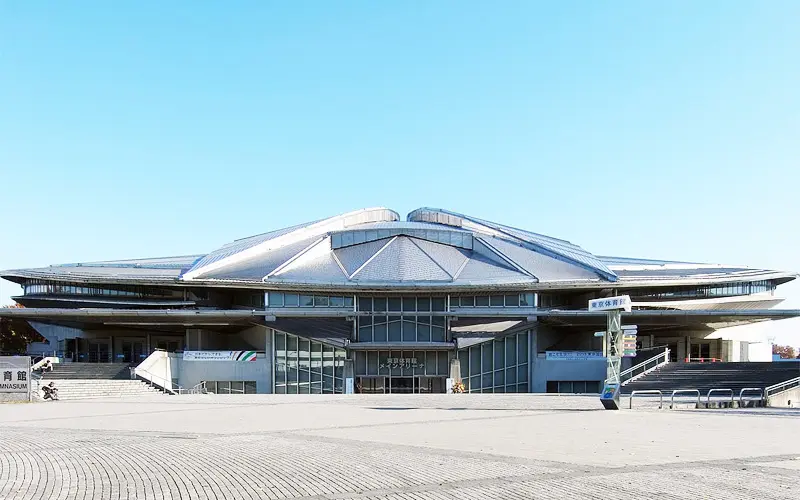 The Tokyo Metropolitan Gymnasium is located on a historical site that was used as a venue for the 1964 Tokyo Olympics, making it both one of the current best sports centers, as well as one of the most historically significant.
It has been recently renovated and so has a large range of updated sports facilities and machines.
The Tokyo Municipal Gymnasium has a futsal court and athletic track, for those looking for more variance in their exercise, and has one of the largest training rooms (standard gym equipment) available.
There is a large range of cardio machines, weight training machines and free weight equipment. This gym also has access to both a 50m and a 25m pool.
However, for all this variety, the prices do increase somewhat.
Price
The gym offers 'mixed-use' tickets (access to the gym and swimming pool) for ¥600. The caveat being that this has a time usage limit of 2.5 hours.
They also provide a 1-day pass for ¥2500. This is a good option for visitors as it is one of the few gyms with more English support and less stringent rules.
Handy Rules for Tourists to know for Tokyo Metropolitan Gym in Tokyo [2]:
When swimming, you must wear a swim cap
Indoor shoes are necessary for the training room.
No photography is allowed in changing rooms or the pool area
---
3. Minato City Sports Center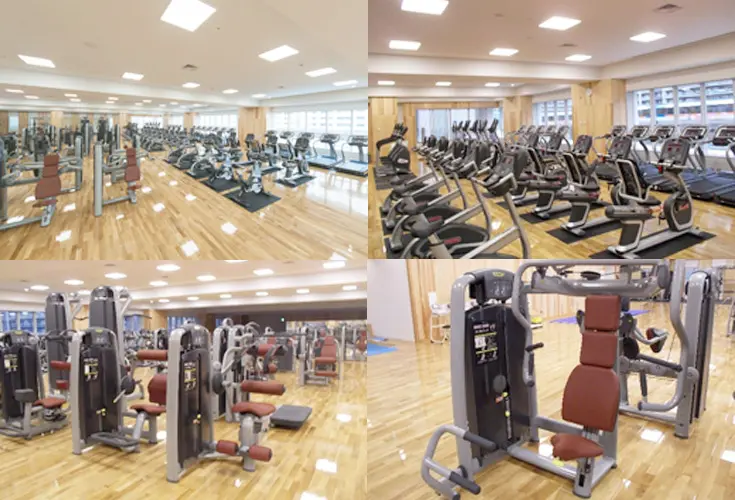 Minato has one of the most varied sports centers in Tokyo with swimming pools, training rooms, running courses and martial arts rooms.
The swimming pool area has a 25 m pool, a 13 m pool along with two Jacuzzis and a sauna to relax after your swim.
There is a standard gym training room with cardio machines and weight training machines. This area also has access to a body composition machine to do a full body analysis.
The upper part of the facility has both an indoor and outdoor running/walking course with 200 m laps for those who prefer running but don't want to get lost on the Tokyo streets.
Also available are martial arts rooms. These do run on a schedule and so are only available to the public on certain days. This schedule can be checked at the sports center or via their social media or website.
Price
Some bad news, however; Minato Sports Center is unfortunately one of the centers with a higher price for non-residents.
For those residing in Minato city, a one-use cost is ¥500 but for visitors to the area, the cost is ¥800.
Useful Rules for Tourists in Tokyo to know when using this gym [3]:
Tattoos must be hidden.
There is a time usage limit of 2 hours for the swimming pool.
A swimming cap and goggles must be worn in the pool.
Indoor shoes must be worn for the training room or running courses.
The outdoor running course may be closed due to wind or rain.
No photography or recording is allowed in any part of the facility.
There is no private personal training or instruction allowed.
---
4. Gold's Gym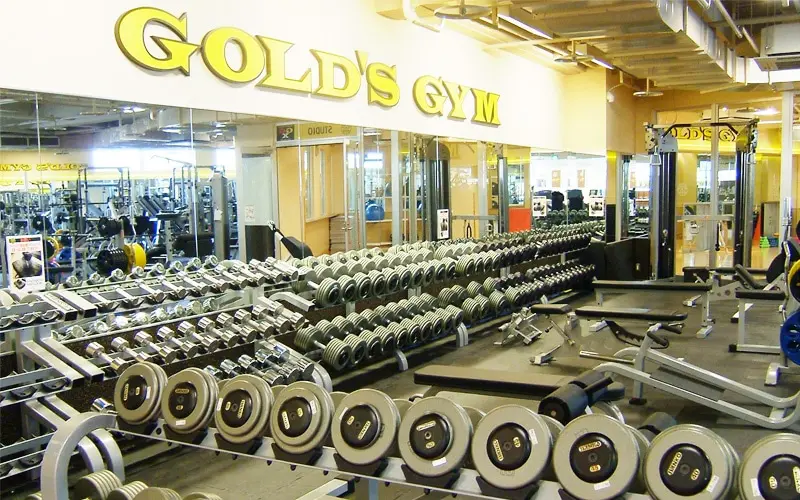 Gold's Gym is a popular chain of gyms in Japan and is often touted as a good option for those interested in weight training, and especially free weights.
It is considered to have some of the best facilities for this type of training (including for bodybuilding), especially in Japan where cardio training is very popular.
Price
While this gym generally works on a monthly membership basis, they also offer day passes for ¥2870 with a time usage limit of 5 hours. This is a higher limit than most sports centers and the gym is more likely to have more 'serious' users than sports centers.
The day pass option appears to be available at all branches of Gold's Gym and so is not limited to one location. They also have a separate 'ladies zone' to provide a safe space for women who may feel uncomfortable in some gyms.
Handy Rules for tourists to know when using Gold's Gym in Tokyo [4]:
Tattoos are not allowed. If you have a tattoo of less than 15cm in size, it is allowed if you fully cover it. If the tattoo is over 15 cm, it is not allowed even with covering.
No photography or recording is allowed within the building.
Indoor shoes should be worn when training.
---
5. Sunplay Training Center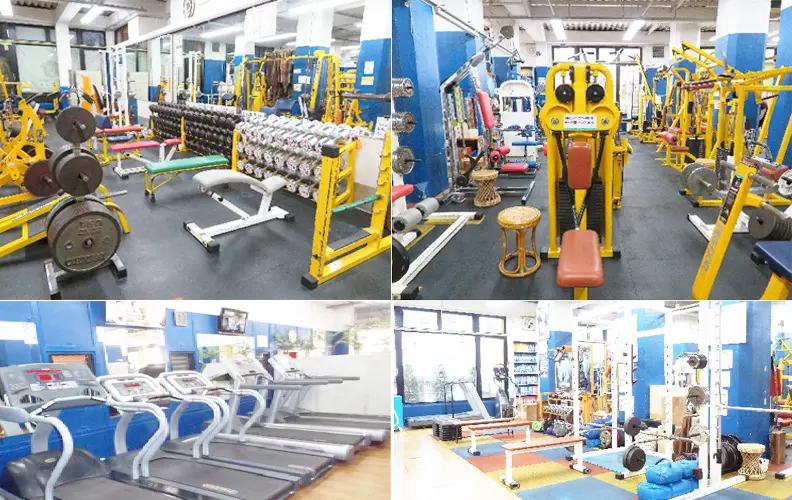 Sunplay is a large training facility located very conveniently between Ueno Park and Akihabara. As these are both popular areas for visitors to Japan, it is easy to visit on your way home from sightseeing or during some spare time in your day.
It is very large by Japanese standards and so there is always going to be space available. It is also considered a 'serious' training gym and is a good option for those with a strict training regime.
Price
A visitor pass is ¥2000 and there is no mention of a time limit on the website.
Useful Rules for Tourists in Tokyo to know when using this gym [5]:
There is also no explanation of rules on the official website but there are things to take into consideration.
As seen with the rules of gyms in Japan above, some of the most common guidelines involve:
No tattoos
No indoor shoes
No photography.
*As mentioned, there is no mention of official rules on Sunplay Training Center's website so these are educated guessed from us. 
Navigating the exercise culture of gyms in Japan can be difficult at the best of the times and as a visitor just looking for somewhere to work out, it can seem overwhelming.
Here, we have boiled it down to the two main routes (sports center or private gym) and given some options to make your next Tokyo visit a little easier.
---
References:
http://www.shinjuku-sportscenter.com/index.html

https://www.tef.or.jp/tmg/index.jsp

https://www.minatoku-sports.com/index.html

https://www.goldsgym.jp/shop/13200

https://sunplay.jp/